"So you recommend that pregnant women eat organic produce?" I asked Grandjean, a Danish-born researcher who travels around the world studying delayed effects of chemical exposure on children.

"That's what I advise people who ask me, yes. It's the best way of preventing exposure to pesticides." Grandjean estimates that there are about 45 organophosphate pesticides on the market, and "most have the potential to damage a developing nervous system." ~James Hamblin, MD1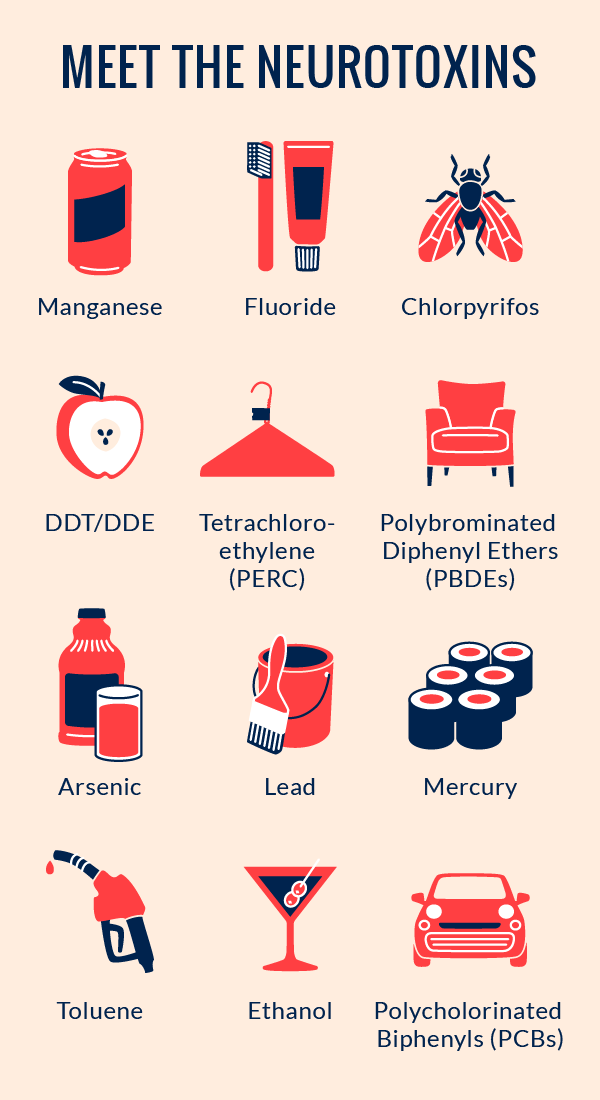 The Toxins That Threaten Our Brains
The number of chemicals known to be toxic to children's developing brains has doubled over the last seven years, researchers said.
Dr. Philip Landrigan at Mount Sinai School of Medicine in New York and Dr. Philippe Grandjean from Harvard School of Public Health in Boston, authors of the review published Friday in The Lancet Neurology journal, say the news is so troubling they are calling for a worldwide overhaul of the regulatory process in order to protect children's brains.
"We know from clinical information on poisoned adult patients that these chemicals can enter the brain through the blood brain barrier and cause neurological symptoms," said Grandjean.
"When this happens in children or during pregnancy, those chemicals are extremely toxic, because we now know that the developing brain is a uniquely vulnerable organ. Also, the effects are permanent." Read more
Autism and intellectual disability incidence linked with environmental factors. 2,3 Analysis reveals that autism and intellectual disability (ID) rates are correlated with incidence of genital malformations in newborn males, indicating possible congenital exposure to harmful factors such as pesticides. 4, 5
From The Atlantic' "Leading scientists recently identified a dozen chemicals as being responsible for widespread behavioral and cognitive problems. But the scope of the chemical dangers in our environment is likely even greater. Why children and the poor are most susceptible to neurotoxic exposure that may be costing the U.S. billions of dollars and immeasurable peace of mind.
Forty-one million IQ points. That's what Dr. David Bellinger determined Americans have collectively forfeited as a result of exposure to lead, mercury, and organophosphate pesticides.
In a 2012 paper published by the National Institutes of Health, Bellinger, a professor of neurology at Harvard Medical School, compared intelligence quotients among children whose mothers had been exposed to these neurotoxins while pregnant to those who had not. Bellinger calculates a total loss of 16.9 million IQ points due to exposure to organophosphates, the most common pesticides used in agriculture.
Last month, more research brought concerns about chemical exposure and brain health to a heightened pitch. Philippe Grandjean, Bellinger's Harvard colleague, and Philip Landrigan, dean for global health at Mount Sinai School of Medicine in Manhattan, announced to some controversy in the pages of a prestigious medical journal that a "silent pandemic" of toxins has been damaging the brains of unborn children. The experts named 12 chemicals—substances found in both the environment and everyday items like furniture and clothing—that they believed to be causing not just lower IQs but ADHD and autism spectrum disorder. Pesticides were among the toxins they identified."
You Are (as smart as) What You Eat
Mercury Contamination: A Critical Issue