A quarter said they drank no plain water at all
A new study shows that more than half of children and adolescents in the United States are not drinking enough water.
—Boys were 76% more likely to be dehydrated than girls, and non-Hispanic blacks were 34% more likely to be dehydrated than non-Hispanic whites.
"The good news is that this is a public health problem with a simple solution," senior author Steven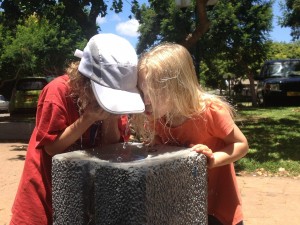 Gortmaker, professor of the practice of health sociology, said in a release. "If we can focus on helping children drink more water–a low-cost, no-calorie beverage–we can improve their hydration status, which may allow many children to feel better throughout the day and do better in school."
The researchers looked at data from 2009-2012 from more than 4,000 children and adolescents ages 6 to 19, examining urine concentration to determine hydration. The data was from the National Health and Nutrition Examination Survey, an annual study conducted by the Centers for Disease Control and Prevention. Source
General rule of thumb is to take your child's weight and divide in half and that is an approximate amount of ounces of liquid they should be getting daily.  As Dr. Melina Jampolis, CNNHealth's Diet and Fitness Expert says "Mild dehydration can affect learning as well as mental and physical performance."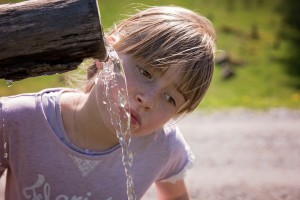 It may be worth getting a good purifier in your home.  There are many options out there, the blog Wellness Mama covers some of them.
There are obvious reasons why, but for example one study found based on an analysis of nearly 400,000 infants that babies exposed to chlorinated water had substantially increased risk of holes in the heart, cleft palate and major brain defects like anencephalus, which is the absence of a major portion of the brain, skull, and scalp.
The best water to drink is naturally clean, pure and full of naturally occurring minerals.