"Never doubt that a small group of thoughtful, committed citizens can change the world; indeed, it's the only thing that ever has." – Margaret Mead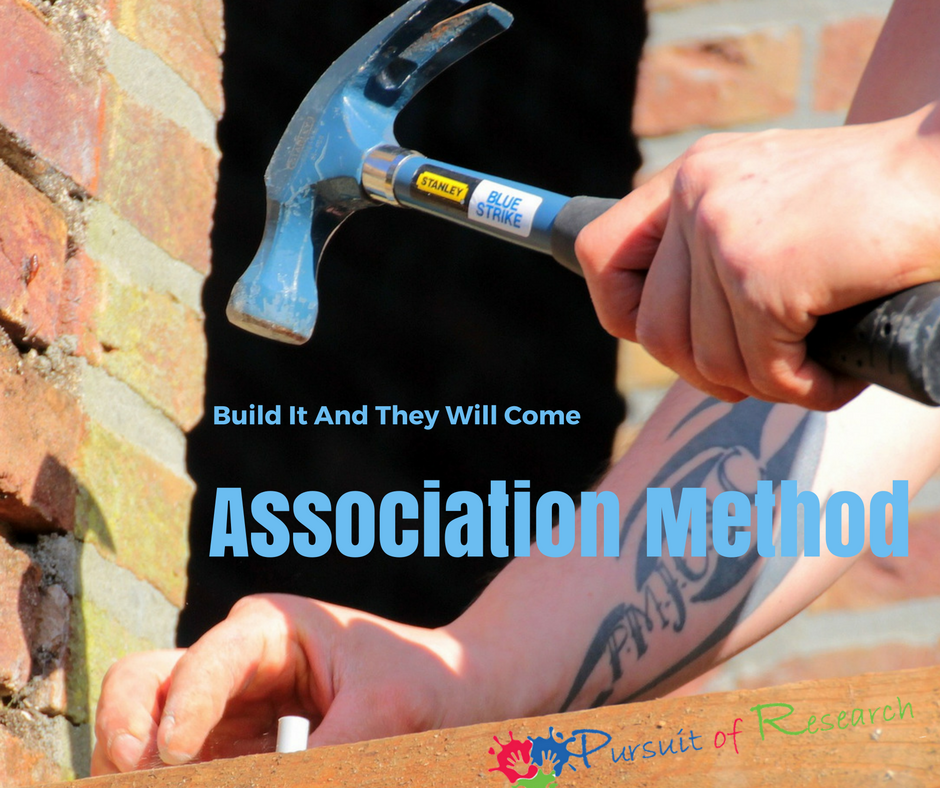 The Association Method
The Association Method is a multisensory phonics based method for teaching oral and written language to children with severe communication disorders including apraxia. It was devised originally by the late Mildred McGinnis, a teacher at the Central Institute for the Deaf in St. Louis. The method is implemented in a manner that is incremental and systematic. Instruction progresses from the teaching of individual sounds to syllables, words of gradually increasing length, basic sentences and questions, more advanced sentence structures and the corresponding questions. Ultimately, when sufficient language skills have been achieved, a transition is made to traditional textbook formats for instruction.
As a parent or professional that cares for a child with a communication impairment, how would you feel about a school program developed through the University of Southern Mississippi that says:
It can benefit those with:
severe apraxia/articulation disorders
language disorders/aphasia of varying degrees
language learning disabilities/dyslexia
attention deficit disorders with and without hyperactivity in conjunction with coexisting language learning disabilities
autism/PDD
head injury
CAPD
Hearing impairment in conjunction with other techniques
Talk the Talk, Walk the Walk
You are probably thinking sign me up!  That's exactly what Melinda Kotler, the mom of a child diagnosed with autism and severe apraxia said when she couldn't find the right school for her son.  Melinda had, heard about the Association Method and wanted that for her son.  She didn't just talk about it, she found others who shared in her dream to help,  and created the school, TALK,.(Teaching Autistic, Apraxic and Severely Language Disordered Kids) and Association Method school to help her own child and others like him.  #inspiration
At the time Melinda sent the following information out about the conference for her new school TALK which I had the honor and pleasure of attending, it was hoped that more schools would be established.  It's coming up often in our group that parents are searching desperately for an appropriate school placement, and I just want everyone to know that like Melinda, you too could start your own school.  It does take work, time, and money, but you will find others to help just as Melinda did!
Reasons why Melinda started the TALK school in her answer to a teacher from our Cherab support group, along with some of the details of the original symposium 
You are wonderful to care so deeply about your students. Yes, apraxia requires very intensive speech therapy by someone knowledgeable about apraxia. My son is severely apraxic and autistic. He was in an ABA program from the age of 3-7, but while he could learn well receptively, it did not help his apraxia. I found a program called the Assocation Method, which is a structured multisensory phonetic method for teaching oral and written language to individuals with severe communication disorders. There are only a handful of schools in the country using this method, but they have tremendous success. I knew this method would be my son's chance at speaking, so I took him to the program in San Francisco for 5 years. His teacher was a speech pathologist, so he had 30 hours of speech therapy/week. It worked. It was incredibly hard work for his teachers and for him, and he still has far to go, but he can speak in sentences and is so proud and pleased with himself. I can't tell you what a thrill it is to hear him.
We are now back in PA, and I intend to open an Association Method school this September. There is such a tremendous need for it. To introduce the method to this area, TALK (Teaching Apraxic and Language Disordered Kids) is hosting a symposium on the Association Method. Lisa Geng will be posting the information. We are so fortunate to have the directors of the three leading programs gathering to explain the Association Method and discuss their schools. It is a great opportunity for people who are interested in treating apraxia. Please consider coming. Lisa Geng mentioned that there is a reporter working on stories about apraxia, and if you read this and are interested, I would be happy to discuss the Association Method and the symposium. I encourage anyone who can manage to take advantage of this rare opportunity to hear from these three excellent directors.
Good luck, Meredith, and I applaud your efforts for this little girl.
Warm regards,
Melinda Kotler
The Association Method is a multisensory phonetic method used to teach individuals with severe communication disorders oral and written language. We are fortunate to have been able to gather the directors of the three leading programs. It will be an information-packed day. TALK, Inc. intends to establish a program using this method in the Philadelphia suburban area.
I encourage you to come and learn about the method as we hope it will be introduced in other areas of the Northeast.
Melinda Kotler
""""""""""""""""""`
ATTN: SPEECH AND READING SPECIALISTS, DEVELOPMENTAL PEDIATRICIANS, SPECIAL EDUCATORS, AND PARENTS OF INDIVIDUALS WITH COMMUNICATION DISORDERS,including AUTISM AND APRAXIA:
On March 3, 2001 from 9:00a.m. to 5:00p.m. at West Chester University in West Chester, Pennsylvania: an IMPORTANT SYMPOSIUM on THE ASSOCIATION METHOD: a unique, multisensory phonetic method for teaching oral and written language to individuals with severe communication disorders. Nationally renowned speakers will discuss the Association Method, new to this area and proven effective in teaching language to individuals with severe communication disorders.
6 CEUs are available.
TIME AND LOCATION:
Date: March 3, 2001
Time: 9:00a.m. – 5:00p.m.
8:00a.m. registration
Place: West Chester University
Main Hall on South High Street West Chester, Pennsylvaniaaaa
AGENDA:
Part I – The Association Method
8:00a.m. – 9:00a.m. Registration
9:00a.m. – 10:15a.m. Anne Sullivan, CCC-SLP Theory of the Association Method:  Why it works. Why, when and how the Association Method was developed to treat difficulties in decoding, organizing, associating, storing, and retrieving information. Basic Principles of Association Method.
10:15a.m. – 10:30a.m. Break
10:30a.m. – 12:00p.m. Maureen Martin, PhD, CCC-SLP,  CED Description of the Assocation Method. Progression of instruction — from individual sounds to syllables, words of gradually increasing length, basic sentences and questions, more advanced structues ad corresponding questions. Transitioning to traditional textbook format.
12:00p.m. – 1:00p.m. Lunch (on your own)
PART II: Association Method Schools
1:00p.m. – 2:00p.m. Renee Trimarco,  CCC-SLP, The McGinnis Program, San Francisco, California. This presentation will include the use of computers and oral motor work and the Association Method for children with severe apraxia.
2:00p.m. – 2:15p.m. Break
2:15p.m. – 3:15p.m. Maureen Martin, PhD, CCC-SLP, CED, DuBard School for Language Disorders at USM.Method in MS public schools and as a clinical tool.
3:15p.m. – 4:15p.m. Anne Sullivan, CCC-SLP, The Magnolia School, Jackson, MS Supplemental language activities, sensory processing therapy and behavioral intervention: how they are integrated into the curriculum. Description of autism grant. Ms. Sullivan has extensive experience in the Association Method with autistic children.
4:15p.m. – 5:00p.m. Question and Answer Period
ABOUT OUR SPEAKERS:
Maureen Martin, Ph.D., CCC-SLP, CED, Director of the DuBard School for Language Disorders at the University of Southern Mississippi (USM), is a nationally certified speech-language pathologist and teacher of the deaf. She is certified in education, learning disabilities, reading and school administration and is co-author with Etoile DuBard of Teaching Language Deficient Children. Dr. Martin is founder of the International Association Method Task Force, secretary of the International Mutisensory Structured Language Education Council (MSLEC) and a member of numerous organizations. She is an adjunct instructor at USM>
Anne Sullivan, CCC-SLP, is Executive Director of The Magnolia School in Jackson, MS, an accredited auditory/oral school. A graduate of Mississippi College and the University of Southern Mississippi, she has been a classroom and supervising teacher at Magnolia Speech School, specializing in Language Disorders. At Mississippi College, she was on-campus coordinator for the CED approved Deaf Education program and an instructor in the Communications Department. Anne holds AA certificates from the Mississippi Department of Education in Speech Correction, Hearing Disabilities, Speech and Language Clinician and Speech and Language Administrator.
Renee Trimarco, CCC-SLP, has been Director of the McGinnis Program in San Francisco for the past three years. This is a program for language-disordered children with a variety of neurological disorders. She received her B.A. from the University of North Texas and her Master's degree in Communication Disorders from the University of Texas at Dallas. She was introduced to the Association Method while working at the Shelton School in Dallas, Texas.
A symposium by TALK, Inc. (Teaching Apraxic and Language-Disordered Kids), a non-profit organization dedicated to the development of clinical, medical and educational programs serving individuals with language-based needs."
4 part video from the TALK school Association Method
Part 1
Part 2
Part 3
Part 4
More Information
LISA GENG
Lisa Geng got her start as a designer, patented inventor,and creator in the fashion, toy, and film industries, but after the early diagnosis of her young children she entered the world of nonprofit, pilot studies, and advocacy. As the mother of two "late talkers," she is the founder and president of the nonprofit CHERAB Foundation,co-author of the acclaimed book, The Late Talker, (St Martin's Press 2003), and is instrumental in the development of IQed, a whole food nutrition meal replacement. Lisacurrently serves as a parent advocate on an AAN board for vaccines, and is a member of CUE through Cochrane US. Lisa is currently working on a second book, The Late Talker Grows Up and serves as a Late Talkers, Silent Voices executive producer. She lives on the Treasure Coast of Florida.