When the 2.5 -year-old-was told of the arrival of a little sister with whom he could play, he imagined a kind of toy, for at the sight of this new creature he asked, with great disappointment, "Yes, but where are its wheels?"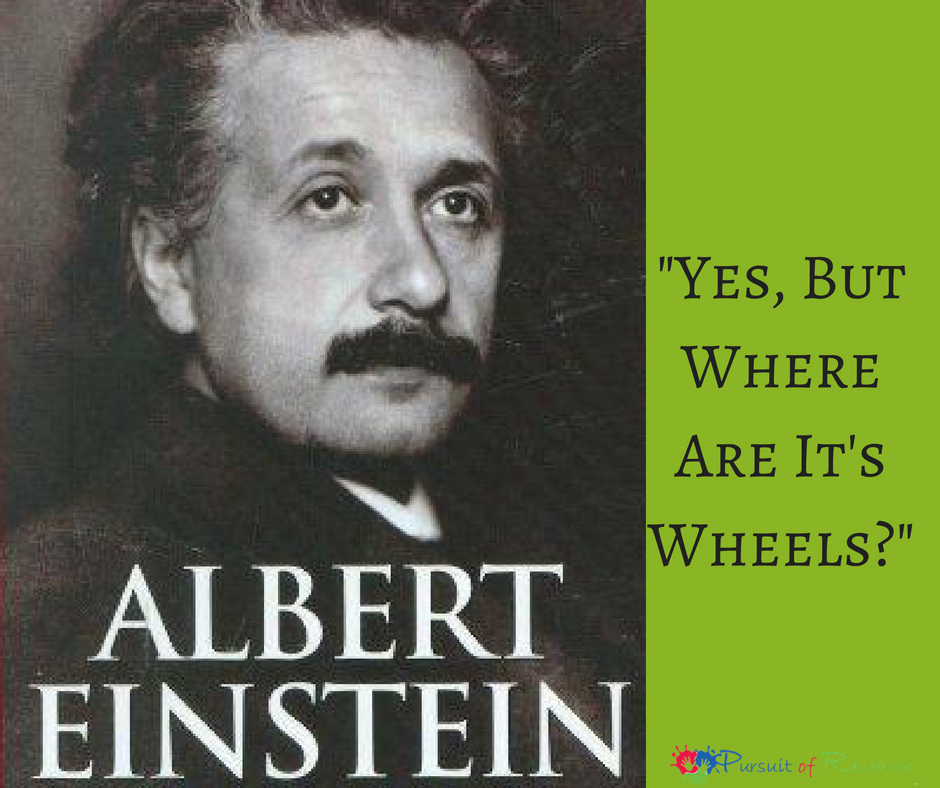 As a parent of a late talker you've probably heard about the Einstein syndrome. Bright children who talk late. Some may tell you Einstein didn't speak until until he was 4, or 5 years old. But were you aware that it's well documented that while it's true Albert Einstein's family was concerned about his "late development" he spoke his first sentence at 2 and a half years old, when presented with his baby sister to play with, "Yes, but where are it's wheels?"
Here is a typical quote from one of the many books as to why that was his first sentence as biographers agree he had thought he was going to get a fun new toy to play with. "…he had such difficulty with language that those around him feared he would never learn to speak. But this fear also proved unfounded. When the 2.5 -year-old-was told of the arrival of a little sister with whom he could play, he imagined a kind of toy, for at the sight of this new creature he asked, with great disappointment, "Yes, but where are its wheels?" The children of family and relatives often got together in his parents' garden in Munich. Albert refrained from joining their boisterous games, however, and occupied himself with quieter things. When he occasionally did take part, he was regarded as the obvious arbiter in all disputes. Since children usually retain a very keen and unspoiled instinct for the exercise of justice, the general recognition of his authority indicates that his ability to think objectively had developed early.
His early thoroughness in thinking was also reflected in a characteristic, if strange, habit. Every sentence he uttered, no matter how routine, he repeated to himself softly, moving his lips. This odd habit persisted until his seventh year"
And here is another quote from the grandparent's perspective of their 2 year old grandson:
"The grandparents, visiting two-year-old Albert, did not observe any developmental particularities and, in a letter to other family members, expressed enthusiasm about the grandson's good behavior and "drollige Einfälle" (funny or droll ideas or vagaries). , Albert, obviously expecting a toy to play with, could already verbalize his disappointment: "But where are its wheels (Rädle)?"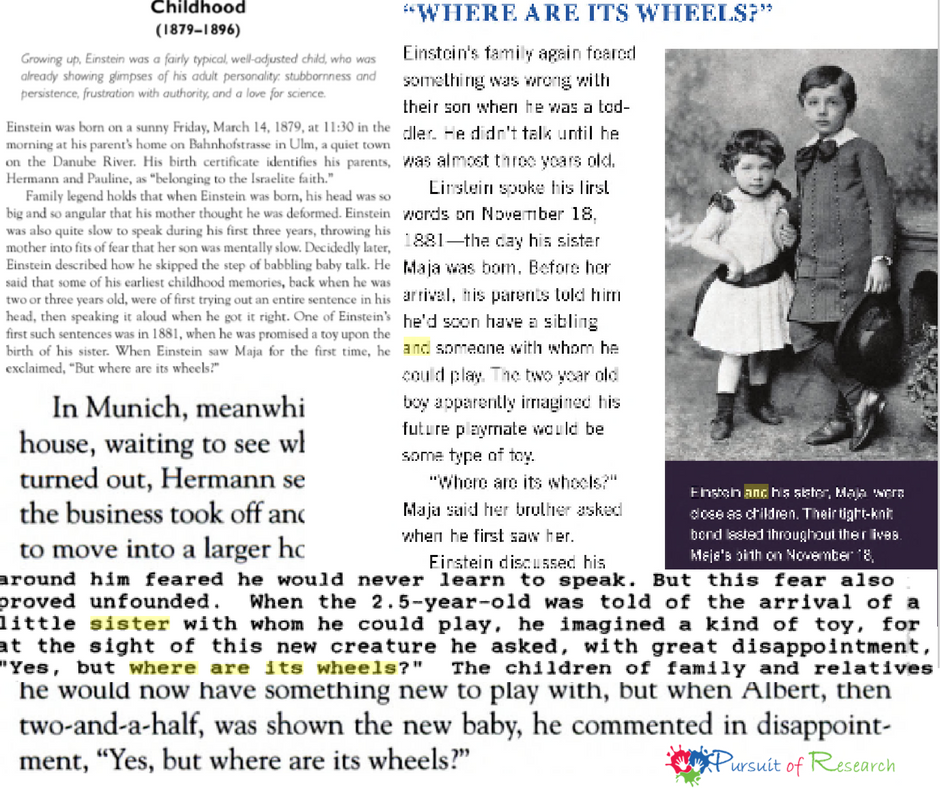 What's to be concerned with in regards to speech with a 2 year old? From The Late Talker handout
Typically seen in first 18-24 months
· Uses mostly words to communicate · Begins to use two word combinations (more cookie etc) · By 24 months has more than 50 words, or word approximations
Cause for concern in first 18-24 months
· Relies on gestures to communicate · Limited vocabulary (speaks less than 50 words)
· Does not use any two word combinations · Limited consonant production · Mostly unintelligible speech · Regresses in language development: Stops talking, repeats phrases inappropriately
Typically seen in first 24-36 months
· Engages in short dialogues · Expresses emotions · Begins using language in imaginative ways · Begins providing descriptive details when speaking · Begins to use articles and word endings (a, the, ing,) uses plurals (cats)
Cause for concern in first 24-36 months
· Words limited to single syllable and no final consonants · Few or no multiword utterances · Does not demand a response from a listener · Asks no questions · Speech difficult to understand · Tantrums when frustrated · Echoing of speech without communicative intent.
More Stories
Also a myth, that Einstein was a terrible student. When you read his history, he clearly was different than most, but even from a young age was an above average student. The stories of Albert Einstein being a poor student, a late talker, dyslexic, autistic appear to be all fabricated stories when you read his full history. I'm not trying to say that you can't be a late talker and a genius, of course you can be. Look at another "late talker" Jacob Barnett.
But while a late talker and in special education overseen by numerous professionals, early on all missed that Jacob Barnett has an IQ higher than Einstein, and like Einstein while slightly delayed in speech he appeared to be speaking in complex sentences in his preschool years. "His prodigious spark became fully evident when, before he was even old enough for kindergarten, Jacob piped up during a public astronomy lecture and, to the amazement of everyone in attendance, correctly pointed out that the moons of Mars are oval-shaped because their mass is too small for gravity to pull them into spheres." (source)
Bottom line, if your child isn't talking yet it doesn't mean your child is going to be exceptionally smart or slow. For the overwhelming majority of late talkers, IQ has nothing to do with age one speaks. Seek Early Intervention if you are worried. It can't hurt and can help if needed. And in fact, Jacob credits his early intervention background to why he's so successful in thinking outside the box today if you listen to his TED Talk.
Answers To What's Wrong With Him?
Source Pages
Source Books
Albert Einstein
by Lisa Wade McCormick
Rosen Publishing Group (August 8, 2014)
The Collected Papers of Albert Einstein, Volume 1 (English):
The Early Years, 1879-1902. (English translation supplement)
Translated by Anna Beck Peter Havas, Consultant
Princeton University Press (December 1, 1989)
Albert Einstein: A Biography (Greenwood Biographies)
by Alice Calaprice
Greenwood (June 30, 2005)
Einstein A to Z 1st Edition
by Karen C. Fox
Wiley; 1 edition (July 20, 2004)
Einstein's Genius Club: The True Story of a Group of Scientists Who Changed the World 1st Edition
by Burton Feldman
Arcade Publishing; 1 edition (September 1, 2011)
LISA GENG
Lisa Geng got her start as a designer, patented inventor,and creator in the fashion, toy, and film industries, but after the early diagnosis of her young children she entered the world of nonprofit, pilot studies, and advocacy. As the mother of two "late talkers," she is the founder and president of the nonprofit CHERAB Foundation,co-author of the acclaimed book, The Late Talker, (St Martin's Press 2003), and is instrumental in the development of IQed, a whole food nutrition meal replacement. Lisa currently serves as a parent advocate on an AAN board for vaccines, and is a member of CUE through Cochrane US. Lisa is currently working on a second book, The Late Talker Grows Up and serves as a Late Talkers, Silent Voices executive producer. She lives on the Treasure Coast of Florida.