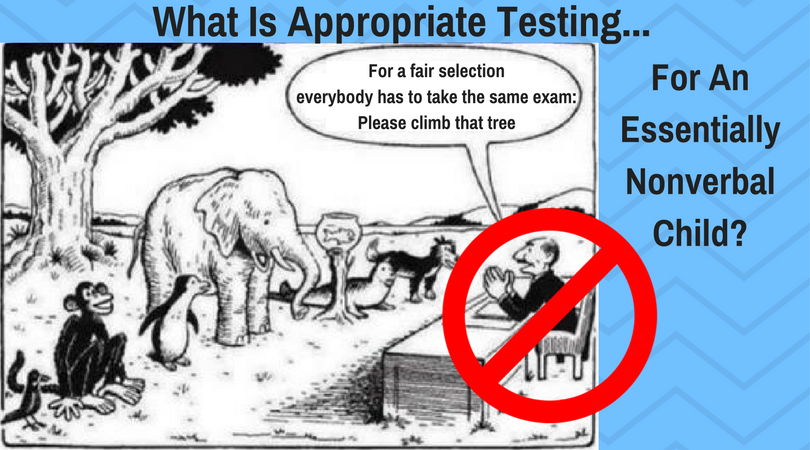 Summary of assessment procedures Children with significant language and motor skills delays by Robert E. Friedle, Ph.D. Clinical/Neuropsychologist
Children may have learned to problem-solve and reason in ways that are not assessed by formalized evaluations and are only recognizable when the child is allowed to experience sensory information in a manner most productive to them. It is often than necessary for the examiner to assess what opportunities and experiences the child may have had already, how an assessment may prompt the child to show what they can do with various stimuli and how problem-solving, analytical, and decision making skills can be exhibited by a child in a non-formalized approach.
The purpose of an assessment request has to be relevant to the child and to their experiences, i.e. the child needs to see some purpose for providing a response. A very simple example of this premise is: asking them to name an object may result in no response, but asking them to get the object may show a knowledgeable response.
Children with language and motor deficits often play within the restrictions that their limitations have presented and this "changed" pattern of play, from what is seen with non-disabled children, can be a direct reflection of their ability to problem solve and reason in play. An example for this may be when a child finds that laying things down and flat makes it easier to manipulate, or that moving things closer or out of the way facilitates motor planning and play. Often the child may see no purpose to expand experiences, or have not figured out independently how to change their play patterns.
Restrictions in movement or language limit the experiences a child has had with objects and stimuli. The need to practice simple movements, to hear the words that go along with those movements, and then to ask a child to duplicate the movements and/or the words can greatly facilitate cognitive growth. If a child can readily make such duplicated responses then the potential for cognitive growth at that point presents no limitations. An examiner can lead the play situation in these types of activities and note the ability of the child to engage in the "play" at a different level. The purpose is then presented clearly for the child, both for the language and for the movement, and thus becomes an active part of their developmental growth and understanding. Sometimes showing them or asking them to change their approach results in a larger perspective of possibilities in play. The examiner is an active participant in the assessment approach, engaged with the child in the semi-directed play type of assessment. The examiner notes closely when a child shows a lack of understanding of the language presented or an inability to make the movements requested. At all times the examiner is assessing how well the child appears to follow the purpose of the activity or the change in direction of an activity."
MORE INFORMATION
LISA GENG
Lisa Geng got her start as a designer, patented inventor, and creator in the fashion, toy, and film industries, but after the early diagnosis of her young children, she entered the world of nonprofit, pilot studies, and advocacy. As the mother of two "late talkers," she is the founder and president of the nonprofit CHERAB Foundation, co-author of the acclaimed book, The Late Talker, (St Martin's Press 2003), and is instrumental in the development of IQed, a whole food nutrition meal replacement. Lisa currently serves as a parent advocate on an AAN board for vaccines and is a member of CUE through Cochrane US. Lisa is currently working on a second book, The Late Talker Grows Up and serves as a Late Talkers, Silent Voices