When you create a fundraiser, particularly for a smaller nonprofit such as the Cherab Foundation which focuses on rare causes such as apraxia, it exposes new people to those causes.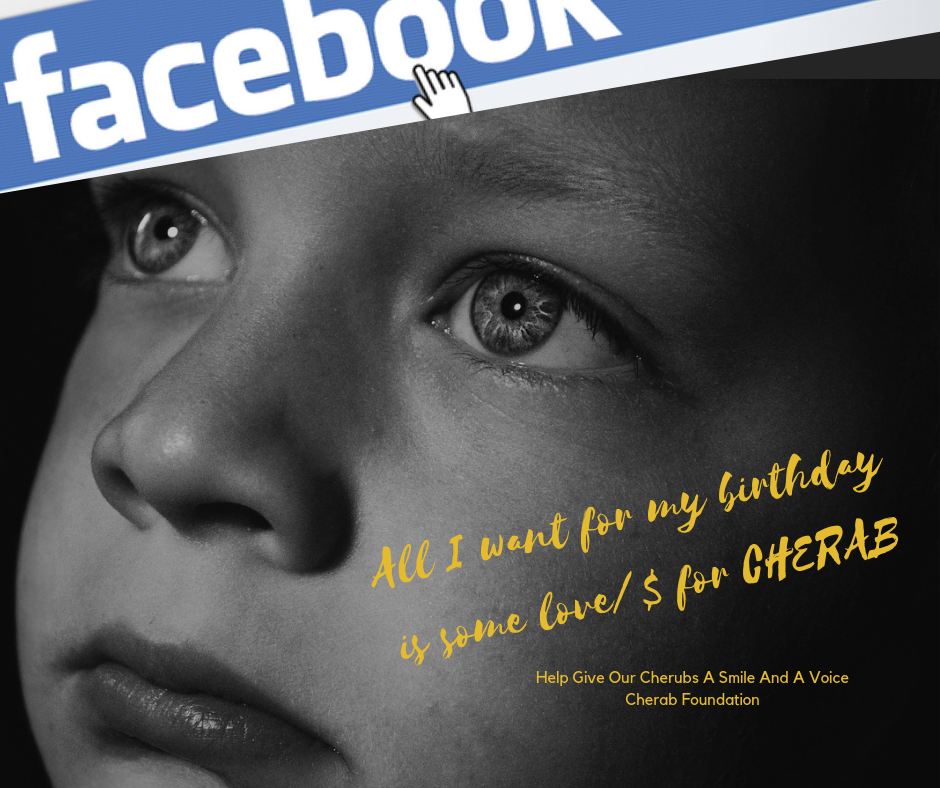 While people join the Cherab Foundation for different reasons from various backgrounds and from all parts of the globe, one thing in common is every member of the Cherab Foundation has a birthday.
Facebook of the past was a place where birthdays meant well wishes from your family and friends, the Facebook of 2018 is a place to use your day to celebrate a cause.  Facebook birthday fundraisers, a small, useful Facebook feature is doing a lot of good and has raised over 300 million since 2017.   Also, along with the numerous online support groups on Facebook such as the Cherab Foundation support groups where people seek help 24/7 365 days of the year,  the Facebook birthday fundraiser serves as a reminder of the ways social media can be used for good.
The Facebook Birthday Fundraiser
When you create a fundraiser, particularly for a smaller nonprofit such as the Cherab Foundation which focuses on rare causes such as apraxia, it exposes new people to those causes. The act of creating a fundraiser itself, regardless of the amount raised, increases awareness about our important issues.
The Facebook birthday fundraiser easily can be created in minutes. Along with donations, it also raises much-needed awareness to our friends and family from all over the world about how communication impairments like apraxia affect our children's lives. Together we can each share our own personal story and mission to even more people as well as share how the Cherab Foundation continues to help those in need. More people will "like" our Cherab page on Facebook, join our support groups on Facebook, and visit the Cherab Foundation website.
Facebook Will Donate 5 Dollars To Your Birthday Facebook Fundraiser For The Cherab Foundation
In the past, Facebook charged nonprofits a 5% fee, covering payment processing and operational costs., but those fees were eliminated in late 2017 and now 100% of donations made through the platform go directly to the nonprofits selected.  In addition, Facebook announced it will donate $5 to every newly created fundraiser posted on a US user's birthday as long as the nonprofit is a vetted nonprofit approved to raise money using the platform such as the 501(c)3 Cherab Foundation.  The program also allows donations to be matched!
How The Facebook Birthday Fundraiser Works (With Images)
2 weeks before your birthday Facebook will ask you if you want to do a fundraiser for your birthday.  Select a fundraiser and a goal amount, and that's it: you're a class A philanthropist in minutes without any planning, meetings, coordination, walks, galas, or responsibilities.  And when you have children with special needs the one thing you need more than anything else is time to relax and enjoy life and your family, especially on your birthday!
Step 1: If you don't want to wait till your birthday visit THIS PAGE on Facebook and search for Cherab Foundation
Step 2: Set a goal amount.  Set your fundraising goals lower and once you've made some progress towards it, up the ante.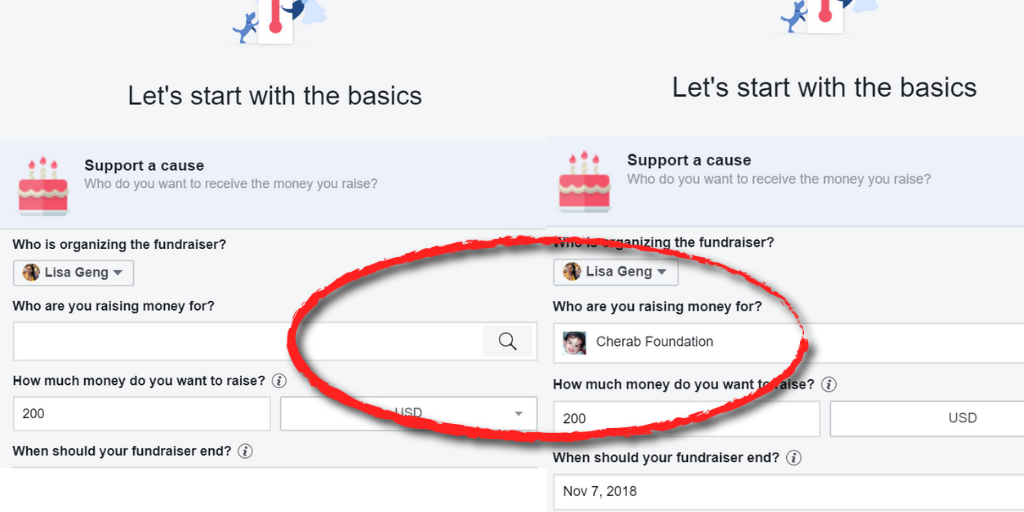 Step 3: Tell your story as to why this cause is important to you. If you don't add a custom message Facebook will just share the following automatically.  "For my birthday this year, I'm asking for donations to Cherab Foundation. I've chosen this nonprofit because their mission means a lot to me, and I hope you'll consider contributing as a way to celebrate with me. Every little bit will help me reach my goal."  This again is your chance to share your message!
Suggested Custom Letter
Hi Everyone,
Thank you for helping me celebrate 20 years of the Cherab Foundation helping others find their voice. [YOU CAN SHARE YOUR PERSONAL STORY HERE]
Please give whatever you can. No amount is too little; no amount too large.
[I'M SUPPORTING THE CHERAB FOUNDATION BECAUSE…Need some inspiration? Think about what Cherab's mission means to you.]
The 501(c)3 Cherab Foundation has been grassroots and since 2000 providing support, advocacy, bullying prevention programs, with plans for scientific exploration for novel nutritional interventions such as fish oils for children on the neurological spectrum with a focus on autism and apraxia. The Cherab Foundation serves more than 10,000 parents and professionals every year with their initiatives that include  CrowdFunnit, Cherab Support, Pursuit of Research and the Late Talker media project.
The need for Cherab is very real –40 million Americans have a communication impairment, 1 in 12 are school-aged children.  Effective communication skills are essential for all children to access educational curricula and achieve academic success.  Youth on the neurological spectrum are 3 X more likely to be bullied and alienated and 21X more likely to have suicidal thoughts or attempts.  Currently, suicide is the 2nd leading cause of death for teens and young adults nationwide.  The Cherab Foundation has programs to support at-risk children and teens. CrowdFunnit, a project of the 501(c)3 Cherab Foundation, hosts HUGE Community Birthday Parties for friendless kids across the country. Featured in local and national news, they proactively fight bullying by bringing together like-minded people, raising awareness about differences and fostering acceptance and compassion.
Making a donation is fast, easy and secure, and because Cherab has been volunteer based since 2000 every dollar you give goes directly to helping bring children a smile and a voice. You can also help me reach my goal by sharing this page on Facebook or Twitter, or by emailing this page to other people who might want to help.
Thank you for helping bring children a smile and a voice.
Your Friend,
Add A Custom Cherab Birthday Wishes Facebook Frame
To add a Cherab Birthday Wishes frame to your profile picture:
Go to www.facebook.com/profilepicframes (this link should bring you directly to the Cherab Foundation frames, but if you don't see the Cherab Foundation birthday wishes frames you can search for Cherab.)
Select which frame you want to use
Keep your current profile picture or use the 'change photo' button to select another.
Click Use as Profile Picture to save for an hour, a day, a week, or a custom time.
Some Examples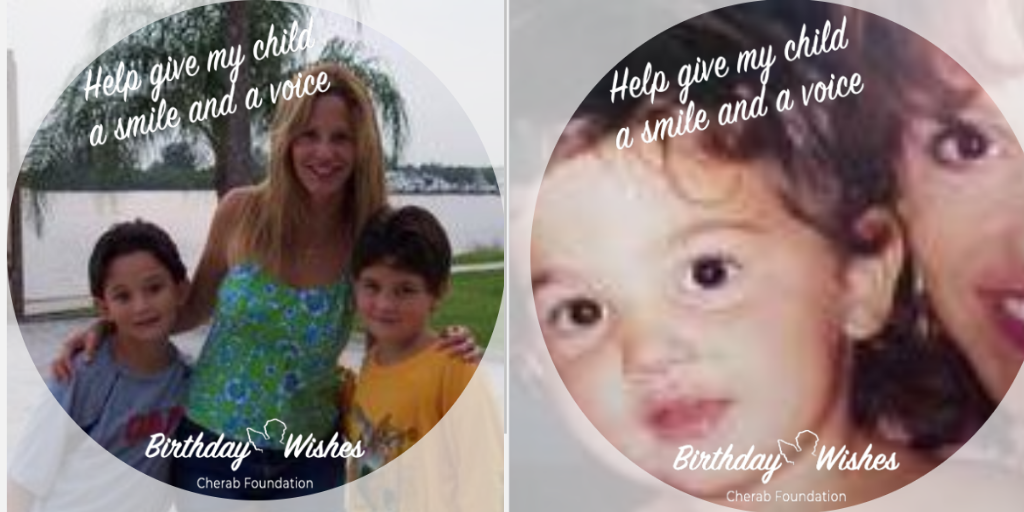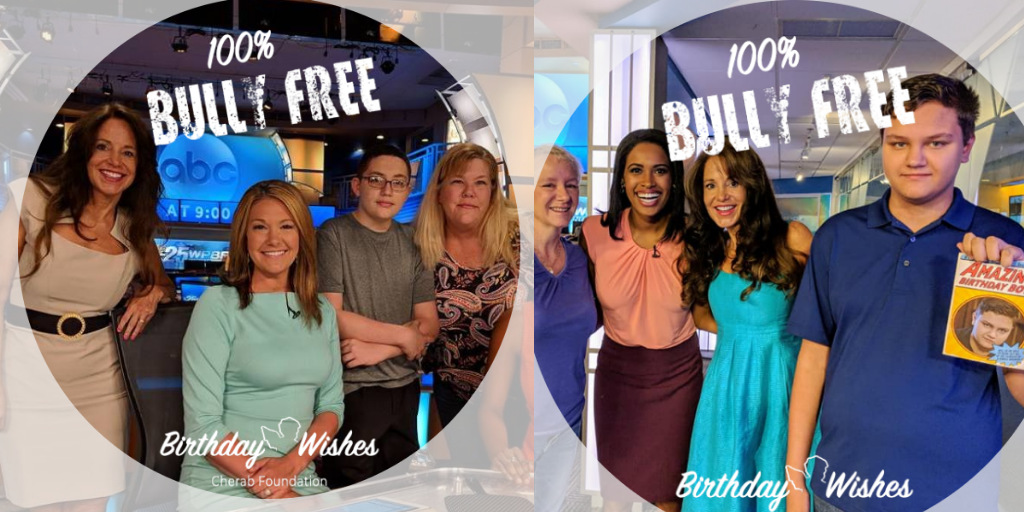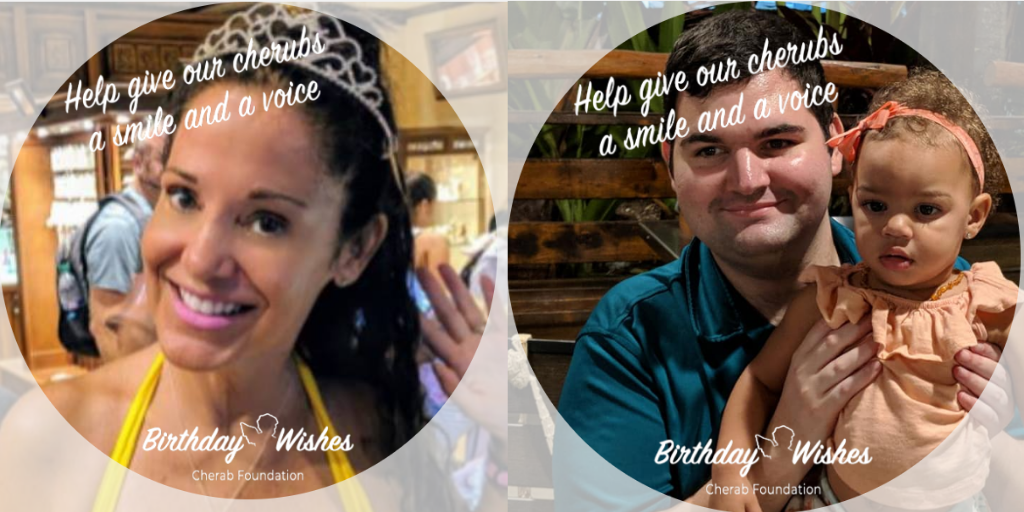 Thank you for your support in helping to bring our cherubs a smile and a voice!
LISA GENG
Lisa Geng got her start as a designer, patented inventor, and creator in the fashion, toy, and film industries, but after the early diagnosis of her young children, he entered the world of nonprofit, pilot studies, and advocacy. As the mother of two "late talkers," she is the founder and president of the nonprofit CHERAB Foundation, co-author of the acclaimed book, The Late Talker, (St Martin's Press 2003), and is instrumental in the development of IQed, a patented nutritional composition. Lisa recently served as a parent advocate on an AAN board for vaccines and is a member of CUE through Cochrane US. Lisa is currently working on a second book, The Late Talker Grows Up and serves as a Late Talkers, Silent Voices executive producer. She lives on the Treasure Coast of Florida.