The study found children who watched a cooking program that featured healthy foods were more than twice as likely to choose them for a snack than children who watched a cooking show featuring unhealthy foods.

Watching TV Cooking Programs: Effects on Actual Food Intake Among Children
Frans Folkvord, PhD et al.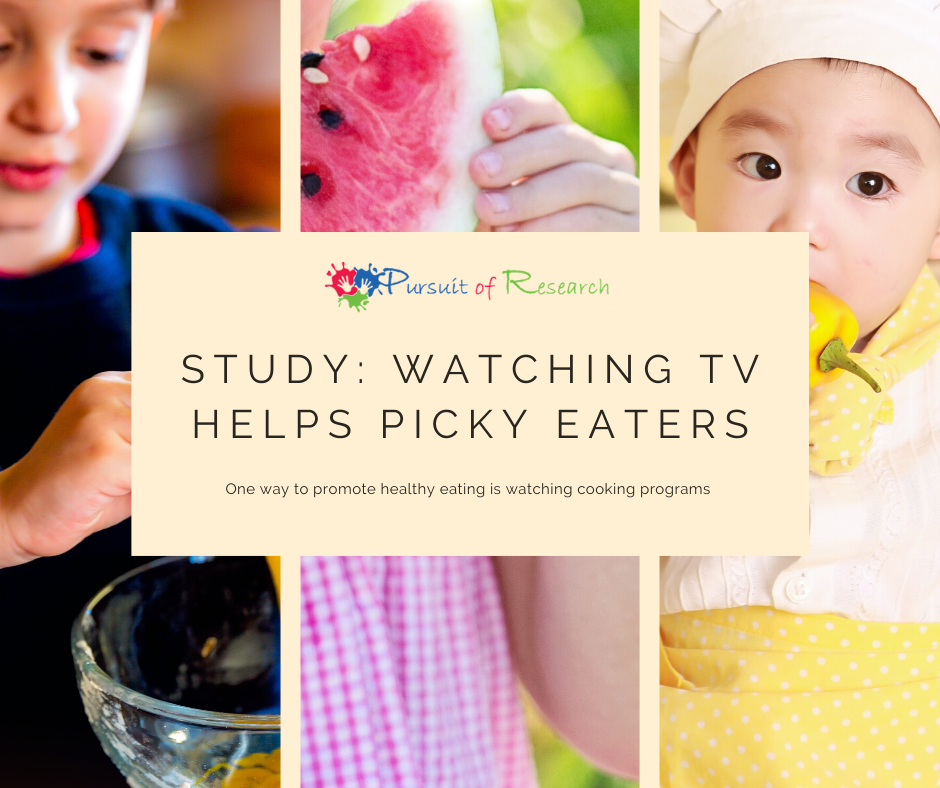 Who'd a thunk it that watching TV can help picky eaters? Well, specific TV shows that is. A recent study published in the Journal of Nutrition Education and Behavior has found f you want your child to select foods that are healthy, have them watch cooking shows that feature healthy foods.
The study found children who watched a cooking program that featured healthy foods were more than twice as likely to choose them for a snack than children who watched a cooking show featuring unhealthy foods.
Dr. Frans Folkvord, lead author of the study and assistant professor at the School of Humanities and Digital Science at Tilburg University in the Netherlands said, "For parents, it's important that they promote healthy foods during day time by different methods, and one of the methods is these cooking programs. If you promote healthy foods to children, it can be beneficial to improve their intake."
The 125 children that participated were and even split of boys and girls between the ages of 10 and 12 from 8 classes across 5 different schools in different Dutch counties. The researchers asked these children to watch 10 minutes of a Dutch TV show designed for children. Some watched a clip featuring healthy foods, while others watched a video featuring less healthy, energy-dense foods.

To ensure the children's perception of the foods was how the authors intended, children in each group were asked to indicate on a 10-point scale how healthy they perceived the foods shown in the cooking program, ranging from zero (very unhealthy) to 10 (very healthy).
The healthy foods clip featured tomatoes, onions, brussels sprouts, and other fruits and vegetables. The clip that centered on unhealthy foods showed hamburgers, French fries with mayonnaise and croissants.
As a reward for participating in the study, the kids were offered a snack, which they could choose from a set of options.
In the healthy food group, more than 41.3% of children chose a healthy snack such as an apple or cucumber slices. In the unhealthy condition, 22.7% of children chose a healthy snack.
Some recommended cooking shows for children. First Good Eats
This popular episode from Alton Brown's show Good Eats explains the recipe with science to help your child develop an interest in both cooking and science. While it may not be the healthiest, it may be a great one to get your child interested in cooking shows. Most of the shows have various types of meals or desserts so select the type of foods and episodes you think will be best for your family.
Food Network Star Kids
Masterchef Junior
Chopped Junior
Kids Baking Championship
America's Test Kitchen
In addition to what you can find on cable, you can also search Youtube for great videos. Grow some veggies as studies have found growing fruits and vegetables is a great way to help get kids to eat them. Also, studies have found those children who garden as children tend to eat more fruits and vegetables as teens and adults. Have your child help you prepare meals -it's one of the mom recommended tips we have for my patented powdered smart food IQed.
Abstract
Objective
To test the effects of a cooking program on healthy food decisions.
Design
An experimental between-subjects design with 3 conditions: healthy, unhealthy, and control.
Setting
Class settings in 5 different schools.
Participants
One hundred twenty-five children between 10 and 12 years of age.
Interventions
Video clips of cooking program containing healthy foods versus cooking program containing unhealthy foods versus control program.
Main outcome measures
Healthy versus unhealthy food choice.
Analysis
Logistic regression analysis, with the control condition as a reference in the first contrast test and the unhealthy food condition as a reference in the second contrast, to examine effects on food choice between conditions.
Results
Children who watched the cooking program with healthy foods had a higher probability of selecting healthy food than children who watched the cooking program with unhealthy foods (P = .027), or with the control condition (P = .039).
Conclusions and Implications
These findings indicated a priming effect of the foods the children were exposed to, showing that nutrition education guided by reactivity theory can be promising. Cooking programs may affect the food choices of children and could be an effective method in combination with other methods to improve their dietary intake.
LISA GENG
Author and President of The Cherab Foundation
Lisa Geng got her start as a designer, patented inventor, and creator in the fashion, toy, and film industries, but after the early diagnosis of her young children with diagnosis including severe apraxia, hypotonia, sensory processing disorder, ADHD, CAPD, she entered the world of nonprofit, pilot studies, and advocacy. As the mother of two "late talkers," she is the founder and president of the nonprofit CHERAB Foundation, co-author of the acclaimed book, The Late Talker, (St Martin's Press 2003), and holds two patents and patents pending on IQed nutritional composition. Lisa has been serving as a parent advocate on an AAN Immunization Panel since 2015 and is a member of CUE through Cochrane US. Lisa is currently working on a second book, The Late Talker Grows Up and serves as a Late Talkers, Silent Voices executive producer. She lives on the Treasure Coast of Florida.