While there is a focus on infant and toddler food, heavy metal contamination, including lead, arsenic, cadmium, and mercury, is relatively common across the food supply

Helena Bottemiller Evich, Policito 2021 'Parents Erupt Over FDA Failure To Regulate Toxic Metals in Food Lead, arsenic and cadmium are commonly found in baby foods, but also in many of the ingredients families use to make their own.'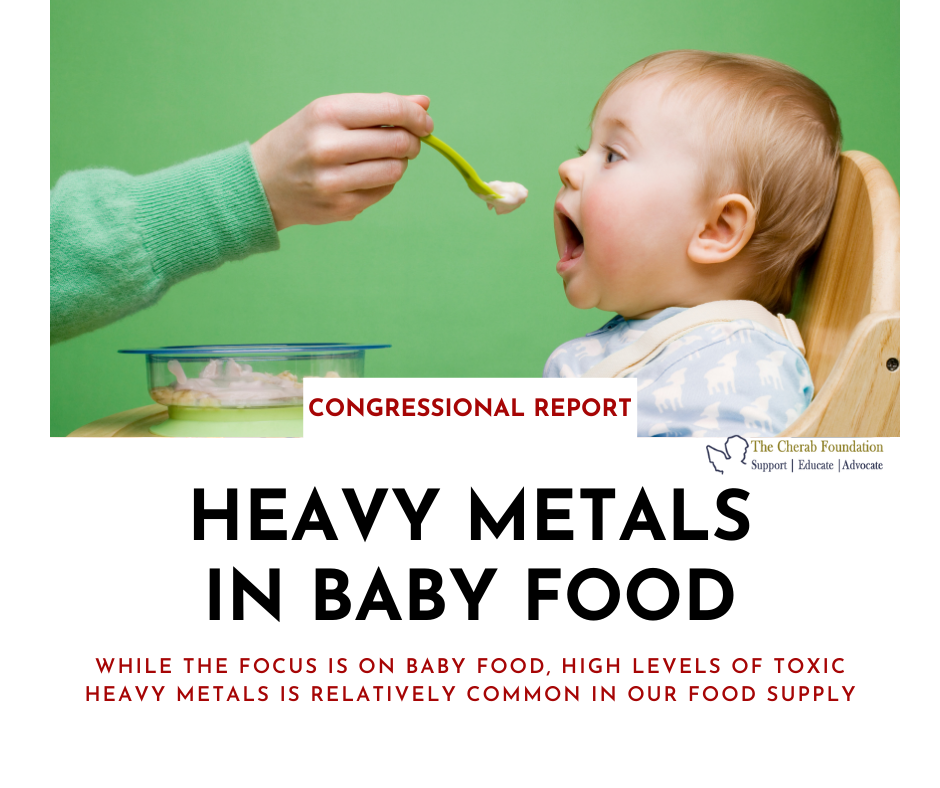 Heavy metals aren't just a baby food manufacturing problem, it's a starting point for the conversation. The soil has become increasingly contaminated in the last century even when it's grown organically. The Food and Agriculture Organization of the United Nations (FAO) has found that crops grown in polluted soils are unsafe for consumption. While some may try to defend dangerously high levels of toxic heavy metals in our food supply saying it's unavoidable, that just isn't true. There should be limits on what is allowed in our food supply, and not just for babies but for our entire food supply. And not just limits for humans, but also including food for livestock and our pets. The term "toxic metal" which may not be scientific sounding to some, seems technically as well as colloquially correct.
Our soil, water and air have heavy metals in them which is how they have become part of our food chain (soil, plant human or soil, plant, animal, human) Some have tried to downplay this growing research saying heavy metals are naturally part of the Earth, however, our air, soils, and water have become increasingly contaminated with heavy metals including inorganic heavy metals through human activity including emissions from industrial areas, mining, disposal of heavy metal wastes, leaded gasoline and paints, fertilizers, sewage sludge, pesticides, wastewater irrigation, coal combustion residues, spillage of petrochemicals.
For just two examples, while arsenic is found naturally in the soil and water, inorganic arsenic is highly toxic, you're not supposed to be eating or drinking it and it's only in our food supply including infant food, due to human activity. There is also no safe level of lead, yet lead can be found in all parts of our environment today including air, soil, and water and most of it comes from human activities including the use of fossil fuels such as past use of leaded gasoline and lead based paint, as well as certain industrial facilities..
Perhaps the best way to get the message to the public however was to start raising awareness about the toxic heavy metals found in infant food. If that doesn't outrage the public then what will?
In 2019 a report found NINETY-FOUR percent of all baby food tested has LEAD IN IT. There is no safe level of lead. This same report also found dangerously high levels of arsenic, cadmium, or mercury. Only nine of the 168 baby foods tested weren't found to contain arsenic, lead, cadmium, or mercury. There is no "safe" amount of heavy metals for babies or children. That means that small amounts may cause harm.
In February 2021, a congressional report shed more light on the issue of toxins in baby food, and then in late September 2021, a new report found more cases of major manufacturers knowingly selling baby food with dangerous levels of arsenic, lead, cadmium, and mercury. "Even in the trace amounts found in food, these contaminants can alter the developing brain and erode a child's IQ. The impacts add up with each meal or snack a baby eats," the report said. Everyone everywhere should be mad
Baby food ingredients in certain products contained up to 91 times the inorganic arsenic level, up to 177 times the lead level, up to 69 times the cadmium level, and up to five times the mercury level allowed in bottled water, The report said, yet the companies still approved those products for sale.
"The Subcommittee's investigation revealed that manufacturers knowingly sell tainted baby food to unsuspecting parents, in spite of internal company test results showing high levels of toxic heavy metal, and without any warning labels whatsoever,"
One "organic" milk formula marketed to toddlers had levels of inorganic arsenic that were six times the levels currently considered safe by the US Environmental Protection Agency. As we already know though, organic doesn't mean free of heavy metals, and in some cases due to certain farming methods, organic food can be higher in heavy metals. A Clean Label Project study found certified organic products averaged twice as many heavy metals.
The danger of high levels of heavy metals in our food supply has been known for almost a decade now. In 2012 Consumer Reports ran an analysis of arsenic in rice foods and juices. In 2015 Marion Nestle, an authority on food politics, plainly said that infant rice cereal should be taken off the market. Yet, nothing changed.
The FDA quietly began looking into high levels of toxic heavy metals in 2017 after an EPA study found that food was a surprisingly significant source of lead exposure for young children. Then in, 2019, the Subcommittee on Economic and Consumer Policy requested internal documents and test results from seven of the largest manufacturers of baby food in the United States, including both makers of organic and conventional products: Four of the companies—Nurture, Beech-Nut, Hain, and Gerber—responded to the Subcommittee's requests.
They produced their internal testing policies, test results for ingredients and/or finished products, and documentation about what the companies did with ingredients and/or finished products that exceeded their internal testing limits.
Walmart, Campbell, and Sprout Organic Foods refused to cooperate with the Subcommittee's investigation. The Subcommittee is greatly concerned that their lack of cooperation might be obscuring the presence of even higher levels of toxic heavy metals in their baby food products than their competitors' products.
The official statement from February 2021's congressional report, "Baby food manufacturers hold a special position of public trust. But consumers mistakenly believe that these companies would not sell unsafe products. The Subcommittee's staff report found that these manufacturers knowingly sell baby food containing high levels of toxic heavy metals. I hope companies will commit to making safer baby foods. Regardless, it's time that we develop much better standards for the sake of future generations."
The Subcommittee's investigation found:
Top baby foods are tainted with dangerous levels of inorganic arsenic, lead, cadmium, and mercury.
Industry self-regulation fails to protect consumers as manufacturers set their own dangerously high internal standards for toxic heavy metal levels.
Manufacturers routinely ignore internal standards and continue to sell products with higher heavy metal levels.
Manufacturers' prevalent practice of only testing their ingredients is concealing higher levels of toxic metal in finished baby foods
In late September 2021, the House Subcommittee on Economic and Consumer Policy describe continued dangerous levels of arsenic, lead, cadmium, mercury, and other toxins, which are known to be particularly dangerous to developing babies and toddlers.
For every one IQ point lost, it is estimated that a child's lifetime earning capacity will be decreased by $18,000
While there is a focus on infant and toddler food, heavy metal contamination, including lead, arsenic, cadmium, and mercury, is relatively common across the food supply. These unwanted toxins are known to be detrimental to the health, cognitive functioning, and overall wellbeing of consumers, including growing children and pets. An EPA study showed that about half of blood lead exposure for most children between the ages of 1 and 6 comes from food
Some crop fields and regions contain more toxic levels than others, partly due to the overuse of metal-containing pesticides and ongoing industrial pollution. In addition, the recent congressional report suggests certain manufacturing processes may also partially contribute to metal content
A data analysis commissioned by Healthy Babies Bright Futures showed that American children ages 0 to 24 months have already lost more than 11 million IQ points from exposure to arsenic and lead in food. These metals cause "permanent decreases in IQ, diminished future economic productivity, and increased risk of future criminal and antisocial behavior….. Exposure to heavy metals at this developmental stage can lead to "untreatable and frequently permanent" brain damage, which may result in "reduced intelligence, as expressed in terms of lost IQ points, or disruption in behavior." For example, a recent study estimates that exposure to environmental chemicals, including lead, are associated with 40,131,518 total IQ points loss in 25.5 million children (or roughly 1.57 lost IQ points per child)—more than the total IQ losses associated with preterm birth (34,031,025), brain tumors (37,288), and traumatic brain injury (5,827,300) combined.
What You Can Do
Air, soil, and water have increasingly become contaminated with toxic heavy metals through industry, mining, leaded gasoline, paints, fertilizers, and more. However, growing research shows that an adequate intake of essential nutrients is able to block the absorption of certain heavy metals known for their adverse effects on both humans and animals. One study, examining published reports of dietary methods, recommends that a sufficient intake of specific nutrients such as protein, selenium, zinc, folate, calcium, iron, and vitamins B and C can naturally protect the human body from heavy metals. All of these recommended nutrients are found in IQed which was just awarded the nonprofit Clean Label Project's seal of approval determining that IQed is among the cleanest foods on the market.
Arsenic:
Feed kids a diet rich in protein, folate, and Vitamin B6 to help prevent the absorption of arsenic. For babies, there is little to no nutritional value to rice, and it's loaded with arsenic, so you should avoid rice cereal, snacks, puffs, or teething biscuits for babies. Use oats instead. You can, for example, take oats and pulse them to a powder. While oats also contain heavy metals it's much lower than rice. If you do cook rice for your family limit how often you serve it. You can also cook it with a ratio of 1 part rice to 6-10 parts water, and drain off the excess water. This can reduce the arsenic in rice by 40-60%.
Lead
Lead has been found in all kinds of foods and drinks (not just baby food) and this includes healthy foods like leafy greens and junk food such as candy. Lead absorbs best on an empty stomach, so find clean foods (such as IQed see below) that you can feed your child a few times a day) Also it's good to know that calcium, iron, and vitamin C block the absorption of lead.
While we know there are no safe levels of lead and that is the concern we are talking about, this guide from the EPA has some good information on how to reduce the risks of lead poisoning. For example:
• Make sure your children eat healthy, low-fat foods high in iron, calcium, and vitamin C.
• Get your children tested for lead, even if they seem healthy.
• Get your home tested for lead if it was built before 1978. Call 1-800-424-LEAD for more information.
• Always wash your hands before eating.
• Wash children's hands, bottles, pacifiers, and toys.
• Do not use imported pottery to store or serve food.
• Let tap water run for one minute before using.
• Use only cold water for making your baby's formula, drinking, and cooking.
• Regularly clean floors, windowsills, and other surfaces using wet methods that control dust.
• Wipe or remove shoes before entering your house.
• If you rent, it is your landlord's job to keep the paint in good shape. Report peeling or chipping paint to
your landlord and call your health department if the paint is not repaired safely.
• Take precautions to avoid exposure to lead dust when remodeling or renovating.
• Don't try to remove paint yourself!
Cadmium
This study used published reports to examine dietary methods to help reduce risks of both lead and cadmium which are both toxic heavy metals with adverse effects on both humans and animals. Dietary methods are both safer and cheaper than chelation. Please note in the following quote they use the scientific terms for cadmium (Cd) and lead (Pb)
"We recommend that people who are at risk of exposure to toxic metals ensure a sufficient intake of essential elements and vitamins and enhance their consumption of vegetables and fruit (Figure 1). Some edible plants, such as tomatoes (rich in iron, calcium, selenium, zinc, vitamins B and C, quercetin and naringenin), berries (rich in essential elements, vitamin C, anthocyanin and catechin), onions (rich in selenium, quercetin and vitamins B and C), garlic (rich in sulphur-containing compounds, essential elements and vitamins C and E) and grapes (rich in vitamins, essential elements and anthocyanin) are of special importance as natural antagonists to Cd and Pb toxicity and should be consumed on a regular basis. "

Mercury
Increased intake of vitamin C, selenium, and the fibers pectin and alginate (from seaweed) can lower absorption and help eliminate mercury from your body. Try to only eat fish low or lower on the food chain such as sardines as the larger fish such as tuna tend to accumulate more mercury in their body. Don't avoid fish however as it's rich in the essential fatty acids EPA and DHA which are also critical for our health and healthy brain development and function. You can also use fish oils as mercury tends to bind to the protein or muscle of the fish and numerous published studies have found fish oils don't contain mercury. This is the formula of fish oils recommended as part of my Lisa Geng protocol.
Other Methods
You should also look to limit juice. It's not healthy for children (or their teeth) and we've known for years to limit it, but now it ends up that juice is another risk of high levels of heavy metals
Since any healthy food may have a risk of heavy metals, mix it up and vary what you feed your family.. The more different foods you eat, the more you spread out any possible risk while still getting benefits from a varied diet.
You can learn which foods contain the most of which heavy metal and try to rotate the foods you feed your infant and for that matter, your entire family. Organ meats such as livers, hearts, brains, and intestines, tend to be highest in heavy metals, which is unfortunate as that is also where the highest level of nutrients are as well. If you have a garden you can test the soil and water to know what heavy metals are highest and also to know what you should avoid growing as certain plants absorb more than others.
Purchase a whole house water filter. Some can be expensive but I bought one called Home Masters which had good reviews that you can get from Home Depot or Amazon for around 3 or 4 hundred and had a plumber install it on my house. They have one for well water and one for city water. (I have no vested interest in this company, but just letting you know there are inexpensive options) If you do get this make sure you change the filter once a year. With this, all the water you drink, cook with, or bathe with (percutaneous absorption) is filtered. I had even called the company to ask if microplastics are filtered out too as that is also a huge problem in our water supply today and was told they are.
If you don't want to test your soil, or you know you live in an area that may have environmental contaminants that are industrial or where you question the quality of the soil, you can purchase clean soil and grow vegetables in potted plants if you live in an area. And you can use your filtered water to water your plants.
There are things that food manufacturers can do as well to limit heavy metals. Numerous peer-reviewed articles along with many reports including the recent congressional report suggest companies:
Find a new source of the food that has less heavy metals
Stop including ingredients where a low heavy metal source can't be found
Perform complicated chemical chelation (for mercury-containing foods)
Change equipment to equipment that doesn't cause heavy metal contamination
Vote for better food with what you purchase. There is an old expression that consumers vote with their pocketbooks. Currently when it comes to food purity the public demands food that is organic and GMO-free which is why you have so many options when shopping. The public doesn't yet demand food low in toxic heavy metals, and because the focus is on infant food, this is where you can now find more choices and where regulations are being made. There has been knowledge about the issue of heavy metals in certain foods such as arsenic in rice and mercury in fish, the focus appears to primarily be on food for infants and there is not enough outrage from the public about the limitations of dangerous heavy metals in much of our food supply today including drinks and supplements. Did you know that studies such as this one found toxic levels of heavy metals in prenatal vitamins? While consumers search for foods free of pesticides, let us start demanding foods free of toxic heavy metals.
Clean Label Project Certification
It costs far more money to ensure ingredients and the finished food or supplement is free of all the environmental contaminants such as heavy metals that are dangerous to us. However, you can show companies that this is what you demand by searching for and purchasing foods and other products that are qualified for and are awarded the Clean Label Project's™ Purity Award and Clean Label Certifications by the nonprofit Clean Label Project (CLP) that have been independently tested for over 130 environmental contaminants including heavy metals. Currently, only about a third of foods on the market could pass CLP's rigorous testing.
Clean Label Project uses data and science to reveal the true contents of America's best-selling consumer products. The products are tested in an accredited analytical chemistry laboratory for 130 harmful environmental and industrial contaminants and toxins. They look beyond just the product's marketing claims and ingredients and reveal what isn't listed on the label – hidden industrial and environmental contaminants like arsenic, lead, antibiotics, or pesticide residues as well as positive attributes like nutritional superiority. Their goal is to educate the public so that they can make informed choices on more pure options as they shop.
Why IQed
Upon learning what was going on with industrial contaminants in our food supply and seeing a need for food I could trust to feed my own family, I created IQed. and made sure both the ingredients as well as final products were tested in a way I could trust it which is why IQed is made in an FDA cGMP facility IQed is nutrient rich, containing all of the essential nutrients we require daily, including those recommended in the above mentioned studies to help block the body's absorption of heavy metals. With both of my sons, Dakota and Tanner, diagnosed on the spectrum, over 20 years ago I founded the Cherab Foundation, a worldwide nonprofit organization working to improve the communication skills, education, and advocacy of children on the neurological spectrum. Taking my crusade further, I formulated IQed. A National Institute of Health-based, peer-reviewed medical journal showed 92% of respondents reported positive changes upon using IQed. Improvements in concentration, energy, motor skills, and speech were bolstered by those suffering from Autism, Apraxia, ADHD, and other disorders.
My Entire Patented IQed Line Was Just Certified "Clean" By The Clean Label Project
The entire IQed line has received the Clean Label Project Purity Award from the Clean Label Project™, a national nonprofit focused on health and transparency in labeling. The certification validates IQed's aim to not only comply with but exceed the strictest standard for harmful contaminants, chemicals and additives: what appears on the label is exactly what the product contains. An independent laboratory rigorously tested the IQed line for nutritional value and purity, including levels of heavy metals, chemicals, plastics, pesticides, and other toxins that make it into much of the U.S. food supply. The recent study conducted by the Clean Label Project™, an independent third-party nonprofit organization, found that the entire IQed line including IQed Smart Nutrition and IQed Pet, qualified for and was awarded the prestigious Clean Label Project's™ Purity Award and Clean Label Certifications, the highest overall rating for product purity and value. This demonstrates our strong commitment to product safety and our focus on providing clean health for you and your family.
IQed Smart Nutrition is a natural patented smart food conceptualized by a mom, perfected by doctors, and made in an FDA cGMP facility, IQed Pet is a veterinarian approved, nutrient rich smart food also made in an FDA cGMP facility. Both contain a proprietary and patented blend of Ayurvedic botanicals, such as Turmeric, Amalaki, Haritaki, Gymnema, Green Tea, Guggul, Chia, Cinnamon, and Cayenne Pepper, as well as undenatured 100% casein free whey isolate protein. Every ingredient in IQed as well as the final product is tested free of heavy metals, hormones, pesticides and herbicides, stimulants, preservatives, genetically modified ingredients, or synthetic contaminants, and is also free of major allergens: including nuts, eggs, shellfish, soy, and wheat. IQed is manufactured in a cGMP certified facility in the United States. meaning we adhere to strict FDA requirements and the highest standards for food manufacturing in the industry today.
"We are proud to include IQed Smart Nutrition and IQed Pet in our prestigious line of quality "Clean" products, which allows the consumer to differentiate between the many products on the market and feel comfortable about what they are consuming. Only about a third of food products on the market today could qualify", said Jackie Bowen, Executive Director of the Clean Label Project.
Lisa Geng
Author and President of The Cherab Foundation   

Lisa Geng is an accomplished author, mother, founder, and president of the CHERAB Foundation. She is a patented inventor and creator in the fashion, toy, and film industries. After the early diagnosis of her two young children with severe apraxia, hypotonia, sensory processing disorder, ADHD, and CAPD, she dedicated her life to nonprofit work and pilot studies. Lisa is the co-author of the highly acclaimed book "The Late Talker" (St Martin's Press 2003). She has hosted numerous conferences, including one overseen by a medical director from the NIH for her protocol using fish oils as a therapeutic intervention. Lisa currently holds four patents and patents pending on a nutritional composition. She is a co-author of a study that used her proprietary nutritional composition published in a National Institute of Health-based, peer-reviewed medical journal.
Additionally, Lisa has been serving as an AAN Immunization Panel parent advocate since 2015 and is a member of CUE through Cochrane US. Currently working on her second book, "The Late Talker Grows Up," she also serves as an executive producer of "Late Talkers Silent Voices." Lisa Geng lives on the Treasure Coast of Florida.