Once you start fish oils  in rare situations you may note a "fishy" smell around your toddler.  The following will cover why this happens and how in all but rare cases this can be corrected.
Child smells fishy after taking fish oils
Clearly the preferable way to give a child fish oils is to have them swallow the capsules.  This is not possible for toddlers.  In addition if you have a child with special needs it may take even longer to teach them to swallow the capsules.  I'll cover how to teach a child to swallow capsules in another blog.
Fish oil served as a liquid should be served with:
Disposable plastics
Metal silverware
 Ceramic type dishes
Don't use reusable plastic as oil binds to the plastic. Think spaghetti sauce and orange rubbermaid containers. When you wash the sippy cups and other reusable plastic you are not going to remove all the oil, so the cup will smell like fish, and you'll possibly even have fish oil steam when you open your dishwasher.  If your resusable plastics already smell like fish, you may want to start fresh.
Rare possibility for fishy smelling kid
A rare reason for a fish smell would be Fish Odor Syndrome or Trimethylaminuria.  Trimethylaminuria is a genetic disease; symptoms are often present from birth. Fish odor syndrome is characterized by an offensive body odor and the smell of rotting fish due to the excessive excretion of trimethylaminuria (TMA) in the urine, sweat, and breath of affected individuals.  Having this problem does not make people sick in any way, but it certainly is embarrassing.
In the past 16 years our of all the families I've outreached to through the Cherab Foundation there is only one child and his mom who possible have a rare metabolic reason for  Trimethylaminuria.  In fact Trimethylaminuria is so rare that even though the mom is an MD she didn't even suspect this as the possible cause of the fishy smell her and her son had.  However this mother and son were never confirmed as they are using nutritional methods to support the metabolic systems and continue to consume fish.  Dietary methods are currently the only way to treat this condition.
The worst foods to consume if you have trimethylaminuria would be fish, eggs, liver, and kidney.  If that's not enough, also soybeans, peas, and mayonnaise have to be avoided too.  Eggs, soybeans, and mayonnaise can be hard to avoid, because they are part of many packaged foods. This diet clearly would be difficult to follow, but it's better than smelling like rotten fish.
If this condition is suspected the doctor can order a urine test which will help determine if the diagnosis is Trimethylaminuria.  Diagnosis is also possible through gene sequencing (done via a blood test).  Again though Trimethylaminuria is rare.
More likely reason for fishy smelling kid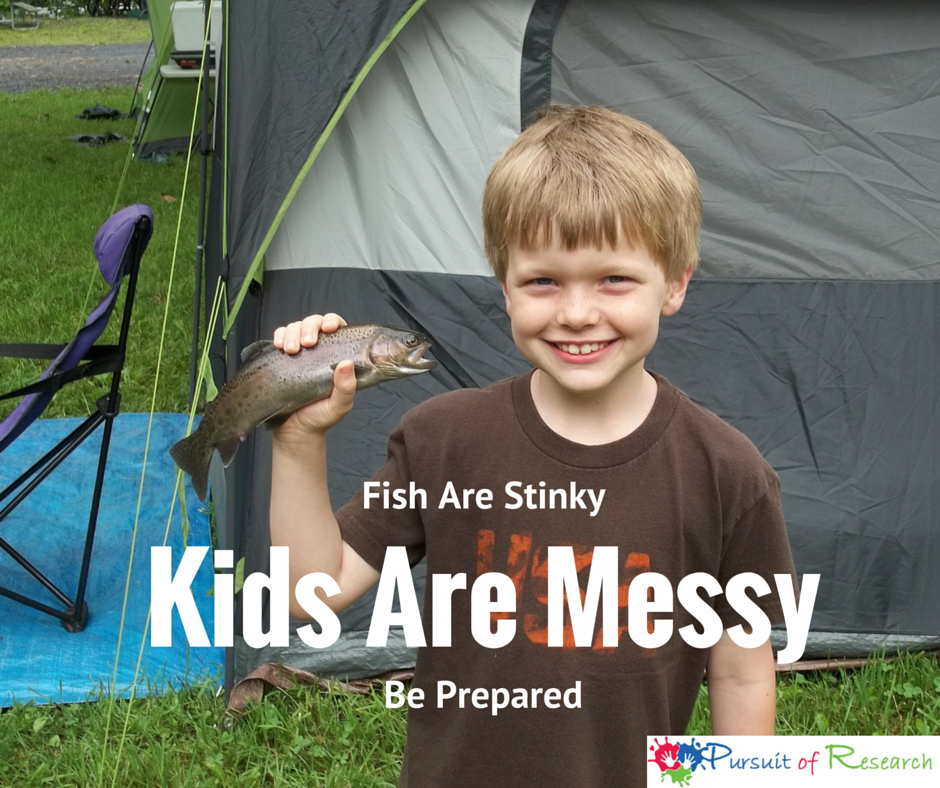 Dealing with children and fish oil you have to be prepared.  Kids can be messy.   If  you don't blot their mouth after serving them fish oils, they will probably wipe their mouth on the back of their hand, and then wipe the back of their hand on their clothing, or your couch.  Even if it's on their clothing the smell of fish is difficult to remove sometimes taking 3 washes to come out.   My brother is a captain and a maritime attorney, and on the ships they use lemon to clean away any fish smells off the ships, so you can try that too.
If it's their breath, most kids don't brush for the full 2 minutes they should. If you are noticing fish breath make sure they brush their teeth, and tongue too if he can stand it. If you don't have a sonic type toothbrush that may help.  Good oral motor stimulation if your child has a communication impairment either way.
How Do You Serve Fish Oils?
Some children like the taste of fish oil. The parents need to hide the bottle as the kid will chew the capsules like they are gummy candies! Monica, a mom in the Cherab support group shared, "So my 3 year old will only take her fish oil if I give it to her served in a sea shell. 
😂
🐚"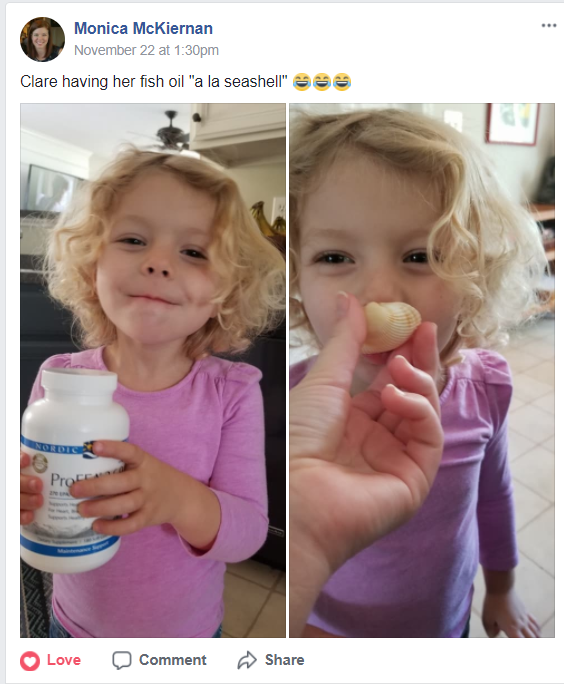 But for many of us the child will either hate or not like the taste of fish oil -even with a seashell.  So for the rest of us, here are tips for serving fish oils to children.
Keep A Paper Towel Handy
Right after the fish oils go into their mouth, blot their lips right away with the paper towel to make sure you remove the chance of any fish oil going anywhere but in their body. After you blot their mouth give them something to drink and blot their lips again to make sure you have every bit of fish oil cleaned off. If you don't blot their mouth, many will wipe their mouth with the back of their hand, and then onto their clothes, hair, or God forbid furniture!
Mother Tested Tips For Serving Fish Oil To a Toddler
Below are helpful tips on how to get yucky magic fish oil into kids that worked for me when my son was younger. Trust me totally worth the drama!
My 5 year old apraxic son Tanner is a trooper and takes the NNProEFA 3.6.9. from a spoon every day. I hold his nose for him, but he doesn't mind the taste. We started the holding the nose thing when Tanner used to take the efalex, which is very fishy smelling and tasting, and it's kind of our ritual now.
I rip only half of the protective waxy seal off the top of the NNProEFA 3.6.9. bottle, and put a pin in the part that is left. When it's time to give Tanner his NNProEFA 3.6.9., I open the top of the bottle, pull out the pin, put a hole in the capsule, put back the pin, and squeeze the oil onto a spoon.
Here are some other things we used to have to do when Tanner took the efalex which he hated. (Efalex is fishier tasting and smelling)
1. We would put just put a drop of fish oil in the middle of the bread for a sandwich and cover with peanut butter, a drop in the middle of a pancake, a drop in the middle of a bowl of spaghetti, etc. if we put too much fish oil, Tanner would not eat the food.
2. Glenn and Tanner and Dakota would each hold a cup filled with a dash of juice. Tanner's juice was always "spiked" with efalex. Tanner is very competitive and would love a good race. "Ready set Go!" and Glenn would hold the cup to his mouth without drinking and then stop and have all three compare who drank the most. Of course, Tanner was winning! They would keep doing this until Tanner won (which meant he finished the efalex fish oil spiked juice)
3. I used to bribe Tanner with gummy bears that he could have after. Didn't work as good as the first two. But for a long time we did a combination of number one and number three.
4. Tanner's older brother started taking the fish oil, and Tanner wants to do what Dakota does.
5. As Tanner got older, at about four, we started calling the fish oil "yucky magic fish oil which helps you talk" and we really made a big deal about how yucky it was, and would "show off" to people how Tanner could take this yucky stuff and eat it right off the spoon. It worked for Tanner!
It was lots of work, but well worth the results. If your child will not take NNProEFA 3.6.9., maybe buy some efalex and try that. Compared to efalex, a sock would probably be a treat!
Again, some EFAs are liked by some children-hated by others. With NNProEFA 3.6.9. – many kids from the Cherab group will just eat it from a spoon, or chew the capsule since borage oil is naturally sweet. I can say that NNProEFA 3.6.9. does not smell like some of the other EFAs we've used. After a year and a half of Tanner hiding behind the couch when it was time to take other fish oils, this was amazing even without all the great breakthroughs he's had!
Syringe Method: How to
Some and found serving protein shakes or fish oils in a syringe or shovel to be easiest.
"Use the proper implement for liquid medicines. Don't use a spoon–too much chance for spillage (and, unless you use a measuring spoon, too much chance of giving the wrong amount). My personal preference is a medication syringe (most pharmacies carry them). If you have a preschooler or older who freaks a bit at getting stuff squirted in his mouth and will cooperate, use the medication spoons that have a cylinder for measuring as a handle (also available in pharmacies)–it allows you to pour out a little at a time.

When squirting into a mouth, remember:
Aim back (but not too far back) and to the side. If you go too close to the front it's easier to spit out, but if you go straight back the child may gag.
Don't squirt all at once. As tempting as it is to get it over with, if you don't want to be wearing it, wait until they swallow each bit before giving more.
If you've got a squirmer: hold your child so that they are leaning back. Put the arm closest to you behind your back, and hold the other one down with the hand of the arm that's cradling them. If you've got a kicker, you can put their legs between yours.
A chaser may help. Something strongly sweet is often effective–I've had good luck with chocolate syrup. Honey is good too–but never use in a baby less than a year old, because of the risk of botulism. With really nasty-tasting ones, I've sometimes filled a syringe with chocolate syrup and alternated medicine with chocolate. Eating some crackers can help kill the taste too, or brushing teeth (which is good to do after giving iron or iron-containing vitamins)." ~ Dr. Claire McCarthy
Should I put fish oil in my child's reusable plastic cup?
You don't want to put fish oil into any type of reusable plastic no matter what type of liquid or food it's mixed with because the oil will bind to the plastic and you will find it difficult if not impossible to get the smell of fish out of the cup no matter how much you wash it. Think of when you put spaghetti sauce into a plastic Tupperware like container and the container turns orange from the plastic absorbing the pigments from the spaghetti sauce during the wash. While one can deal with an orange container, try to deal with fish oil steam when you open your dishwasher! Most likely you'll throw any plastic cups away that you put fish oil in. You preferably want to serve fish oil in glass, ceramic, metal (such as on a spoon) and if you use plastic -disposable plastic.
Here is another way to serve fish oils that is super neat demonstrated by Colton!

Thank you, Star Johnson, for this creative method that worked for your daughter!

Warning from Nordic Naturals
The professional line of Nordic Naturals is the preferred line by most.  You can only purchase the professional line at an authorized distributor online such as http://www.speech411.com or from a healthcare professional. Very few online sites are authorized to sell the professional line even though you can find it all over, for example on Amazon.  There has been a rise in fraudulent sellers including on Amazon.  Don't purchase the professional line of Nordic Naturals at Amazon as nobody selling there is authorized to sell there.  The issue with that isn't just buying a product that wasn't authorized to be sold on a particular website.  Amazon has a problem with fraudulent sellers mainly from China (see some of the references below) and this problem is not just limited to fish oils, and it's not just limited to Amazon.   Nordic Naturals has hired a company to help them as they purchased some of the bottles or NN ProEFA 369 sold on Amazon and some were packed with cotton. They do not pack their fish oils with cotton which means you do not know what is in those capsules, or where they were packed.  As you can see from the links below at times the product's exact description and sometimes reviews all look legitimate.  When a product is counterfeit however and there are side effects or injuries,  the customer and the actual manufacturer are the ones that suffer. Example of how this is not just a fish oil issue

LISA GENG
Lisa Geng is an accomplished author, mother, founder, and president of the CHERAB Foundation. She is a patented inventor and creator in the fashion, toy, and film industries. After the early diagnosis of her two young children with severe apraxia, hypotonia, sensory processing disorder, ADHD, and CAPD, she dedicated her life to nonprofit work and pilot studies. Lisa is the co-author of the highly acclaimed book "The Late Talker" (St Martin's Press 2003). She has hosted numerous conferences, including one overseen by a medical director from the NIH for her protocol using fish oils as a therapeutic intervention. Lisa currently holds four patents and patents pending on a nutritional composition. She is a co-author of a study that used her proprietary nutritional composition published in a National Institute of Health-based, peer-reviewed medical journal.
Additionally, Lisa has been serving as an AAN Immunization Panel parent advocate since 2015 and is a member of CUE through Cochrane US. Currently working on her second book, "The Late Talker Grows Up," she also serves as an executive producer of "Late Talkers Silent Voices." Lisa Geng lives on the Treasure Coast of Florida.