Peter Banning: What …is the matter with you? When are you gonna stop acting like a child?
Jack: [laughs] I am a child. ~The Movie Hook 1991
Nothing to see here except overwhelming evidence, move along
We know beyond a shadow of a doubt that young children learn through play.  Results are consistent from study to study that early academic training somewhat increases children's immediate scores on the specific tests that the training is aimed at, but these initial gains level out within 1 to 3 years, between 1st and 4th grade, and in some studies are even reversed.   Children who are given a play based kindergarten placement statistically are better students in the long run.  In addition to this new evidence is showing that by taking away play time from children to focus on reading and math, not only is there no academic advantage, there can be long term harm to their social and emotional development.
Countries that follow the evidence are proof in the pudding
In Germany, long-term gains for children from play-based classrooms were found in a study done in the 1970s. In that case, children from 50 kindergarten classes that were play-based were compared with the same number from cognitively oriented kindergartens. The children were followed until age 10. The study, reported by Linda Darling-Hammond and Jon Snyder in the Handbook of Research on Curriculum, found that children from the play-based kindergarten classes excelled over those in the cognitive classrooms in all 17 measures used, including creativity, oral expression, and "industry." The study was so convincing that Germany, which was moving rapidly toward academic kindergarten classes, switched back to play-based programs.
Germany, Sweden and Finland, follow the evidence on the importance of play for young children.   In addition all three of these countries delay formal schooling until 6 or 7, and all of which achieve better educational results than the United States. Finland, which consistently ranks at the top of all Organization for Economic Co-operation and Development countries for educational attainment, doesn't even start mandatory education until age 7.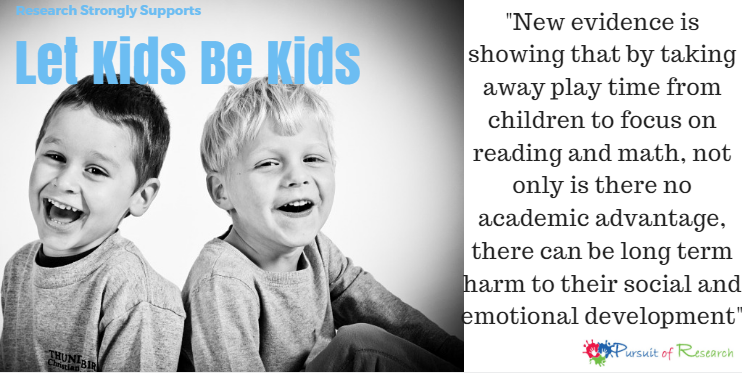 In a well-controlled experiment that began in 1967, 68 high-poverty children were assigned to one of three types of nursery schools: Traditional/play-based, High/Scope/traditional with adult guidance, and Direct Instruction/reading, writing, and math, using worksheets and tests. The three groups were initially matched on all available measures.  The initial results of this study were consistent to others in that the direct-instruction group showed early academic gains, which soon vanished. This study, however, also included follow-up research when the participants were 15 years old and again at 23 years old. While at 15 and 23 there were no significant differences among the groups in academic achievement, there were large, significant differences in social and emotional characteristics.  Those in the direct instruction had twice as many acts of misconduct, and had more instances of friction with other people, were more likely to have shown evidence of emotional impairment, were less likely to be married and living with their spouse, and were far more likely to have committed a crime than were those in the other two groups.
All I Needed To Know I Learned In Kindergarten
My older son was born July 30th, so a summer baby.  He had a rough start from birth starting off in intensive care due to a traumatic delivery which almost killed him.  He was in therapy overseen by a neurologist from 3 weeks old.  But after years of hospitals, doctor visits, and therapy by the time he was going to be turning 5 we had just moved to a new town and were excited to start him in kindergarten.  After he was enrolled in kindergarten, I soon learned that most of the parents in this upper middle class new town we moved to which was close to NYC didn't start their neurotypical children in kindergarten until 6 years old for academic and athletic reasons.
I showed up at the first parent teacher conference and will never forget the teacher telling me, "During story time all the children sit nicely in the rug, but your son is sprawled out on the rug."  I answered her, "Because he just turned 5 years old a month ago.  All the other kids that are "sitting nicely" are 6 going on 7 years old.  Maybe if someone would have given me a clue when I enrolled him that I should wait till next year…"  A few years later this son was tested with multiple evaluations to have both ADHD and CAPD, but also tested gifted by both the school and private by the pediatric neurologists and other professionals.  Almost daily I learned from another child later in the kindergarten year my son was yelled at.  I don't know why he never told me.  I regret I didn't know to retain my son in preschool to give him more play time, more time to be a kid.  Why I stress for parents to look at the evidence of the importance of retention in preschool, to delay kindergarten until 6, if there is a delay in any area.
Perhaps this goes back to the book All I Needed To Know I Learned In Kindergarten, a book which was written during an era when kindergarten was still play based.  Who would have thought that as the mom of a kindergartener I'd again learn by my son attending the importance of play and letting kids be kids.   In a play based kindergarten classroom children plan their own activities and learn how to play "nice in the sandbox" with others.  Here are other things they'll learn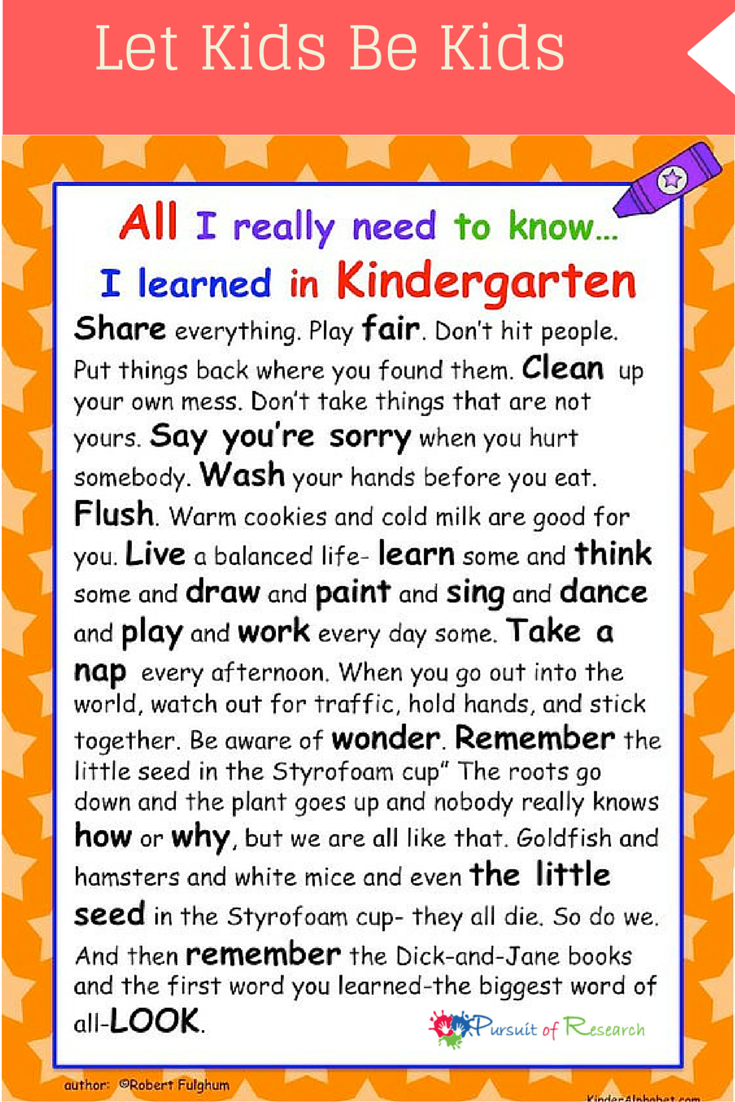 Play Spot Play
This is not to say you shouldn't let your children read if they want to, and this is not to say you shouldn't read to them and find games for them that educate them in fun ways.  I have an entire Pinterest board devoted to just that!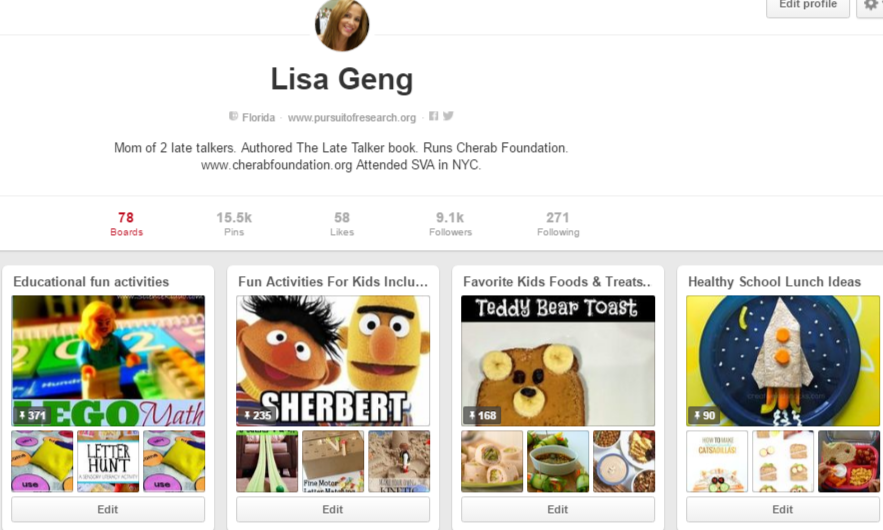 Resources
Also read
Wise Words About Stupid Standardized Testing
LISA GENG
Lisa Geng got her start as a designer, patented inventor,and creator in the fashion, toy, and film industries, but after the early diagnosis of her young children she entered the world of nonprofit, pilot studies, and advocacy. As the mother of two "late talkers," she is the founder and president of the nonprofit CHERAB Foundation,co-author of the acclaimed book, The Late Talker, (St Martin's Press 2003), and is instrumental in the development of IQed, a whole food nutrition meal replacement. Lisa currently serves as a parent advocate on an AAN board for vaccines, and is a member of CUE through Cochrane US. Lisa is currently working on a second book, The Late Talker Grows Up and serves as a Late Talkers, Silent Voices executive producer. She lives on the Treasure Coast of Florida.