"Now the scientists, brought together by the Cherab Foundation, a major nonprofit group for children with speech disorders, are calling for a large-scale clinical trial to validate these initial findings.The panel of experts who reviewed the study included scientists from the NIH, Johns Hopkins University, Kennedy Krieger Institute, University of Kansas, and Oxford University, England. They join a growing group of researchers who are heralding the benefits of essential fatty acid supplementation for a wide range of brain-related problems including depression, bipolar disorder, schizophrenia, attention deficit hyperactivity disorder, dyslexia, and even Alzheimer's disease, apraxia and autism."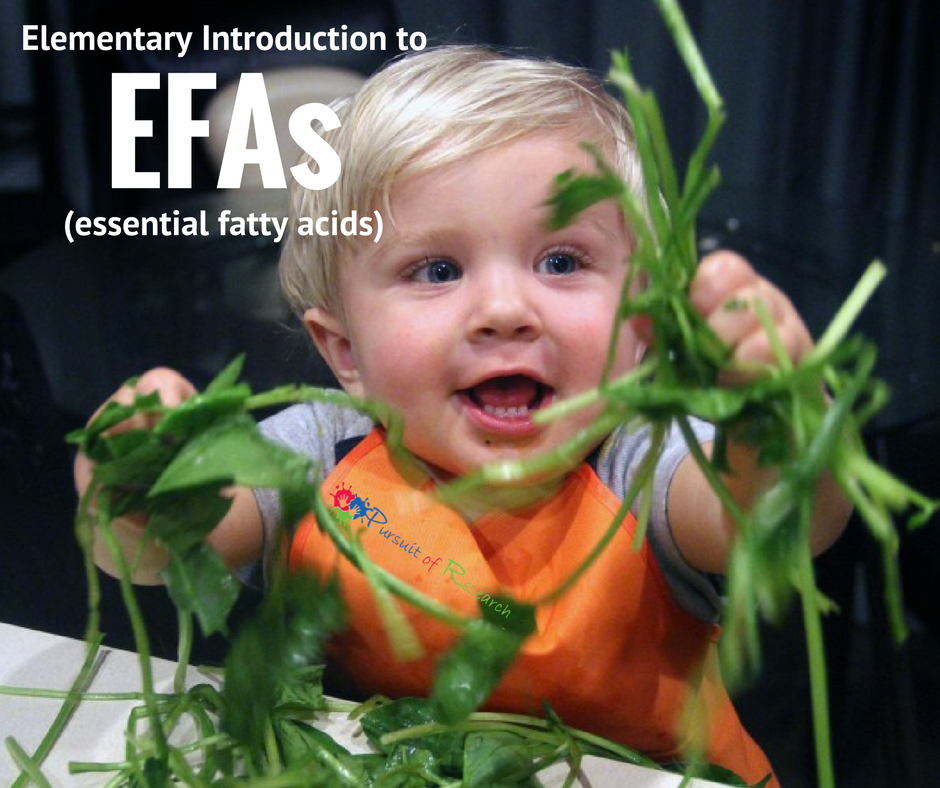 Further proof that the more you learn about the Omegas/EFAs/PUFAs or whatever you call them, the more confusing they are, here is a "basic" and "elementary" guide to EFAs written by a PhD who wanted to "simplify" it for all of us parents.  Now you get it right?!
Slides Presented in Part at The First Conference on Therapy for Verbal Apraxia/Dyspraxia "Essential Fatty Acids (EFA) in Verbal Apraxia: A New Potential Therapeutic Intervention"
July 23-24, 2001 Headquarters Plaza Hotel, Morristown, New Jersey, U.S.A.
Robert Katz, Ph.D. Managing Director, Consortium for Brain Fatty Acids, Omega-3 Research Institute, Inc., and Director of EFA Research, CHERAB Foundation,
Elementary Introduction to Essential Fatty Acids (EFAs)
The Omega-6 and Omega-3 EFA Families of PUFA (1)
The Omega-6 and Omega-3 EFA Families of PUFA (2)
The Omega-6 and Omega-3 EFA Families of PUFA (3)
EFAs and Eicosanoids
EFAs in Inflammation
Recommended Adequate Intake of EFAs
Omega-3 PUFA and Their Systemic Presence
Relevant Books on Omega-3 PUFA and Special Needs
Elementary Introduction to Essential Fatty Acids (EFAs)
The structure of fatty acids is like a long chain with many links and a Carbon atom at each joint between two  links and at both ends of the chain.  One of the ends of the chain contains the acid moiety, the other has only the carbon atom and hydrogen atoms.  A carbon-carbon link can be single (like in saturated fats which are solid at room temperature and are components of red meats) or it can be double or unsaturated.  If the fatty acid has one double bond it is called monounsaturated like oleic acid, the main component of olive oil.  If it contain two or more double bonds it is called polyunsaturated fatty acid (PUFA) like the omega-6 and omega-3 families.
The Omega-6 and Omega-3 EFA Families of PUFA (1)
There are two main families of polyunsaturated fatty acids (PUFA):
The Omega-6 Family and The Omega-3 Family
Linoleic (LA)                   Alpha-linolenic (LNA or ALA)
(C18:2 n-6; #C atoms,        (C18:3 n-3)
2 Double Bonds)
Gamma-linolenic              Stearidonic (SDA)
(GLA), (C18:3 n-6)           (C18:4n-3)
Dihomogamma-linoleic      Eicosapentaenoic (EPA)
(DGLA), (C20:3 n-6)        (C20:5 n-3)
Arachidonic (ARA)          Docodapentaenoic (DPA)
(C20:4n-6)                         (C22:5 n-3)
Docosatetraenoic acid      Docosahexaenoic (DHA)
(DTA) (C22:4 n-6)          (C22:6 n-3) TOP
The Omega-6 and Omega-3 EFA Families of PUFA (2)
Members of each family are either essential i.e., our body cannot make them (such as LA and ALA) or conditionally essential that is, if we ingest enough LA and ALA in our food (see below for recommended daily intake) our bodies can manufacture all the others.  This biochemical-physiological process is however slow and inefficient, especially in the fetus, premature newborn and developing infant. Thus Ara, EPA and DHA are provided by the mother directly through the umbilical cord or breast milk.
The FDA approved supplementation of infant formulas with DHA to satisfy the infant's needs for appropriate brain and retina development and with Ara to ensure appropriate general development and growth. Direct DHA supplementation is more needed than EPA supplementation.  The reasons are not clearly understood yet.  It is known however that EPA does not accumulate and persist in the brain like DHA.  It is transformed into DHA and hormone-like materials.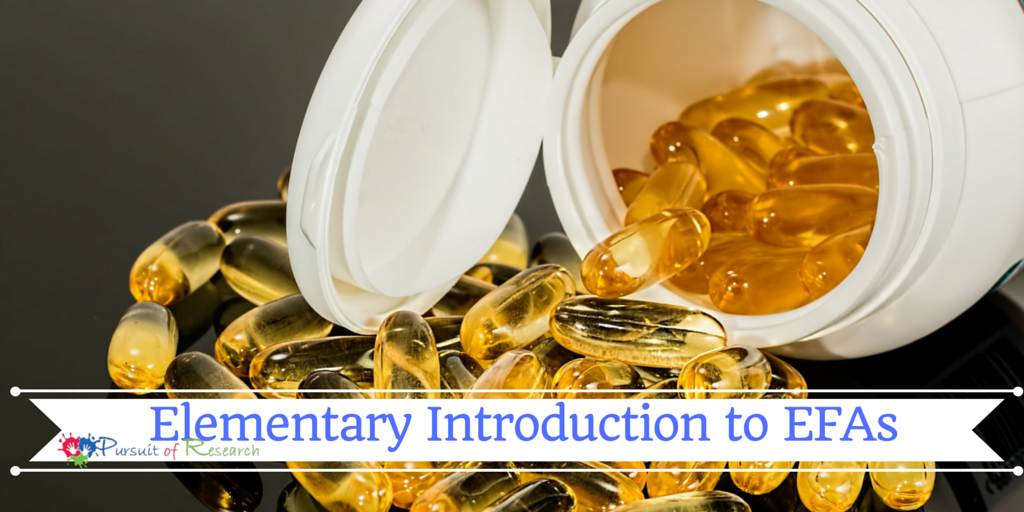 The Omega-6 and Omega-3 EFA Families of PUFA (3)
Omega-6 Oils
LA is abundant in corn oil, safflower oil, sunflower seed oil, cottonseed oil, soybean oil, peanut oil, sesame oil or grape seed oil.  GLA is abundant in borage oil and evening primrose oil. Ara is abundant in  red meat
Omega-3 Oils
ALA is abundant in flaxseed oil, canola oil, walnut oil and to some extent in soybean oil.  EPA and DHA are in fish, other seafood, fish oils and algal oils,Thus, in the human body: LA goes to GLA>Ara and ALA->EPA->DHA
(Both Ara and EPA are starting materials for cellular, hormone-like molecules called eicosanoids or prostaglandins)EFAs and EicosanoidsOmega-6 prostaglandins (PGs) are potent stimulators of muscle contraction and platelet aggregation, e.g., thromboxane.
Omega-3 PGs are vasodilators that regulate blood pressure and inhibit platelet aggregation
————————————————–
Omega-6 PGs can induce labor by causing contractions of the womb
Omega-3 PGs can relax the myometriumEFAs in InflammationThe omega-6 prostaglandin PGE-2 is involved in fever, pain and swelling, menstrual cramps, inflammatory bowel disease, the omega-3 PGE-3 has low inflammatory potential.
The omega-6 leukotriene  LTB-4 is involved in asthma, emphysema, bronchitis, dermatitis, psoriasis and ulcerative colitis, while the omega-3 LTB-5 also has low inflammatory potential.
Schematically
PGE-2                                                        PGE-3
Cyclo-oxygenase enzyme (COX)
Ara                                                           EPA
Lipo-oxygenase enzyme (LOX)
LTB-4                                                        LTB-5 TOPRecommended Adequate Intake of EFAsFatty Acids      Grams/Day     %Energy
LA                    4.44                2.0
upper limit           6.67                3.0
____LNA              2.22                 1.0
DHA & EPA           0.65                 0.3
DHA at least*        0.22                 0.1
Trans Fatty Acids<2.00___________
* For pregnant and lactating women 0.3 grams/day of DHA
A ratio of omega-6:omega-3 of 2:1 up to 4:1 is recommended
According to the USDA the average ratio of omega-6:omega-3 consumed by the US population is about 10-1.
Omega-3 PUFA and Their Systemic Presence
Roles in cardiovascular disease: maintain lower levels of serum triglycerides, maintain healthy platelet function and blood coagulation levels, lower the risk of sudden death from stroke or cardiac infarct
Roles in prevention and therapy of cancer: are regulators of cancer cell death (apoptosis) during carcinogenesis (breast, prostate and colon cancers),  reduce anticancer drug toxicity and facilitate the therapeutic effect of some anticancer drugs
Roles in the eye and brain: are potential regulators of retinal and neuronal signal transduction, appear to be regulators in mood disorders.
What is their role in verbal apraxia?
Relevant Books on Omega-3 PUFA and Special Needs
Evidence to support the use of fish oils in infants and children
Pilot Study using NNProEFA 3.6.9. for autism inspired by one of the parent members of Cherab who has a child with apraxia.
Due to the anecdotal feedback through the Cherab Foundation one of the parent members, Nancy, who has a child with apraxia started using NNProEFA 3.6.9.. Her SLP in Arizona was shocked about the sudden and dramatic positive changes in her son, and shared NNProEFA 3.6.9. with her caseload of around 18 children. One of the parents in this SLP's caseload was a doctor who wanted to conduct a pilot study for just autism (not apraxia even though that it was a combination of apraxia and autism in the SLP's caseload) using NNProEFA 3.6.9. Below are the results of that study:
EFA Benefits on Language and Learning Skills in Children with Autism and Asperger's Syndrome
Patrick L, Salik R. The Effect Of Essential Fatty Acid Supplementation on Language Development and Learning Skills in Autism and Aspergers Syndrome. 2005. Tucson Medical Center, Tucson, AZ.
Introduction
Fish oil provides essential fatty acids which are critical for brain health.Methods
Children aged 3–10 years who had been professionally diagnosed with autism or Asperger's syndrome were each given one gram of Nordic Naturals NNProEFA 3.6.9.™ [Complete Omega™ (formally Complete Omega-3.6.9™)] day for 90 days. NNProEFA 3.6.9. provides 135 mg EPA (eicosapentaenoic acid) and 90 mg DHA (docosahexaenoic acid) from fish oil along with 33 mg GLA (gamma linolenic acid) from borage oil and 15 IU of natural vitamin E. The children readily accepted the lemon-flavored oil; capsules were chosen for consistent dosing and parental convenience.On days 0, 45, and 90 of supplementation, 49 developmental items from the Assessment of Basic Language and Learning Skills (ABLLS), a criterion-referenced tool, were used to measure eight primary areas of language and learning: receptive language, requesting, labeling, intraverbals, imitation, play skills, social interaction, and generalization.Results
Eighteen (18) of the initial 22 children completed the 90-day trial. All of the children displayed significant increases in their language and learning skills based upon the ABLLS. A t-test analysis of the data showed high statistical significance in all areas: receptive language, requesting, play skills, intraverbals and social interaction resulted in a p-value < 0.0001. A p-value of <0.001 was obtained in the areas of labeling and generalization. In addition, a p-value of <0.01 was obtained for vocal imitation. No adverse effects were noted.Conclusion
The highly significant results of this small, open label pilot trial shows promise for children with autism spectrum disorder.This study was conducted using Nordic Naturals NNProEFA 3.6.9. one capsule a day
"A simple fish oil supplement may be the key to dramatically unlock the voices of children with speech and language disorders."
That's the conclusion of a group of scientists who reviewed a study of nineteen youngsters suffering from various speech problems. The children, ranging in age from two years to eight years, were given a fish oil supplement containing a mixture of omega-3 and omega-6 essential fatty acids (NN ProEFA 369). Speech-language pathologists who monitored the children reported significant improvements within just a few weeks. The improvements were noted not only in the children's ability to talk, but also in their behavior, ability to focus, and in maintaining eye contact.
Now the scientists, brought together by the Cherab Foundation, a major nonprofit group for children with speech disorders, are calling for a large-scale clinical trial to validate these initial findings.The panel of experts who reviewed the study included scientists from the NIH, Johns Hopkins University, Kennedy Krieger Institute, University of Kansas, and Oxford University, England. They join a growing group of researchers who are heralding the benefits of essential fatty acid supplementation for a wide range of brain-related problems including depression, bipolar disorder, schizophrenia, attention deficit hyperactivity disorder, dyslexia, and even Alzheimer's disease, apraxia, and autism."
Why is there vitamin E added to the fish oils?
There is a very small amount of vitamin E (around 15 IU per capsule) added to fish oil capsules for two reasons
To stabilize the fish oil
Due to the results of a study that found "There is some concern that a diet rich in fish oil taken for many months may induce a deficiency of vitamin E. People who eat a diet high in fish or who take fish oil supplements may want to consider taking vitamin E supplements.
There is no evidence to support high levels of vitamin e in fish oils and there can be harm.
Do all fish oils contain vitamin A?
Any oil that comes from the liver of the fish, such as Cod Liver Oil/CLO naturally contains vitamin A. Fish oils not made from the liver of the fish do not contain vitamin A. In general in our group we have found that the cod liver oil is not as effective of a formula. Perhaps because it's higher typically in the DHA than the EPA and there is no GLA.
I heard we get enough Omega 6 in our diets, so why use a fish oils with Omega 6 added?
For some reason, we notice more surges when an Omega 3 formula with a 'small' amount of GLA from either primrose or borage seed oil (the Omega 6) is added. One theory as to why is that the GLA has very strong anti inflammatory properties that enable the DHA and EPA to cross the blood brain barrier through the tiny vessels it needs to travel into the brain? Right now I can only report what has worked best and as parents, we've tried all of the formulas.
From the University of Maryland's website "Omega-6 fatty acids are essential fatty acids. They are necessary for human health, but the body cannot make them. You have to get them through food. Along with omega-3 fatty acids, omega-6 fatty acids play a crucial role in brain function, and normal growth and development. As a type of polyunsaturated fatty acid (PUFA), omega-6s help stimulate skin and hair growth, maintain bone health, regulate metabolism, and maintain the reproductive system.
A healthy diet contains a balance of omega-3 and omega-6 fatty acids. Omega-3 fatty acids help reduce inflammation, and some omega-6 fatty acids tend to promote inflammation. In fact, some studies suggest that elevated intakes of omega-6 fatty acids may play a role in complex regional pain syndrome. The typical American diet tends to contain 14 to 25 times more omega-6 fatty acids than omega-3 fatty acids.
The Mediterranean diet, on the other hand, has a healthier balance between omega-3 and omega-6 fatty acids. Studies show that people who follow a Mediterranean-style diet are less likely to develop heart disease. The Mediterranean diet does not include much meat (which is high in omega-6 fatty acids, though grass fed beef has a more favorable omega-3 to omega-6 fatty acid ratio), and emphasizes foods rich in omega-3 fatty acids, including whole grains, fresh fruits and vegetables, fish, olive oil, garlic, as well as moderate wine consumption.
There are several different types of omega-6 fatty acids, and not all promote inflammation. Most omega-6 fatty acids in the diet come from vegetable oils, such as linoleic acid (LA), not to be confused with alpha-linolenic acid (ALA), which is an omega-3 fatty acid. Linoleic acid is converted to gamma-linolenic acid (GLA) in the body. It can then break down further to arachidonic acid (AA). GLA is found in several plant-based oils, including evening primrose oil (EPO), borage oil, and black currant seed oil.
GLA may actually reduce inflammation. Much of the GLA taken as a supplement is converted to a substance called DGLA that fights inflammation. Having enough of certain nutrients in the body (including magnesium, zinc, and vitamins C, B3, and B6) helps promote the conversion of GLA to DGLA."
Why EPA, DHA…AND GLA? (Eicosapentaenoic acid, Docosahexaenoic acid, Gamma Linolenic acid)
Our body needs omega-3 and -6 fatty acids to protect the cells in our body and to help them to function properly. The adult human brain is composed of about 60% fat (dry weight). Our body can produce some of this fat (fatty acids), however, the body is unable to synthesize omega-3 and omega-6 fatty acids, which make up 35% of the brain fat 1. This is why omega-3 and omega-6 are called essential fatty acids and have to be provided through the diet.
Not all Omega-6 is the same. Gamma-Linoleic Acid (18:3n-6) is a specific type of Omega 6. Food sources would be from evening primrose, borage, blackcurrant and hemp seed oils. Borage Seed Oil is the richest source of GLA (up to 24%), followed by blackcurrant seed oil (up to 18%). Evening primrose oil contains 9% GLA. Gamma Linolenic Acid (GLA). GLA is made from linoleic acid in the body and is an intermediate in the production of DGLA and AA GLA can act in much the same way as Omega-3 fatty acids and enhance their effects by exerting an anti-inflammatory action and reducing excess incorporation of inappropriate Omega-6 in the brain, while still promoting the functional and structural influences from Omega-3.
Deficiencies of these essential omega-3 and omega-6 fatty acids can contribute to a host of symptoms and disorders, such as cognitive impairment like attention deficit hyperactivity disorder (ADHD) 2-5 and depression 6.
A specific formulation of polyunsaturated fatty acids EPA:DHA:GLA (Eicosapentaenoic acid, Docosahexaenoic acid, Gammal Linolenic acid) at the ratio of 9:3:1 proved effective in various clinical trials 2,3,5. In this specific ratio, these three essential fatty acids work most effectively to provide both structural and functional support for the central nervous system.
Research shows that DHA or GLA alone, or DHA in combination with low EPA levels had no positive effects on ADD/ADHD-related symptoms 4,7,8
EPA protects and enhances nervous function

EPA is known to ameliorate different cognitive diseases 2,3,5
EPA has anti-inflammatory properties by
reducing production of pro-inflammatory mediators (cytokines) 1.
EPA plays a role in maintaining the integrity
of mitochondrial membranes in brain regions important for memory and cognitive function (hippocampus and cortex) 1.

DHA supports brain development

DHA is important during prenatal human brain development
Deficiency can have marked consequences, including cognitive impairment 23, cerebellar dysfunction 24, retarded visuael acuity25, and ­various other neurological disorders 26

GLA and anti-inflammation

GLA reduces pro-inflammatory prostaglandin production in the brain cells 21
GLA normalizes the level of some neurotransmitters at the synapse 21
What is Omega 9?
Omega-9 fatty acids are from a family of unsaturated fats that commonly are found in vegetable and animal fats. This monounsaturated fat is described as omega-9 because the double bond is in the ninth position from the omega end. These fatty acids also are known as oleic acids or monounsaturated fats and can often be found in canola, sunflower, olive and nut oils. Unlike omega-3 and omega-6 fatty acids, omega-9 fatty acids are produced by the body, but also are beneficial when they are obtained in food.
What are the types and sources of omega-9 fatty acids?
Oleic acid – Oleic acid is a main component of canola oil, sunflower oil, olive oil, and other monounsaturated fats, many of which are used as a solution for reducing bad fats in cooking oils. Other sources are peanuts, pistachios, almonds, and avocados.
Omega-9 is necessary yet "non-essential" because the body can manufacture a modest amount on its own, provided essential EFAs are present.
How do all the Omegas add up?
Although omega-3, omega-6, and omega-9 fatty acids all serve different functions within the body, the evidence is clear that incorporating balanced proportions of both essential and non-essential fatty acids are necessary for maintaining overall heart health and general wellness. According to a joint position paper between the Academy of Nutrition and Dietetics and the Dietitians of Canada.
Does omega 3 or omega 6 or GLA cause seizures in those prone to seizures?
Answer from Dr. Richardson (one of the doctors who presented at our First Apraxia Conference)
"Re your inquiry – I have to say that I have become extremely bored with this issue, although I can fully understand people's concerns.

First – let me say that re fish oil, this story seems quite ridiculous to me. What appears to have happened is that a myth that started with evening primrose now appears to have spread – as myths and rumors do – to fish oil.

I know of no evidence whatsoever that could possibly link the consumption of fish oil (omega-3 fatty acids) to an increased risk of epilepsy. In fact, one would expect exactly the opposite!

Re evening primrose oil (omega-6 fatty acids), again there appears to be no reliable evidence of any link to epilepsy – although there are plenty of anecdotes and rumors, fuelled by the fact that some manufacturers have chosen to put a warning on their products to this effect.

This story arose from some very early trials of the use of EPO in schizophrenia. The drugs used to treat schizophrenia have numerous side-effects, one of which is to reduce the threshold for epileptic fits quite substantially. Thus when a few schizophrenia patients suffered fits while taking this medication (and evening primrose oil), it was duly noted down. This was interpreted by some as a possible negative effect of EPO – rather than the more obvious explanation that the neuroleptic drugs were to blame.

Since then, no evidence has been forthcoming to suggest that EPO carries this risk – in fact, the balance of evidence appears to suggest the opposite.

However, like all 'scare stories' – this one does not seem to go away…"
Dr A J Richardson
University Lab of Physiology
Parks Road
Oxford OX1 3PT
I'm concerned about mercury from fish consumption for my child. Also I'm pregnant now so should I avoid consuming fish?

There is a two-part answer to this. In regard to fish oil supplements, the population at large does not know that MeHg (mercury) binds to proteins and therefore it is not of concern in highly purified fish oils. (you can read more in letters I and other members of the Cherab Foundation sent out to the FDA and IOM here)
A report by ConsumerLab.com, which conducts independent tests of supplements, examined 41 common fish oil products and found none contaminated with mercury or PCBs.
Another report, by researchers at Harvard Medical School and at Massachusetts General Hospital, studied five popular brands of fish oil and found that the brands had "negligible amounts of mercury, suggesting either that mercury is removed during the manufacturing of purified fish oil or that the fish sources used in these commercial preparations are relatively mercury-free."
Test results for various fish oils can also be found on the International Fish Oil Standards Web site.
Q. Should I worry about mercury in fish-oil capsules?
A. No. "Most studies on fish products have been very reassuring," says Brent Bauer, MD, director of the complementary and integrative medicine program at the Mayo Clinic in Rochester, Minnesota. When researchers at ConsumerLab.com, an independent testing company in White Plains, New York, examined more than 50 different fish oils, they found that none were contaminated — probably because toxins tend to accumulate in the muscles of fish, not the oil. Plus, supplements are generally made from species that are lower in mercury, like sardines and anchovies Fitness Magazine
THE BOTTOM LINE
Studies suggest that fish oil products contain little or no contaminants, such as mercury, dioxins or PCBs. For one thing, most companies use species of fish that are lower on the food chain, like cod and sardines, which accumulate less mercury. And many companies distill their oils to help remove contaminants.
Also, recent research has found that pregnant mothers who consume fish twice a week have babies that are just "smarter". This is the conclusion of a recent large study as you can read on the USDA's Nutrition Evidence Library here "Moderate evidence indicates that increased maternal dietary intake of long chain n-3 polyunsaturated fatty acids (PUFA), in particular, docosahexaenoic acid (DHA) from at least two servings of seafood per week, during pregnancy and lactation is associated with increased DHA levels in breast milk and improved infant health outcomes, such as visual acuity and cognitive development."
Omega 3s For Life -Even Before Birth In Utero 
For formula and dosages of fish oils found best in the Cherab Foundation visit this page.
"Can Fatty Acids in Breast Milk or Formula Make Kids Smarter?"  Studies find benefits at 14 months and about 10 years.
"Whether they're fed by bottle or breast, babies seem to turn out smarter when nourished with healthy fatty acids found in breast milk and some formulas, two new studies indicate.
The studies, done in the United Kingdom and Spain and published online Sept. 19 in the journal Pediatrics, found that higher levels of long-chain polyunsaturated fatty acids (such as DHA, EPA and ALA) were linked to greater mental development in both young and older children."
Warning from Nordic Naturals
The professional line of Nordic Naturals is the preferred line by most.  You can only purchase the professional line at an authorized distributor online such as http://www.speech411.com or https://getiqed.com/collections/nordic-naturals-professional or from a healthcare professional. Very few online sites are authorized to sell the professional line even though you can find it all over, for example on Amazon.  There has been a rise in fraudulent sellers including on Amazon.  Don't purchase the professional line of Nordic Naturals at Amazon as nobody selling there is authorized to sell there.  The issue with that isn't just buying a product that wasn't authorized to be sold on a particular website.  Amazon has a problem with fraudulent sellers mainly from China (see some of the references below) and this problem is not just limited to fish oils, and it's not just limited to Amazon.   Nordic Naturals has hired a company to help them as they purchased some of the bottles or NN ProEFA 369 sold on Amazon and some were packed with cotton. They do not pack their fish oils with cotton which means you do not know what is in those capsules, or where they were packed.  As you can see from the links below at times the product's exact description and sometimes reviews all look legitimate.  When a product is counterfeit however and there are side effects or injuries,  the customer and the actual manufacturer are the ones that suffer. Example of how this is not just a fish oil issue

Lonergan, P. E., Martin, D. S., Horrobin, D. F. & Lynch, M. A. Neuroprotective actions of eicosapentaenoic acid on lipopolysaccharide-induced dysfunction in rat hippocampus. J Neurochem 91, 20-29, doi:10.1111/j.1471-4159.2004.02689.xJNC2689 [pii] (2004).
Johnson, M., Ostlund, S., Fransson, G., Kadesjo, B. & Gillberg, C. Omega-3/omega-6 fatty acids for attention deficit hyperactivity disorder: a randomized placebo-controlled trial in children and adolescents. J Atten Disord 12, 394-401, doi:1087054708316261 [pii] 10.1177/1087054708316261 (2009).
Richardson, A. J. & Montgomery, P. The Oxford-Durham study: a randomized, controlled trial of dietary supplementation with fatty acids in children with developmental coordination disorder. Pediatrics 115, 1360-1366, doi:115/5/1360 [pii] 10.1542/peds.2004-2164 (2005).
Schuchardt, J. P., Huss, M., Stauss-Grabo, M. & Hahn, A. Significance of long-chain polyunsaturated fatty acids (PUFAs) for the development and behaviour of children. Eur J Pediatr 169, 149-164, doi:10.1007/s00431-009-1035-8 (2010).
Sinn, N., Bryan, J. & Wilson, C. Cognitive effects of polyunsaturated fatty acids in children with attention deficit hyperactivity disorder symptoms: a randomised controlled trial. Prostaglandins Leukot Essent Fatty Acids 78, 311-326, doi:S0952-3278(08)00050-1 [pii]10.1016/j.plefa.2008.04.004 (2008).
Omega-3 fatty acids and depression: new data. Harv Ment Health Lett 19, 7, doi:M0603d [pii] (2003).
Hirayama, S., Hamazaki, T. & Terasawa, K. Effect of docosahexaenoic acid-containing food administration on symptoms of attention-deficit/hyperactivity disorder – a placebo-controlled double-blind study. Eur J Clin Nutr 58, 467-473, doi:10.1038/sj.ejcn.16018301601830 [pii] (2004).
Voigt, R. G. et al. A randomized, double-blind, placebo-controlled trial of docosahexaenoic acid supplementation in children with attention-deficit/hyperactivity disorder. J Pediatr 139, 189-196, doi:S0022-3476(01)66292-9 [pii] 10.1067/mpd.2001.116050 (2001).
Stevens, L. J., Zentall, S. S., Abate, M. L., Kuczek, T. & Burgess, J. R. Omega-3 fatty acids in boys with behavior, learning, and health problems. Physiol Behav 59, 915-920 (1996).
Antalis, C. J. et al. Omega-3 fatty acid status in attention-deficit/hyperactivity disorder. Prostaglandins Leukot Essent Fatty Acids 75, 299-308, doi:S0952-3278(06)00118-9 [pii] 10.1016/j.plefa.2006.07.004 (2006).
Kavraal, S. et al. Maternal intake of Omega-3 essential fatty acids improves long term potentiation in the dentate gyrus and Morris water maze performance in rats. Brain Res 1482, 32-39, doi:10.1016/j.brainres.2012.09.002 S0006-8993(12)01463-1 [pii] (2012).
Hajjar, T. et al. Omega 3 polyunsaturated fatty acid improves spatial learning and hippocampal Peroxisome Proliferator Activated Receptors (PPARalpha and PPARgamma) gene expression in rats. BMC Neurosci 13, 109, doi:10.1186/1471-2202-13-109 1471-2202-13-109 [pii] (2012).
Mazereeuw, G., Lanctot, K. L., Chau, S. A., Swardfager, W. & Herrmann, N. Effects of omega-3 fatty acids on cognitive performance: a meta-analysis. Neurobiol Aging 33, 1482 e1417-1429, doi:S0197-4580(11)00546-X [pii] 10.1016/j.neurobiolaging.2011.12.014 (2012).
Chiu, C. C. et al. Associations between n-3 PUFA concentrations and cognitive function after recovery from late-life depression. Am J Clin Nutr 95, 420-427, doi:ajcn.111.015784 [pii] 10.3945/ajcn.111.015784 (2012).
Hennebelle, M. et al. Influence of omega-3 fatty acid status on the way rats adapt to chronic restraint stress. PLoS One 7, e42142, doi:10.1371/journal.pone.0042142 PONE-D-12-07752 [pii] (2012).
Kiecolt-Glaser, J. K., Belury, M. A., Andridge, R., Malarkey, W. B. & Glaser, R. Omega-3 supplementation lowers inflammation and anxiety in medical students: a randomized controlled trial. Brain Behav Immun 25, 1725-1734, doi:S0889-1591(11)00468-5 [pii] 10.1016/j.bbi.2011.07.229 (2011).
Ross, B. M. Omega-3 polyunsaturated fatty acids and anxiety disorders. Prostaglandins Leukot Essent Fatty Acids 81, 309-312, doi:S0952-3278(09)00174-4 [pii] 10.1016/j.plefa.2009.10.004 (2009).
McKenney, J. M. & Sica, D. Prescription omega-3 fatty acids for the treatment of hypertriglyceridemia. Am J Health Syst Pharm 64, 595-605, doi:64/6/595 [pii] 10.2146/ajhp060164 (2007).
Morris, M. C., Sacks, F. & Rosner, B. Does fish oil lower blood pressure? A meta-analysis of controlled trials. Circulation 88, 523-533 (1993).
Shimizu, T. Lipid mediators in health and disease: enzymes and receptors as therapeutic targets for the regulation of immunity and inflammation. Annu Rev Pharmacol Toxicol 49, 123-150, doi:10.1146/annurev.pharmtox.011008.145616 (2009).
Song, C., Manku, M. S. & Horrobin, D. F. Long-chain polyunsaturated fatty acids modulate interleukin-1beta-induced changes in behavior, monoaminergic neurotransmitters, and brain inflammation in rats. J Nutr 138, 954-963, doi:138/5/954 [pii] (2008).
Boelsma, E., Hendriks, H. F. & Roza, L. Nutritional skin care: health effects of micronutrients and fatty acids. Am J Clin Nutr 73, 853-864 (2001).
Birch, E. E., Garfield, S., Hoffman, D. R., Uauy, R. & Birch, D. G. A randomized controlled trial of early dietary supply of long-chain polyunsaturated fatty acids and mental development in term infants. Dev Med Child Neurol 42, 174-181 (2000).
Jamieson, E. C. et al. Infant cerebellar gray and white matter fatty acids in relation to age and diet. Lipids 34, 1065-1071 (1999).
Neuringer, M. Cerebral cortex docosahexaenoic acid is lower in formula-fed than in breast-fed infants. Nutr Rev 51, 238-241 (1993).
Salem, N., Jr. & Ward, G. R. Are omega 3 fatty acids essential nutrients for mammals? World Rev Nutr Diet 72, 128-147 (1993).
LISA GENG
Lisa Geng got her start as a designer, patented inventor,and creator in the fashion, toy, and film industries, but after the early diagnosis of her young children she entered the world of nonprofit, pilot studies, and advocacy. As the mother of two "late talkers," she is the founder and president of the nonprofit CHERAB Foundation,co-author of the acclaimed book, The Late Talker, (St Martin's Press 2003), and is instrumental in the development of IQed, a whole food nutrition meal replacement. Lisa currently serves as a parent advocate on an AAN board for vaccines, and is a member of CUE through Cochrane US. Lisa is currently working on a second book, The Late Talker Grows Up and serves as a Late Talkers, Silent Voices executive producer. She lives on the Treasure Coast of Florida.