"My son Logan tries different shapes and objects around the house and loves the feel of it on his hands" ~ Raluca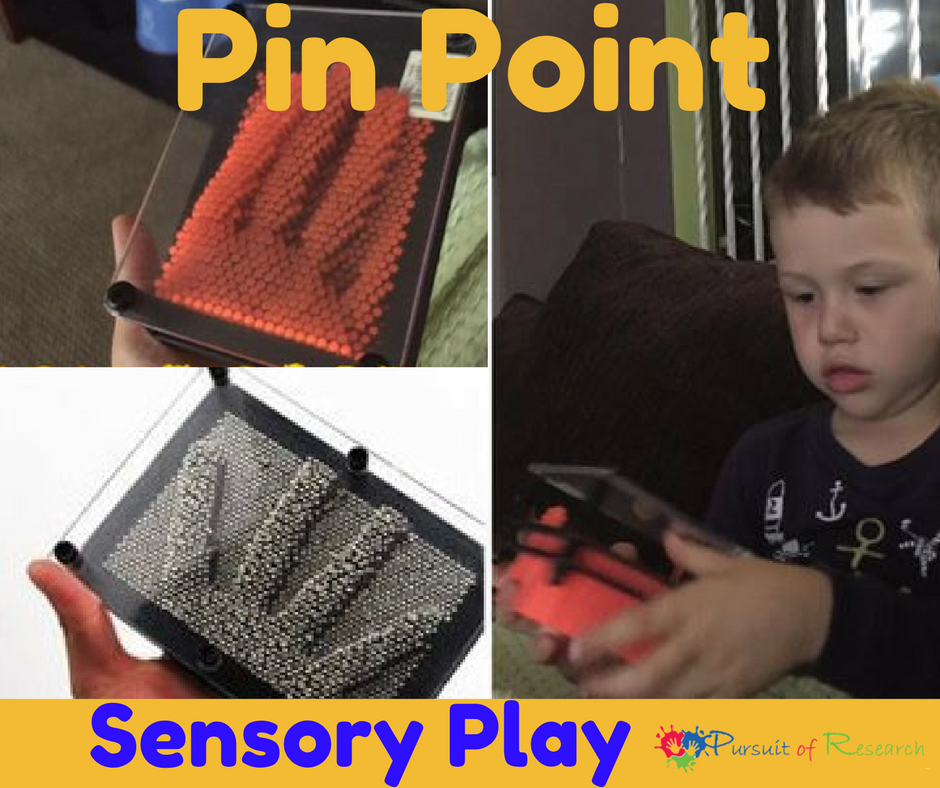 Another simple, inexpensive sensory toy idea from Raluca. a mom in the Cherab support group.
"Thought I'd share for those looking for sensory play. Found this toy at a thrift store and it has kept my son occupied for days. He tries different shapes and objects around the house and loves the feel of it on his hands. Did some research and apparently it's called a pin point impression toy and you can find some on line." ~ Raluca
I looked online and found it on Amazon for around 10 to 15 dollars but I'd recommend reading the reviews and getting one that is high quality.  As per some of the descriptions, while a good sensory toy, the pin point impression toy may also be fun for other children in your house -who knows you may pick it up and start playing with it!  I did notice a few of the listings had warnings that it's not for children under 3 due to the small part, so a good suggestion if you have children older than 3 years old.
CLASSIC TOY. Relive your childhood and pass on the fun to the next generation. Kids of all ages love this unique toy.
SAFE, BLUNT PINS. Pins have blunt ends and will not cause harm if used carefully. Avoid using on the face. For kids over 3 years old.
CREATE UNIQUE ART. Create designs by pushing the pins, or mold around household objects.
ENDLESSLY ENTERTAINING. Keeps kids occupied for hours, encourages imagination.
LISA GENG
Lisa Geng got her start as a designer, patented inventor,and creator in the fashion, toy, and film industries, but after the early diagnosis of her young children she entered the world of nonprofit, pilot studies, and advocacy. As the mother of two "late talkers," she is the founder and president of the nonprofit CHERAB Foundation,co-author of the acclaimed book, The Late Talker, (St Martin's Press 2003), and is instrumental in the development of IQed, a whole food nutrition meal replacement. Lisacurrently serves as a parent advocate on an AAN board for vaccines, and is a member of CUE through Cochrane US. Lisa is currently working on a second book, The Late Talker Grows Up and serves as a Late Talkers, Silent Voices executive producer. She lives on the Treasure Coast of Florida.