Is diet the answer to future treatments and even cures for some special needs conditions including apraxia? Research continues to turn up remarkable links between our gut bugs, also known as our microbiome, and the brain. Scientists are finding evidence that microbiome may play a role in Alzheimer's disease, Parkinson's disease, depression, schizophrenia, autism, and other conditions. Gut bugs tell your brain what to eat, what foods to crave which raises the question of how diet can be used to shape the microbiome and our health.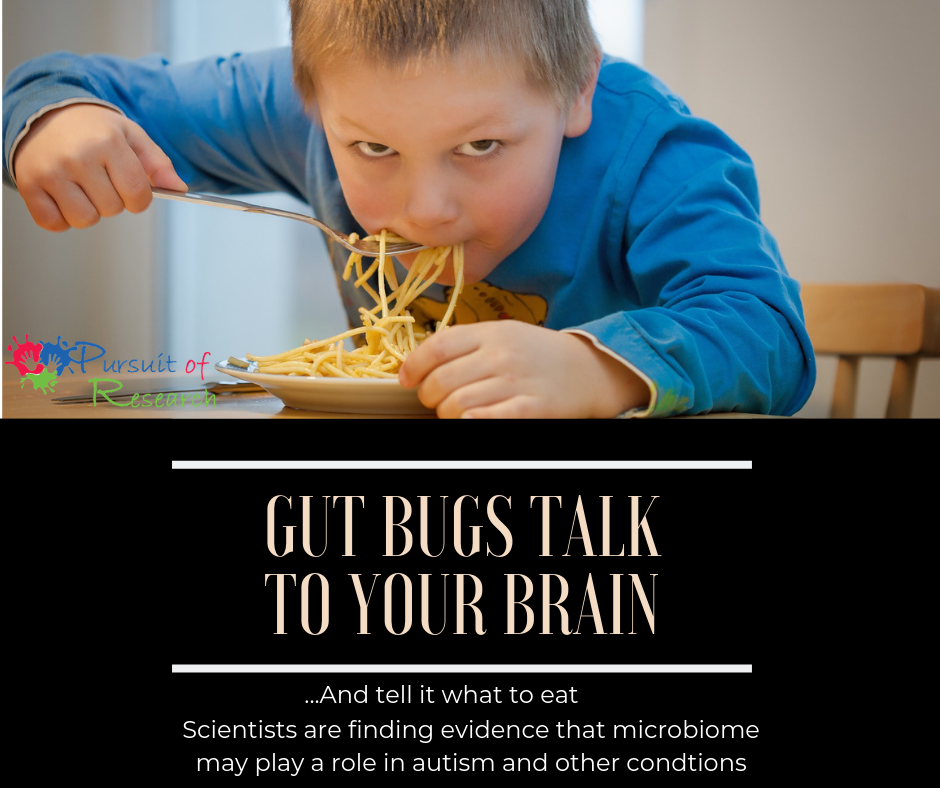 The microbiome is an integral part of human physiology; we are only 10% human and 90 percent microbial. Recent studies show that changes in the gut microbiota can influence psychological, neurological, gastrointestinal physiology, immune function, and even behavior. As research has found diet influences our gut microbes in as quick as one day, diet may be found to be a critical key part of prevention and treatment of various conditions.
The Chicken Or The Egg?
While we don't know what comes first; does our microbiome control our health, or can we influence our health by changing our microbiome, a recent study published in Nature Microbiology found two kinds of bugs, namely Faecalibacterium and Coprococcus, were both more common in people who claimed to enjoy a high mental quality of life. Meanwhile, those with depression had lower than average levels of the bugs Coprococcus and Dialister.
The results of this recent study don't prove that gut microbes (otherwise known as our microbiome) affect mental health since it's possible the effect works the other way around and our mental health impacts the bugs inside us. What is known is that in follow-up experiments, the researchers found evidence that gut microbes can at least talk to the human nervous system by producing neurotransmitters that are crucial for good mental health. These findings tie into the study of epigenetics.

And it's not just mental health the microbiome influences, many are also looking into how the gut bugs influence neurodevelopmental issues such as autism and apraxia.
Studies have found that children with autism have unusual patterns of microbial species in their stool "which suggest that changes in the microbiome may contribute to symptoms of neurodevelopmental disease."
Links between particular bacteria from the microbiome are relevant in the development or presentation of ASD symptoms.
There appears to be a rise in children with conditions such as autism or apraxia who are picky eaters. Children with these conditions are much more likely than typically-developing children to be selective with food and also may have restrictive behaviors that affect their eating habits. Some of them limit what they eat, in some instances so severely that it results in nutritional deficiencies Many of these same children are drawn to what some call the white diet, which primarily consists of bread, potatoes, and pasta. I'm not saying children should be gluten (or casein) free as the evidence to support that as a treatment for ASD type conditions isn't there or is at best weak, but there is a difference between moderation and elimination.
This raises the question does diet affect the gut flora relevant to the development or presentation of ASD or other symptoms or are unusual dietary habits of those with these conditions controlled by their gut flora?
One Redditor shared perhaps the "crazy" solution lies in fixing the gut flora.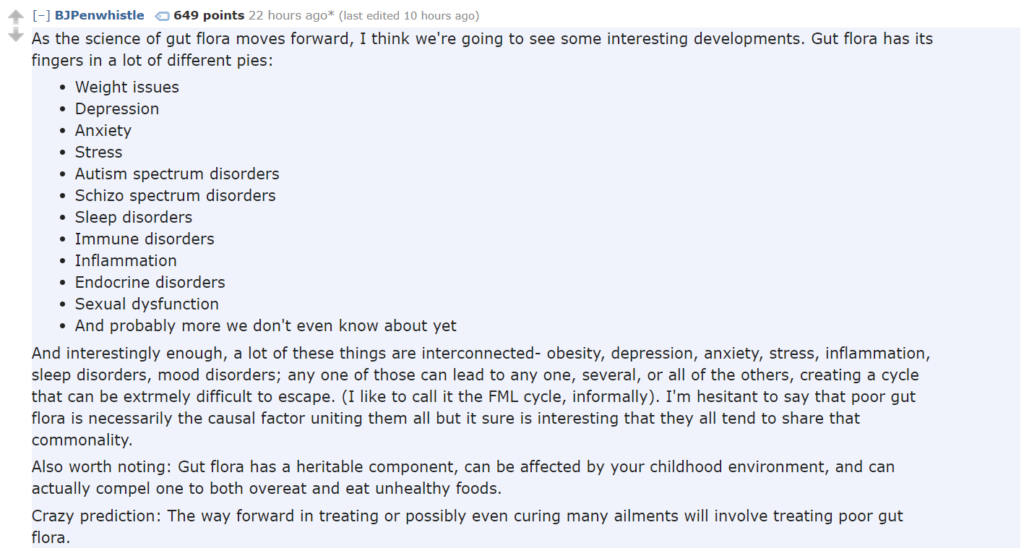 More like crazy like a fox! Why is it crazy to think that the answer to many health issues lie in treating gut flora when the evidence is showing gut flora influences our health?
Gut bugs have a survival instinct and know what needs to be consumed to keep them flourishing. Isn't this why we are getting cravings? Science has already found that it is our gut bugs that tell us what to eat, and that by suppressing or increasing cravings these microbes help the brain decide what foods the body "needs"

In addition, isn't it possible that left untreated or unchanged the microbiome is controlling our health along with our dietary habits? Perhaps this is why some kids with autism and apraxia so strongly resist certain foods that are healthy and nutritious for them and crave junk and processed foods. Their brains are being controlled by bad gut flora. "
Some are exploring probiotics and prebiotics but for the reasons I share here I'd recommend starting with food sources of both. Is it possible in those situations by creating a change in diet to replace the white diet with a nutritious one you increase healthy gut bugs while you starve many of the "bad" gut bugs? While there may not be a scientific answer yet, it would be healthy to try. If your child is a picky eater, here are some tips for picky eaters I wrote for IQed, my patented nutritional composition.
Picky eating is easier to deal with than a feeding disorder. Here are some of the differences and tips for that too.
If you do have a special needs child who is a picky or problem eater refusing to eat anything but a white diet or junk processed foods try to find ways, including if needed seeking professional help from feeding specialists, to both ensure your child isn't malnourished and also to see if the cravings, as well as any negative symptoms including behavioral ones, are being influenced and controlled by bad gut flora. Trying to see if decreasing bad gut flora while increasing good gut flora is healthy to try either way.
While it's OK to give a child (or a mouse) a cookie- based on the evidence you kind of have to wonder who's asking!
LISA GENG

Lisa Geng is an accomplished author, mother, founder, and president of the CHERAB Foundation. She is a patented inventor and creator in the fashion, toy, and film industries. After the early diagnosis of her two young children with severe apraxia, hypotonia, sensory processing disorder, ADHD, and CAPD, she dedicated her life to nonprofit work and pilot studies. Lisa is the co-author of the highly acclaimed book "The Late Talker" (St Martin's Press 2003). She has hosted numerous conferences, including one overseen by a medical director from the NIH for her protocol using fish oils as a therapeutic intervention. Lisa currently holds four patents and patents pending on a nutritional composition. She is a co-author of a study that used her proprietary nutritional composition published in a National Institute of Health-based, peer-reviewed medical journal.
Additionally, Lisa has been serving as an AAN Immunization Panel parent advocate since 2015 and is a member of CUE through Cochrane US. Currently working on her second book, "The Late Talker Grows Up," she also serves as an executive producer of "Late Talkers Silent Voices." Lisa Geng lives on the Treasure Coast of Florida.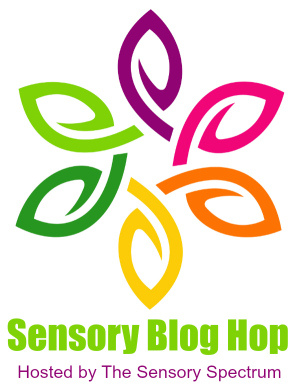 Welcome to Voices of Special Needs Blog Hop — a monthly gathering of posts from special needs bloggers hosted by The Sensory Spectrum and Mommy Evolution. Click on the links below to read stories from other bloggers about having a special needs kiddo — from Sensory Processing Disorder to ADHD, from Autism to Dyslexia! Want to join in on next month's Voices of Special Needs Hop? Click here!