"People struggle to understand what they say, which has major negative long-term effects on their ability to form social relationships, self-esteem, academic achievements and quality of life."


MCRI speech pathologist Prof Angela Morgan
Murdoch Children's Research Institute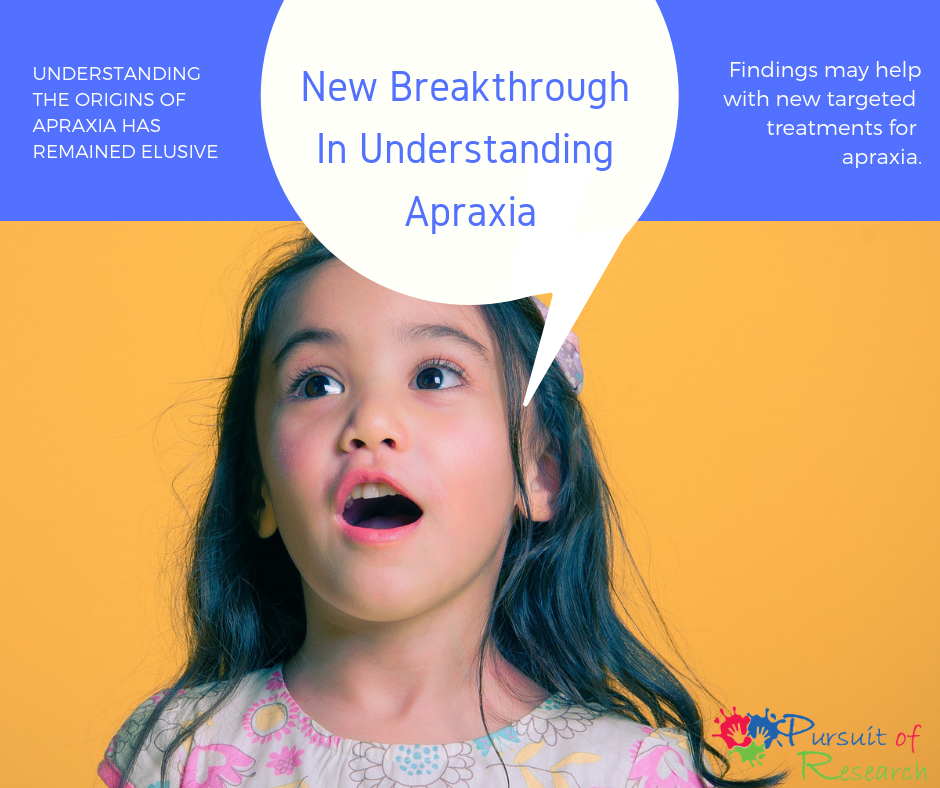 The breakthrough isn't just regarding the FoxP2 gene but prior to sharing the study as it includes information about FoxP2 and this particular gene mutation is tied to apraxia, I feel it's imperative to share that in 20 years of outreach through the Cherab Foundation which has a focus on apraxia and autism, out of all the children diagnosed with apraxia or autism who have gone through genetic testing there has only been one family where there was a mutation of the FoxP2 gene. One Cherab family in 20 years in tens of thousands of members who have come and gone in that time.
Below are some of the comments from the mom with her name blocked out (even though she had given permission to share.) As you can see from the following correspondence, apraxia was not the only diagnosis, and like in this current study and the KE family who researchers have known about before 2001, there are multiple family members affected including one or both parents. "The KE family is a large three‐generational pedigree in which half of the members suffer from a verbal and orofacial dyspraxia in association with a point mutation in the FOXP2 gene" source from 2003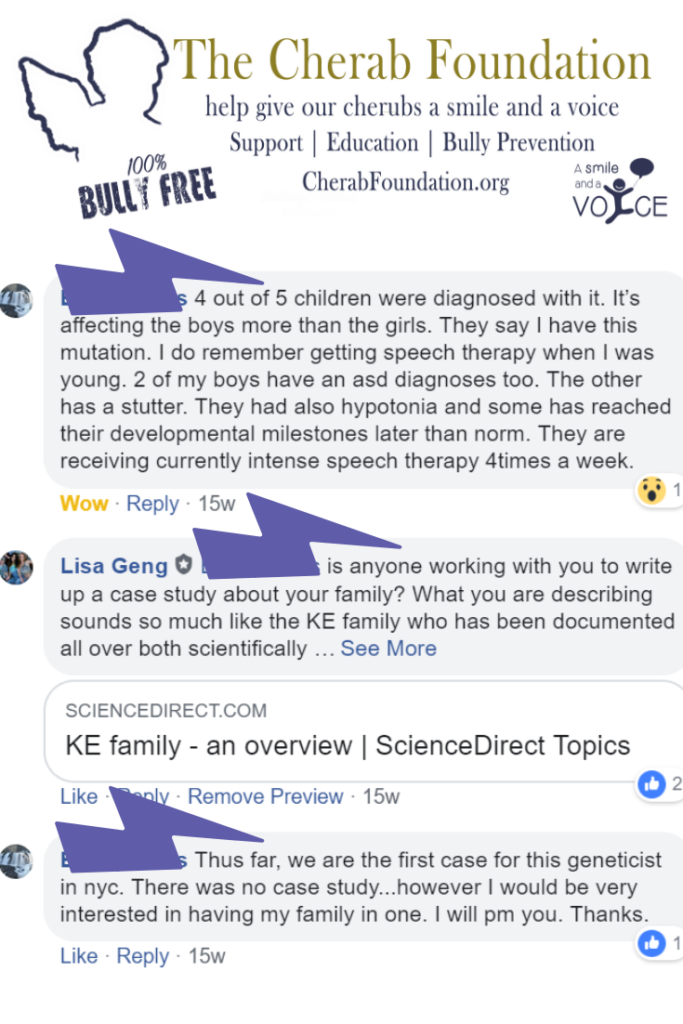 For those that are not aware, NYC borders NJ which is one of the areas of the US with the highest reported concentration of children diagnosed with apraxia and autism. As there is more research on autism here is one recent article, for example, explaining how NJ autism rates are highest in the US and how they tripled recently.

Genetic testing is not uncommon for children with a diagnosis of apraxia or autism. Being that 64% of children diagnosed with autism also have coexisting apraxia according to a 2015 Penn State study, a lot of children with autism and apraxia again in the NYC area are going through genetic testing. Thing is a study of over 14 thousand patients found "rare" genetic mutations are shockingly common today. If your child is tested to have a mutation search "asymptomatic" as in many cases one of the parents or a sibling will have the same mutation with no symptoms.

Most parents from NJ will get second opinions in NYC, so the NYC geneticist saying that the Cherab family with the FoxP2 mutation, the first reported through one of our members in 20 years is also the first he's seen the FoxP2 mutation just months ago, it appears a FoxP2 mutation is extremely rare even in children diagnosed with apraxia, autism or other communication impairments where the child is sent for genetic testing.
It's important to be aware that like the KE family and the Cherab family, the following study was based on one (large) family where multiple members were tested to have a variant of the FoxP2 gene. While its clear those that have genetic variants of FoxP2 have communication impairments of some sort which may have signs of or actually may be verbal apraxia, it again appears to be an extremely rare cause of apraxia in children.
It is remarkable there is a genetic link found for at least an extremely rare form of apraxia. I was always fascinated with the FoxP2 gene after learning about it back around 2000 due to its links to songbirds and stuttering. I had thought I'd hear more about it since then but being I've lived with two late talker children and a yellow nape Amazon parrot (Woodstock) who spoke and sang clearly while my boys both required speech therapy to learn sounds and words, was always facinated with the FoxP2 gene.
One other thing before I share the study is I find it disheartening that the researchers refer to apraxia as chidhoodapraxiaofspeech and in particular because it again historically and in this case includes the parents having the same mutation. We still don't know for the overwhelming majority that have autism and apraxia what the cause is if it's acquired, viral, metabolic. Many including my son Tanner regressed at some point.
In a letter that I wrote to ASHA along with Jeanne Buesser of the nonprofit Apraxia Network and Kari ONeil a young adult who grew up with apraxia and who runs the Cherab Foundation's teen and young adult support group; YADA, we explain why to just call it apraxia.
The following is pulled from the press release and the paper about this new finding of a large family where one parent and 11 children present with symptoms of apraxia. It's not just about the FoxP2 variant, but a specific type of testing used. We know most children today with a diagnosis of autism or apraxia that neurologists are not recommending an MRI unless something is suspected as typically nothing shows up and no reason to put a child through that testing. But they used a "sophisticated scan" I'm guessing it's one of these. If you know please leave it in the comments. For most children diagnosed or even suspected of having apraxia it's highly recommended to take them to either a pediatric neurologist or developmental pediatrician because while nothing shows up on the MRI as children's brains are different than adults, you want to confirm or rule out the neurological soft signs which are common with apraxia globally.
An international study led by the Murdoch Children's Research Institute has made a breakthrough in identifying a potential cause of the most severe child speech impediment – apraxia.
One in 1000 children has apraxia, but understating the origins of this debilitating speech disorder has until now remained elusive.
A team of researchers, led by MCRI speech pathologist Prof Angela Morgan, has identified anomalies in a key speech pathway of the brain connected to speech.
Prof Morgan said a better understanding could help neuroscientists and speech pathologists look to developing more targeted treatments for children.
The research paper, 'Dorsal language stream anomalies in an inherited speech disorder' is published in the latest issue of the international journal, Brain.
Prof Morgan, who is also Professor of Speech Pathology at the University of Melbourne, said children with apraxia fail to learn to speak clearly and combine sounds properly, the timing and sequencing of their words is also affected.
"People struggle to understand what they say, which has major negative long-term effects on their ability to form social relationships, self-esteem, academic achievements and quality of life," Prof Morgan said.
Prof Morgan said the research team was able to identify irregularities in a core brain pathway in apraxia sufferers. "Normal MRI scans found no anomalies, but we used a very sophisticated scan, that enables Brain Tractography analysis, which measures the integrity of brain pathways," Prof Morgan said.
"We looked at the brains of seven families members with apraxia and found there were core differences in a key brain tract for speech – the dorsal language stream."
Dr Morgan said this newly discovered variance in that brain pathway appeared to be critical to how people listen and then produce speech.
Abstract
Speech disorders are highly prevalent in the preschool years, but frequently resolve. The neurobiological basis of the most persistent and severe form, apraxia of speech, remains elusive. Current neuroanatomical models of speech processing in adults propose two parallel streams. The dorsal stream is involved in sound to motor speech transformations, while the ventral stream supports sound/letter to meaning. Data-driven theories on the role of these streams during atypical speech and language development are lacking. Here we provide comprehensive behavioural and neuroimaging data on a large novel family where one parent and 11 children presented with features of childhood apraxia of speech (the same speech disorder associated with FOXP2 variants). The genetic cause of the disorder in this family remains to be identified. Importantly, in this family the speech disorder is not systematically associated with language or literacy impairment. Brain MRI scanning in seven children revealed large grey matter reductions over the left temporoparietal region, but not in the basal ganglia, relative to typically-developing matched peers. In addition, we detected white matter reductions in the arcuate fasciculus (dorsal language stream) bilaterally, but not in the inferior fronto-occipital fasciculus (ventral language stream) nor in primary motor pathways. Our findings identify disruption of the dorsal language stream as a novel neural phenotype of developmental speech disorders, distinct from that reported in speech disorders associated with FOXP2 variants. Overall, our data confirm the early role of this stream in auditory-to-articulation transformations.
The research paper can be viewed at: https://protect-au.mimecast.com/s/7TveCk818ps0YrgcVKfhV?domain=academic.oup.com
LISA GENG

Lisa Geng is an accomplished author, mother, founder, and president of the CHERAB Foundation. She is a patented inventor and creator in the fashion, toy, and film industries. After the early diagnosis of her two young children with severe apraxia, hypotonia, sensory processing disorder, ADHD, and CAPD, she dedicated her life to nonprofit work and pilot studies. Lisa is the co-author of the highly acclaimed book "The Late Talker" (St Martin's Press 2003). She has hosted numerous conferences, including one overseen by a medical director from the NIH for her protocol using fish oils as a therapeutic intervention. Lisa currently holds four patents and patents pending on a nutritional composition. She is a co-author of a study that used her proprietary nutritional composition published in a National Institute of Health-based, peer-reviewed medical journal.
Additionally, Lisa has been serving as an AAN Immunization Panel parent advocate since 2015 and is a member of CUE through Cochrane US. Currently working on her second book, "The Late Talker Grows Up," she also serves as an executive producer of "Late Talkers Silent Voices." Lisa Geng lives on the Treasure Coast of Florida.