Sophie Rae died peacefully. The house is way too quiet. 25 years of love and memories to hold.

~Jody Prunty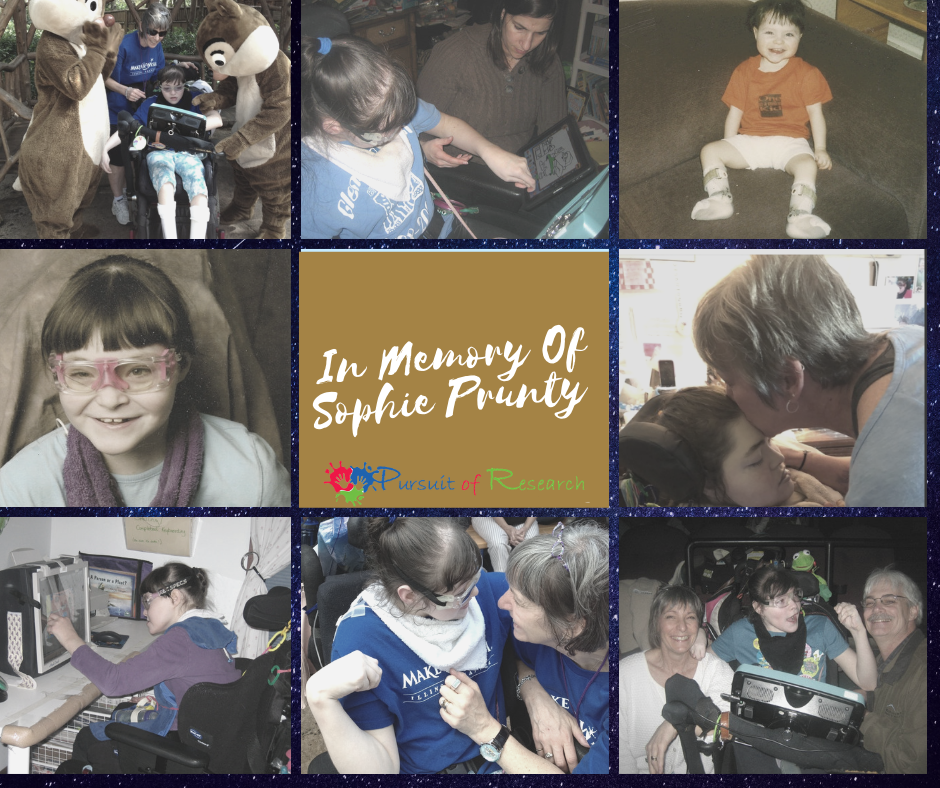 I first met Jody on a parent's group and she stood out as a mom that not only had a great deal of knowledge, but also compassion and kindness. Jody has always been the type of mom that took the time to help other parents with special needs children. I knew her daughter had special needs, but at the time didn't appreciate just how complex and medically fragile her daughter Sophie's diagnosis was from birth. Jody's demeanor is so positive of course it would be difficult to know- unless you know.

I went with my family including my 2 boys who were both special needs to meet Jody and her family including at the time 17 year old Sophie and the rest of her family at Disney World when they were there for Sophie's Make a Wish trip. Sophie's nurse was also there for every aspect of the Make a Wish trip as Sophie required a day and night nurse for medical reasons. You can tell Sophie had such an amazing time at Disney World and at Give the Kids the World by the huge smile on her face you can see in just about every photo of her.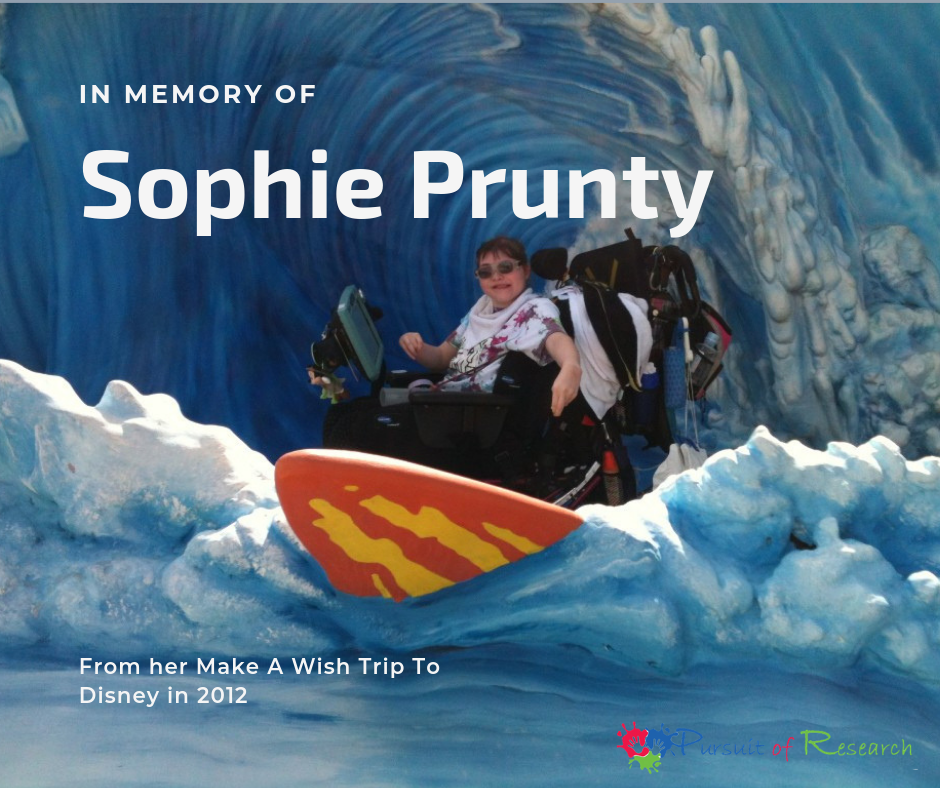 Jody wrote the following about her precious daughter Sophie in 2012
SOPHIE PRUNTY's JOURNEY
by Jody Prunty
At this writing Sophie Prunty is 18 years old.
My husband Rick and I were not aware when our special child Sophie was born in 1993 the journey that would lie ahead. Sophie is a funny, happy, beautiful, delightful young lady. Despite her "floppy-baby" diagnosis, she has become a strong-willed, always moving, curious teen. What comes easily to other children, like picking up a small object, is a great challenge for her. She uses a specialized wheelchair and uses a talker to communicate.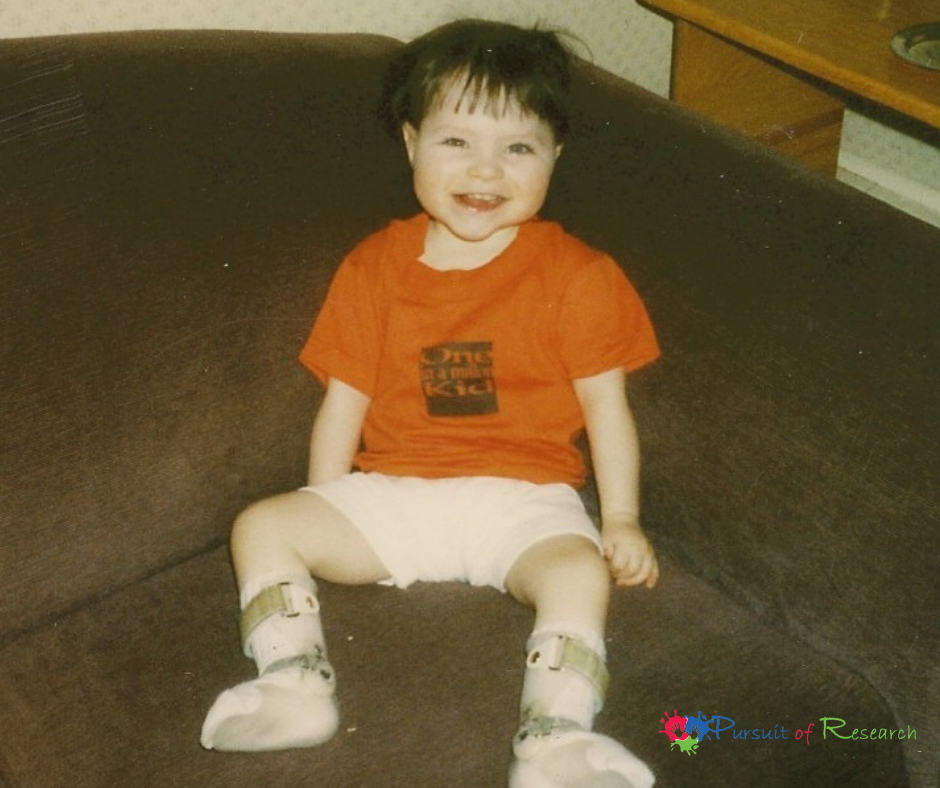 In this video which contains members of the Cherab Foundation Sophie as a child is pictured next to the words, "I'm going to smile when I see your face and laugh when I feel like crying"

~from Sally Meyer's poem Just For This Day
Her Father and I, along with her health professionals have marveled at her progress despite the challenges she faces. She adores animals, videos, music, playing on her computer, and kids. Due to health issues, she is home tutored. She can dazzle you with her charms. Sophie loves life! Since an early age, Sophie has been in a wheelchair. Trunk strength was always an issue, and with no fear of falling due to her lack of feeling peripheral pain, she never did learn to walk. We do believe it may be possible however for her to learn still as she has the patterning down and can do it with a specialized walker, but that is done only infrequently. Sophie has a huge stander at home; however, she has pretty severe scoliosis and lordosis and is not a candidate for surgery unfortunately due to her liver issues. She doesn't do much floor time anymore, preferring to be in her wheelchair; probably due to scoliosis and the gut surgery she had a few years ago.
Outside of being born with club feet, it was clear something was wrong early on with our precious daughter. She did learn to scoot on her bottom around the age of two. Finally after years of numerous tests, a one month stay in the hospital, and a trip from our home in Illinois to the Mayo Clinic in Rochester, Minnesota to see the experts, in addition to autism, Sophie was diagnosed with an extremely rare disorder called Hereditary Motor-Sensory Neuropathy Type II (now called HSAN type 2, non-CMT.) Sophie's prognosis is unknown and there is little written about life expectancy.
The "orphan disease" that Sophie was diagnosed with has been approximated to occur in one in one and a half million cases in North America, though this statistic is not fully valid. Sophie displays global delays including large and fine motor skill delays, as well as delays in speech and language. One of the unique symptoms of this disorder is that Sophie lacks peripheral feelings. What that means is that she is oblivious to pain caused to her body from the outside. If Sophie cuts herself or pokes her eye, she has no pain. This is both a blessing and a curse. Without peripheral pain, she can do damage to herself easily, and pain can also be a great teacher. Prevention of injury and infection are high priorities. This is not to say that Sophie doesn't feel any pain. Sophie spent much of her 18 years of life in life-threatening pain from impairments to her GI tract.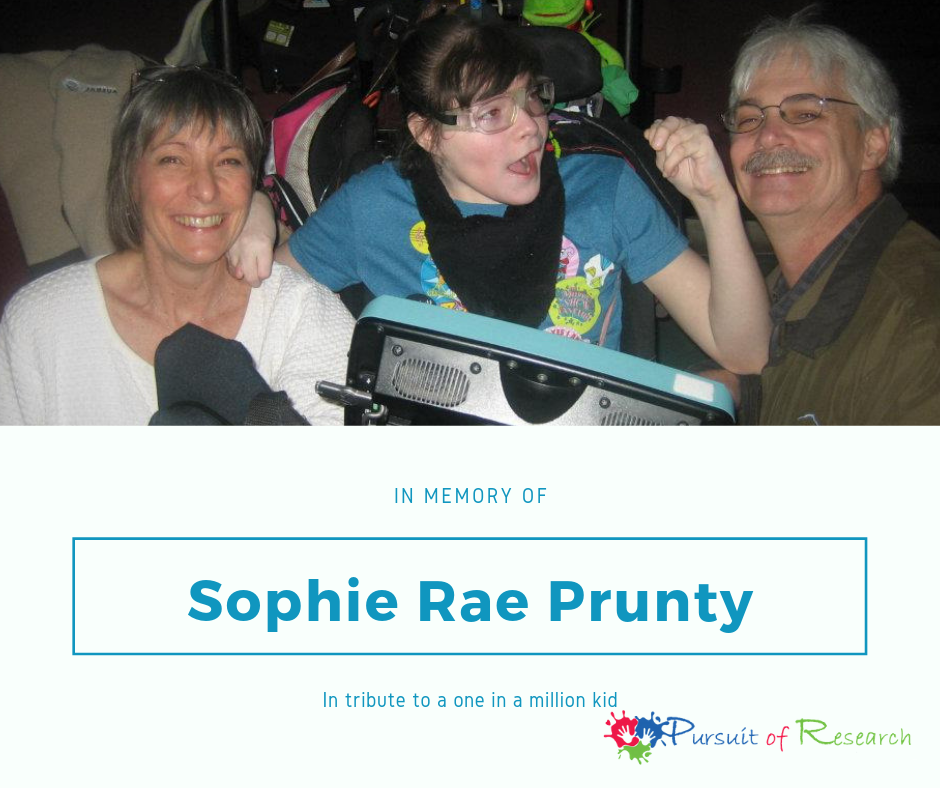 "MY DAUGHTER SOPHIE"
"Sophie is very complicated medically, so there is a lot of information to share- and I don't know how detailed I should go! But I hope to share enough information to help others who are in the same situation as us!
Sophie had many hospital stays. One special time we'll always remember was in 1998 when the doctor's saved my daughter's life by placing a tube in her cecum (large intestine) and a Gastrointestinal tube. As of this writing April 26, 2012, we are just finally and hesitantly hopeful that her GI tract pseudo-obstruction issues, which have sent her back to the hospital far too many times, are behind us.
Since she was three years old, Sophie has received the bulk of her nutrition from a central line that goes directly to her heart. The problem is that over time, this nutrition can attack the organs of the body. Sadly, due to this line which saved my daughter's life, Sophie is in the first stages of liver failure.
Sophie's GI tract has never worked well. A number of years ago, we were constantly "flushing" her stomach due to the over production of mucus. At that time, her g-tube in her stomach was always attached to a drainage bag. She could drink electrolyte fluids, but much of it went into the drainage bag; her intestinal tract was not really working.
It's said that the GI tract is a reflection of your health, and this was true for Sophie. Her blood work showed many vitamin and mineral deficiencies that we struggled to adjust from her IV food. When her spleen enlarged, her platelets and white blood counts went down to critical, and her liver numbers soared we knew that she was coming into liver failure.
My precious sweet daughter had a huge gut surgery in 2007 in which they cut all the way across her mid-section. Poor thing…all that muscle. The surgery had to be done however to save Sophie's life once again. The surgeons re-routed the blood flow from the spleen to the liver to now be from the spleen to the kidneys. The surgery was a success in that Sophie's spleen shrank down, her liver numbers got a little better, however, Sophie still wasn't out of the woods, her platelets and white counts continued to stay in the critical category. She was diagnosed as having mitochondrial issues in 2010. "
Jody wrote the following positive update just over one year ago in April, 2018 in her daughter Sophie's blog
In Gratitude
Posted on April 1, 2018 by JODYKP As I listen to my 24 year old medically fragile, special needs daughter giggling in the next room, then laughing outright as I change her, I give so many thanks to the world.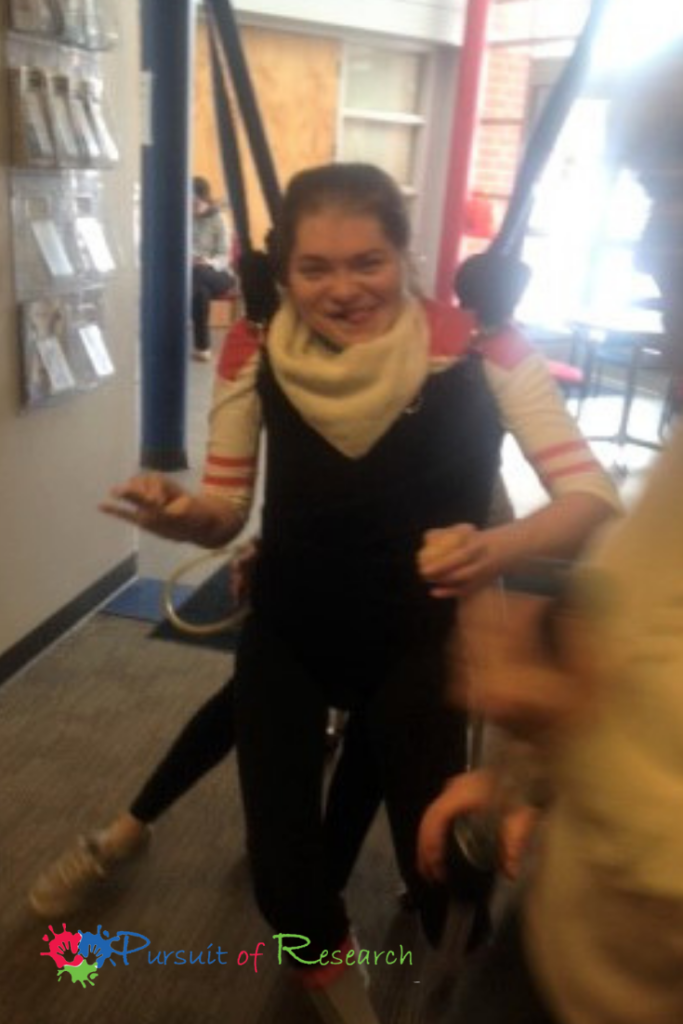 There are so many people to be grateful for in this journey with Sophie. Not forgetting all the professionals, friends and family who have helped along the way, there is one person who has made a significant impact on Sophie, so that I can hear that sweet, sweet sound of her happiness. This woman is a mom who just wanted to help her sons. Finding a meal replacement powder that helped her son with weight and apraxia, her other son with ADHD, she made it her mission to tell others about it. She convinced me to try it with Sophie. When the manufacturer stopped producing it, she worked with doctors to bravely create her own based on the old product but improved on it. She then convinced me to try her product, IQed, for my daughter. After many years of trying various things to help Sophie's gut and failing, sometimes spectacularly, I was skeptical but hopeful. While Sophie will never be able to survive on her product, it has been a game-changer for this young woman with a complicated GI system. I am forever grateful for the serendipity road that led me to Lisa Geng and IQed. While she is still trying desperately to get her product into medical trials, I can say what she cannot. This product helps Sophie to digest some, absorb some, sleep better and most importantly feel better and be happier.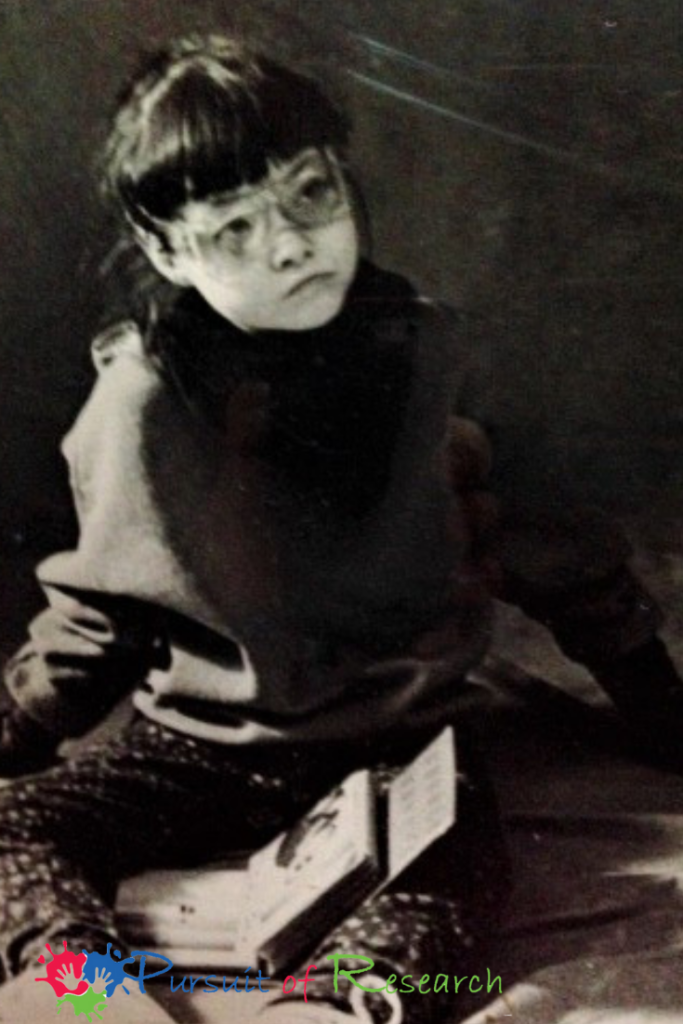 This was not the case years ago. We spent years in and out of the hospital, trying various things to help Sophie and her gut. For a kid who "doesn't feel pain," she would feel excruciating pain in her gut. Quite a juxtaposition, and really hard for professionals and doctors to wrap their heads around the "she doesn't feel pain but she does feel pain" issue. And even harder for those who love her to watch her suffering. Many medical interventions later and she still suffered, though had moments of fun between the bouts of gut pain and sleeplessness.
While I don't mean to turn this into an advertisement for Lisa's IQed, it is a testament for the persistence and love of one Mother and how she can profoundly impact the lives of others. While this journey has been full of hard times, I am so grateful for those heroes who have helped me along the way. Lisa is one of those heroes.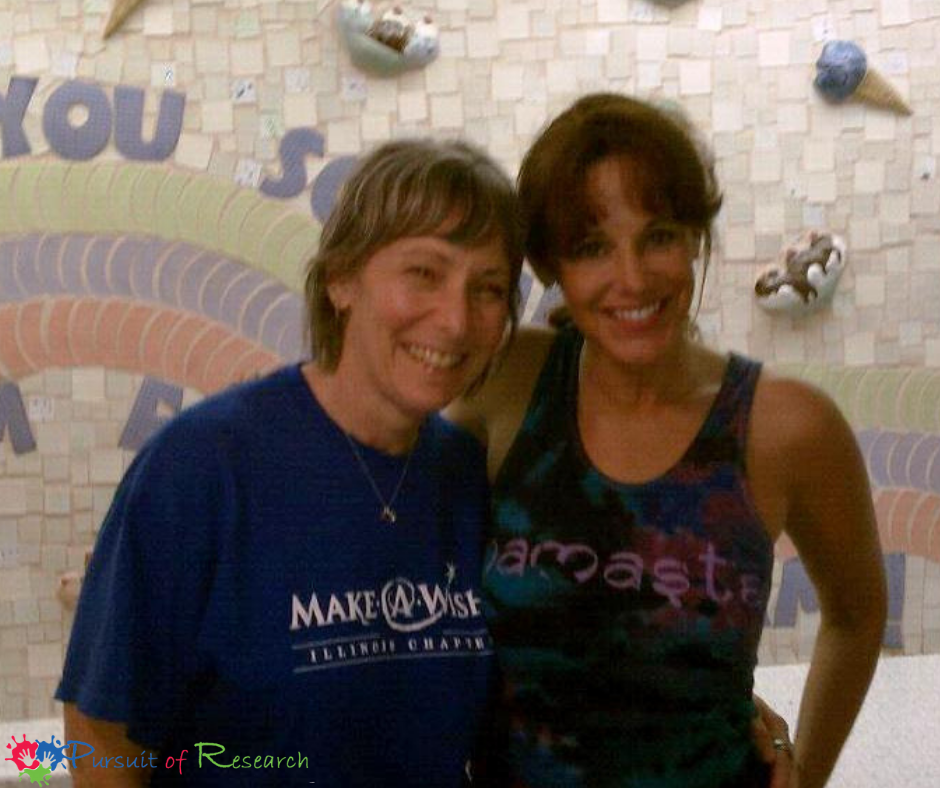 To hear Sophie's giggle is priceless- just ask those who care for her or play with her. Once you hear it, you want to hear it again and again. Luckily, I get to hear it all the time now. It's a rare day, a rare hour now that I don't hear her laughter. It took a lot to get here. Keep searching, keep asking, keep networking to find the way to fill your life with happiness. And Lisa, thank you for your persistence, your drive, and your friendship. It was A One In A Million chance worth taking.
(This was written without Lisa's knowledge. She did not ask me to endorse her product)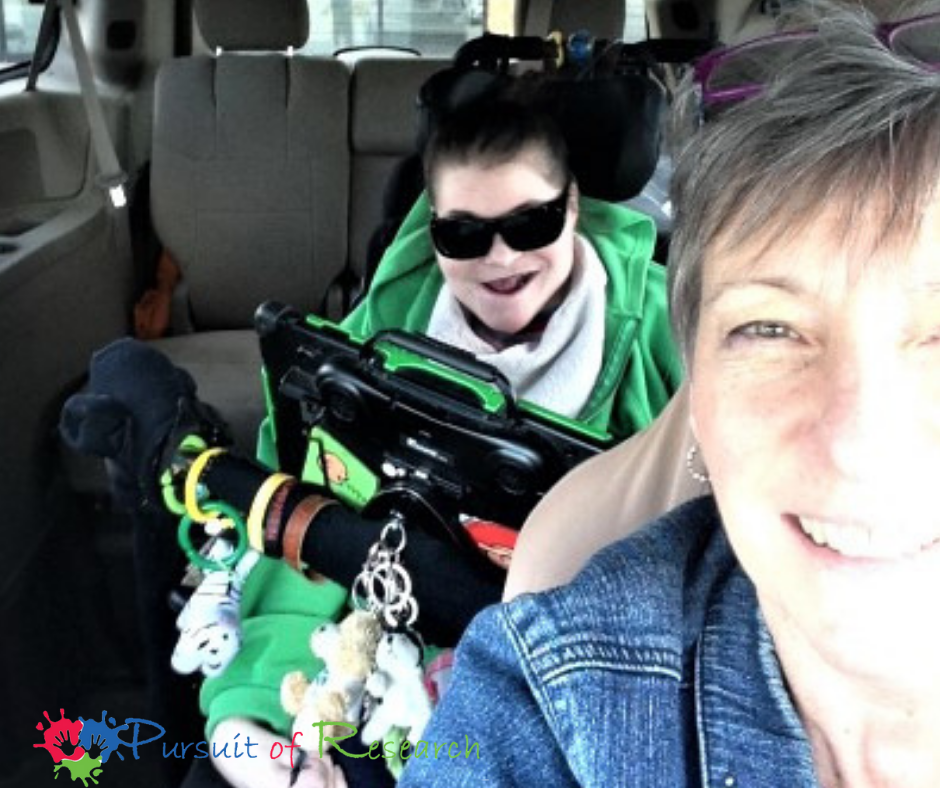 What a difference a year makes. In memory of Sophie Prunty May 2019
By Lisa Geng
Back in January 2019 was when I first heard from Jody that Sophie was brought to the hospital and diagnosed with an enlarged right side of her heart. There was confusion as to how to proceed because the treatment had too many bad side effects but without treatment, the doctors said Sophie would only live up to 2 years. If she was treated she'd be at risk for numerous bad side effects and she'd only live perhaps 5 more years. They were searching for a second opinion with a doctor knowledgable about what was the cause of Sophie's heart issues, familial dysautonomia, but at the time still hopeful that once again Sophie would pull through. During this time Sophie's parents were trying to get Sophie stable enough to have one more trip to Disney which she enjoyed so much. And then on May 23rd, Jody texted me that things turned grim and Sophie was having trouble breathing.
In spite of an excellent team of doctors, Sophie continued to have issues breathing, and as Sophie was always the one in a million kid, it made it difficult to treat what they didn't know. Jody gave me and others the head's up that it looked like the end was near and that they were just trying to get her O2 up and keep Soph comfortable.
I tried to call Jody, but she didn't answer so left a message. And then I got the call from someone helping Jody inform friends and family that Sophie had peacefully passed. Jody also shared the heartbreaking news on Facebook.
Sophie Rae died peacefully. The house is way too quiet. 25 years of love and memories to hold.

~Jody Prunty
What is shared on this page is a glimpse into the world that Jody and her daughter Sophie shared for 2 and a half decades.
Jody states above that little was known about the life expectancy of someone with Sophie's rare conditions, and perhaps that was for the best because up till the pulmonologist put a life expectancy on Sophie, she was never limited in expectations by her family or her professionals. Prior to Sophie's death, Jody and I used to talk and laugh about the possibility that Sophie would one day be able to speak as her communication skills continued to improve in both sounds and in the use of her augmentative device. For years we'd talk on the phone about many things including about our children including hope for Sophie's future, Even up till very recently, we talked about planning a visit to Florida to come to the beach and to get back to Disney because Jody and Sophie are both huge Disney fans.
One In A Million Kid -that was and will always be Sophie -even up to her death doctors couldn't explain this one in a million kid. I asked Jody if it was OK to make a page about Sophie because I know she was always sharing Sophie's story in hopes there is another one in a million kid out here like Sophie and that her story will help them too.
Jody answered me "Absolutely. Share all and everything you want. She was a gift to us all 😘💜"
As much as Jody loves Disney and the Mupperts I know Jody will love this song from Jim Henson's Memorial in memory of her daughter Sophie.
My heart breaks for Sophie who struggled for 25 years to overcome all life threw at her. She was an inspiration, a fighter, and a gift as Jody says.
My heart also breaks for my friend Jody, Sophie's mom and the first mom from the Cherab Foundation I know to have a child die. I can't imagine the pain Jody is going through. As Jody said, "Sophie will be missed. Hug your kids tight." Jody this hug is for you.
There is no death, daughter. People die only when we forget them,' my mother explained shortly before she left me. 'If you can remember me, I will be with you always.

Isabel Allende, Eva Luna
LISA GENG
Author, Mom, Founder, and President of The Cherab Foundation
Lisa Geng is an accomplished author, mother, founder, and president of the CHERAB Foundation. She is a patented inventor and creator in the fashion, toy, and film industries. After the early diagnosis of her two young children with severe apraxia, hypotonia, sensory processing disorder, ADHD, and CAPD, she dedicated her life to nonprofit work and pilot studies. Lisa is the co-author of the highly acclaimed book "The Late Talker" (St Martin's Press 2003). She has hosted numerous conferences, including one overseen by a medical director from the NIH for her protocol using fish oils as a therapeutic intervention. Lisa currently holds four patents and patents pending on a nutritional composition. She is a co-author of a study that used her proprietary nutritional composition published in a National Institute of Health-based, peer-reviewed medical journal.
Additionally, Lisa has been serving as an AAN Immunization Panel parent advocate since 2015 and is a member of CUE through Cochrane US. Currently working on her second book, "The Late Talker Grows Up," she also serves as an executive producer of "Late Talkers Silent Voices." Lisa Geng lives on the Treasure Coast of Florida.