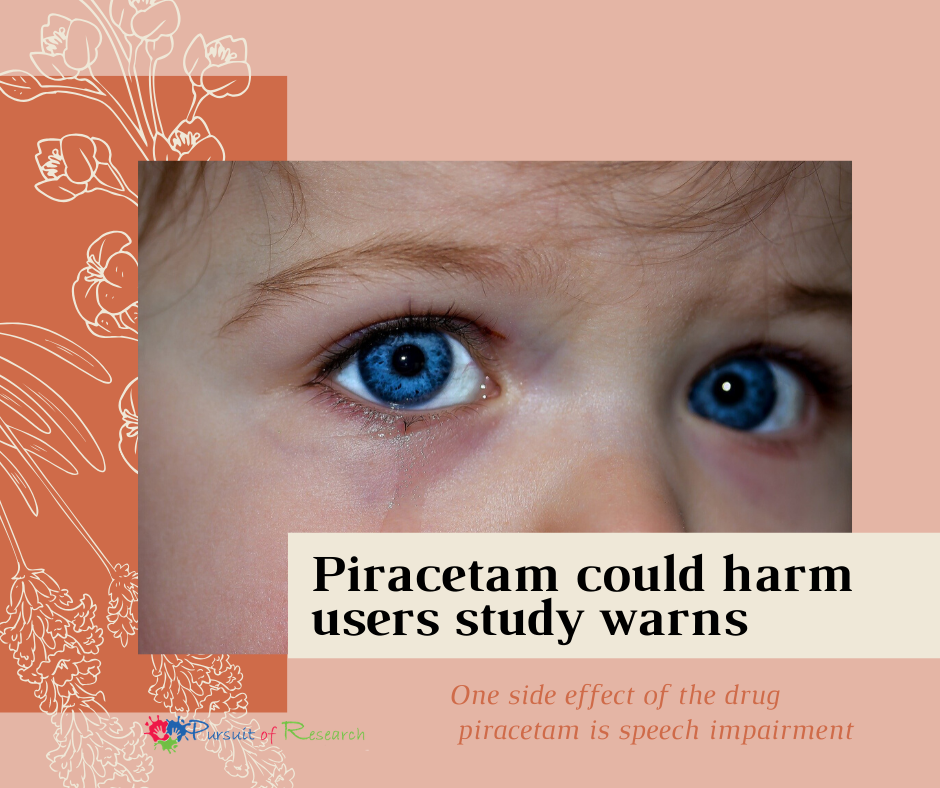 New research led by Dr. Pieter Cohen of Harvard Medical School and his colleagues reported in JAMA Internal Medicine on Monday that piracetam is listed as an ingredient on the labels of five supplements for sale online.
Side Effects
Side effects of piracetam are numerous and include anxiety, and depression, hyperkinesia, or even severe cognitive impairment. Central nervous system stimulatory effects include aggressiveness. tremors, agitation or irritability, sexual arousal, poor sleep/insomnia, and decreased appetite.
One side effect of the drug piracetam is speech impairment
There are numerous more side effects for the drug piracetam, but because some parents may use this drug with children that are already essentially nonverbal, please be aware one of the side effects of the drug piracetam is speech impairment. "Though you may not be an outgoing, gregarious extrovert, you may notice that your communication skills actually decline while taking piracetam. Many users have reported that piracetam impairs various aspects of verbal speech including word retrieval, recall, and fluency. If before taking piracetam you had no problem thinking of words to say during small-talk conversation, but now you find it difficult to think of acceptable words and/or are obsessing over the words you use in a conversation, it may be a problem.
Impaired speech as a result of piracetam can be a big deal and is usually related to the side effect of brain fog. When your thinking is clouded and/or foggy, it's difficult to converse with others because you're unable to think of the proper or ideal words to use in a conversation. This may lead to further anxiety, which in turn worsens your speech impairment. If verbal conversation all-of-a-sudden becomes an overwhelming chore, discontinuation of piracetam may reverse these deficits."
Some of the side effects listed above are when prescribed at a standard dose of the drug, whose mechanism of action was described in one research paper as "an enigma." From the study, Cohen, who also practices internal medicine at Cambridge Health Alliance, worries that consumers could be taking a drug under no medical supervision at a dangerous dosage. In the study, Cohen's team found a wide variation in how much piracetam a person could be ingesting. "You just do not know from day to day if you're getting zero of a drug or if you're getting an amount that is more than a prescription."
Cohen also said the FDA has not informed the public piracetam is out there and should be avoided.
If you are told to "try" this drug with your late talker or speech impaired child, please talk to your child's doctor and first do research on the many potential side effects.
References:
LISA GENG
Author and President of The Cherab Foundation
Lisa Geng got her start as a designer, patented inventor, and creator in the fashion, toy, and film industries, but after the early diagnosis of her young children with diagnosis including severe apraxia, hypotonia, sensory processing disorder, ADHD, CAPD, she entered the world of nonprofit, pilot studies, and advocacy. As the mother of two "late talkers," she is the founder and president of the nonprofit CHERAB Foundation, co-author of the acclaimed book, The Late Talker, (St Martin's Press 2003), and holds two patents and patents pending on IQed nutritional composition. Lisa has been serving as a parent advocate on an AAN Immunization Panel since 2015 and is a member of CUE through Cochrane US. Lisa is currently working on a second book, The Late Talker Grows Up and serves as a Late Talkers, Silent Voices executive producer. She lives on the Treasure Coast of Florida.