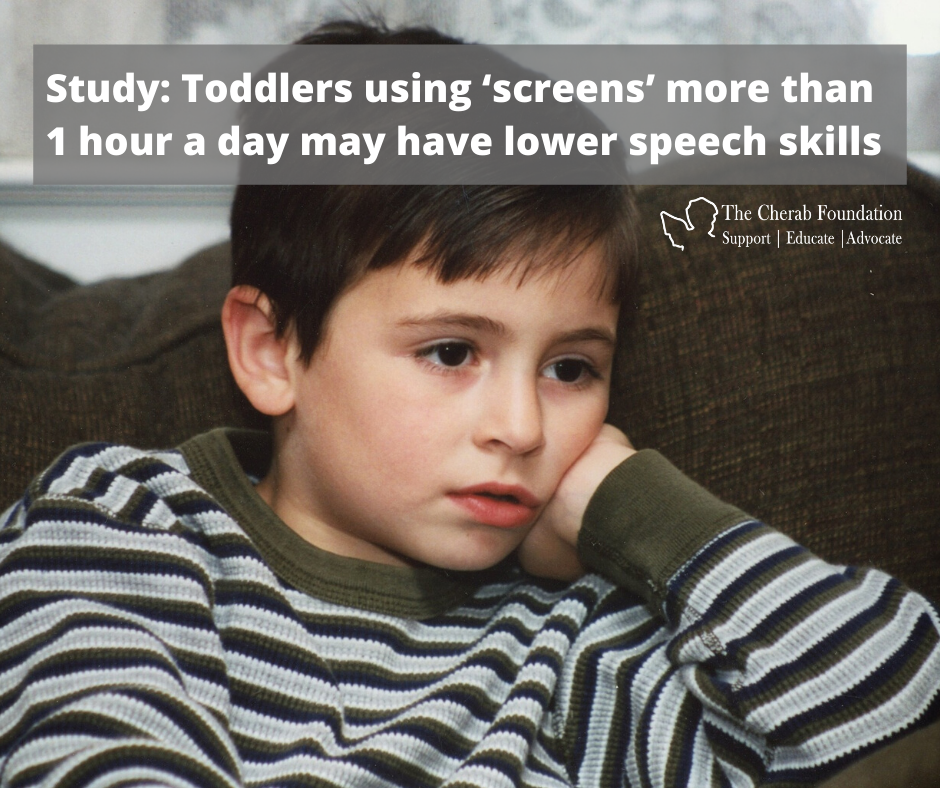 "In addition to the MRI results, excessive screen time was significantly associated with poorer emerging literacy skills and ability to use expressive language, as well as testing lower on the ability to rapidly name objects on cognitive tests"

Associations Between Screen-Based Media Use and Brain White Matter Integrity in Preschool-Aged Children John Hutton MD JAMA Pediatrics Nov 2019
Studies have shown excessive TV viewing is linked to the inability of children to pay attention and think clearly while increasing poor eating habits and behavioral problems. Associations have also been shown between excessive screen time and language delay, poor sleep, impaired executive function, and a decrease in parent-child engagement.
Now a new study scanned the brains of children 3 to 5 years old and found those who used screens more than the recommended one hour a day without parental involvement had lower levels of development in the brain's white matter — an area key to the development of language, literacy, and cognitive skills.
"This is the first study to document associations between higher screen use and lower measures of brain structure and skills in preschool-aged kids," said lead author Dr. John Hutton, a pediatrician and clinical researcher at Cincinnati Children's Hospital. The study was published Monday in the journal JAMA Pediatrics.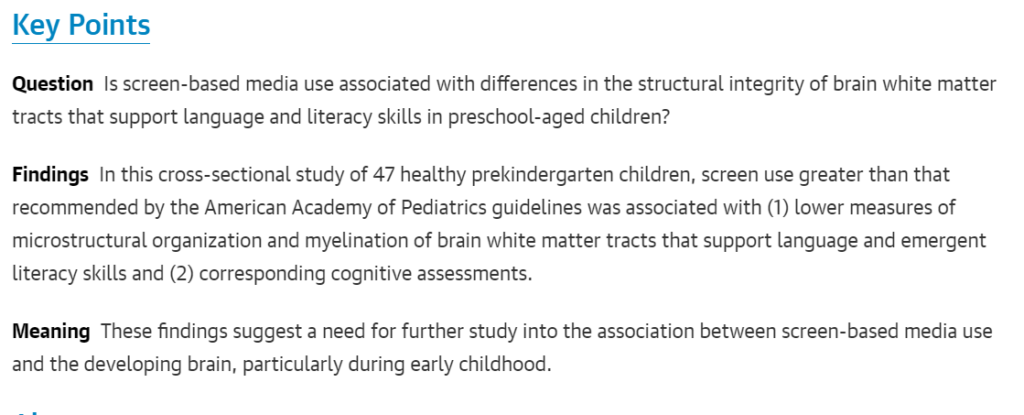 "This is important because the brain is developing the most rapidly in the first five years," Hutton said. "That's when brains are very plastic and soaking up everything, forming these strong connections that last for life."
Even more concerning, say experts, are the young ages at which children are being exposed.
"About 90% are using screens by age one," said Hutton, who published a number of studies that used MRIs to research the impact of reading versus screen use by kids. "We've done some studies where kids are using them by 2 months old to 3 months old."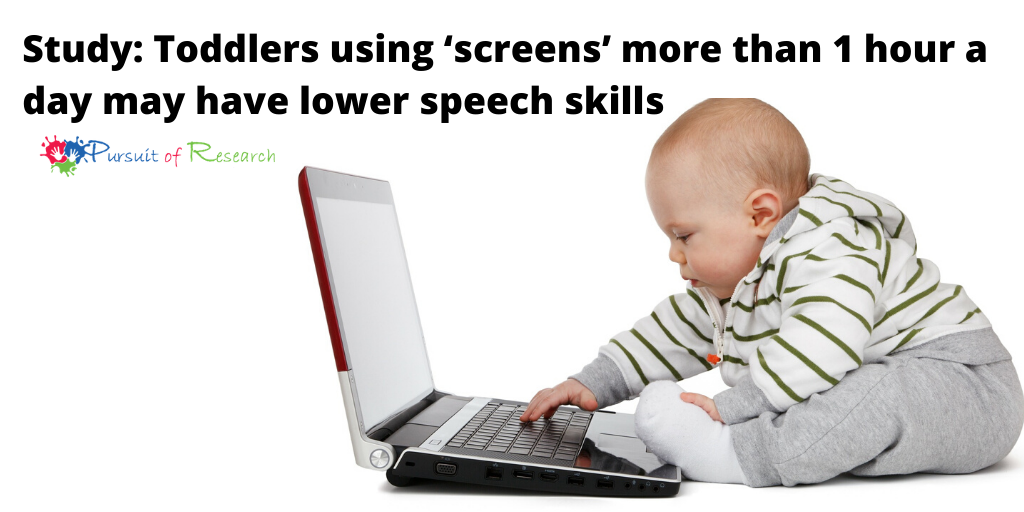 DISORGANIZED WHITE MATTER
The new study used a special type of MRI, called diffusion tensor imaging, to examine the brains of 47 brain healthy children (27 girls and 20 boys) who had not yet started kindergarten.
A diffusion tensor MRI allows a good look at the white matter of the brain, responsible for organizing communication between the various parts of the brain's gray matter.
It's the gray matter which contains the majority of the brain cells telling the body what to do. White matter is made up of fibers, typically distributed into bundles called tracts, which form connections between brain cells and the rest of the nervous system.
In addition to the MRI results, excessive screen time was significantly associated with poorer emerging literacy skills and ability to use expressive language, as well as testing lower on the ability to rapidly name objects on cognitive tests taken by the 47 children in the study.
While research is increasingly showing the damage of screen time, we know beyond a shadow of a doubt that young children learn through play. And while parents and schools continue to push academics younger and younger, results are consistent from study to study that early academic training somewhat increases children's immediate scores on the specific tests that the training is aimed at, but these initial gains level out within 1 to 3 years, between 1st and 4th grade, and in some studies are even reversed.
Children who are given a play based kindergarten placement statistically are better students in the long run. In addition to this new evidence is showing that by taking away playtime from children to focus on reading and math, not only is there no academic advantage, there can be long term harm to their social and emotional development.
LISA GENG
Author, Mom, Founder, and President of The Cherab Foundation
Lisa Geng is an accomplished author, mother, founder, and president of the CHERAB Foundation. She is a patented inventor and creator in the fashion, toy, and film industries. After the early diagnosis of her two young children with severe apraxia, hypotonia, sensory processing disorder, ADHD, and CAPD, she dedicated her life to nonprofit work and pilot studies. Lisa is the co-author of the highly acclaimed book "The Late Talker" (St Martin's Press 2003). She has hosted numerous conferences, including one overseen by a medical director from the NIH for her protocol using fish oils as a therapeutic intervention. Lisa currently holds four patents and patents pending on a nutritional composition. She is a co-author of a study that used her proprietary nutritional composition published in a National Institute of Health-based, peer-reviewed medical journal.
Additionally, Lisa has been serving as an AAN Immunization Panel parent advocate since 2015 and is a member of CUE through Cochrane US. Currently working on her second book, "The Late Talker Grows Up," she also serves as an executive producer of "Late Talkers Silent Voices." Lisa Geng lives on the Treasure Coast of Florida.
Welcome to Voices of Special Needs Blog Hop — a monthly gathering of posts from special needs bloggers hosted by The Sensory Spectrum and https://mommyevolution.com/category/special-needs-parenting/">Mommy Evolution. Click on the links below to read stories from other bloggers about having a special needs kiddo — from Sensory Processing Disorder to ADHD, from Autism to Dyslexia! Want to join in on next month's Voices of Special Needs Hop? Click here!