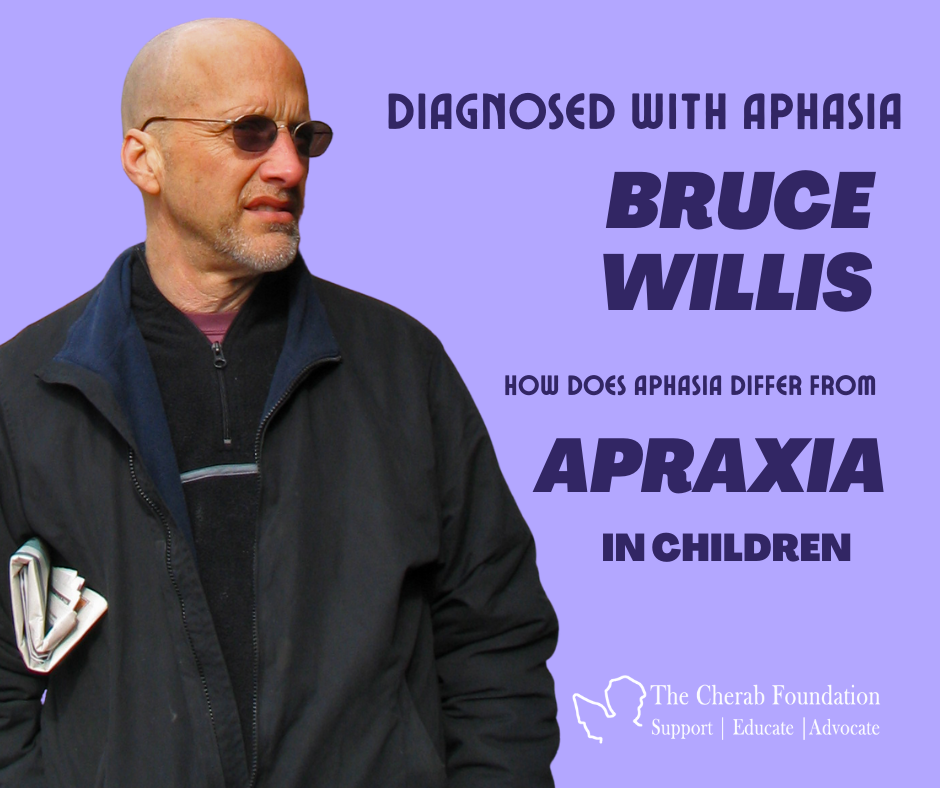 Actor Bruce Willis, 67, is is leaving the Hollywood scene and retiring from acting after being diagnosed with aphasia.. While nobody yet is sharing why, it opened up conversations about this communication impairment. What is aphasia? What are the causes and treatments? And because our nonprofit focuses on communication impairemtns in children and so many today have children with the diagnosis of apraxia, what if anything does aphasia have to do with apraxia?
Apraxia and aphasia are two distinct diagnosis even though there are some overlaps.
Both historically were diagnosis considered rare in the pediatric population.
Both are typically due to head injury or stroke.
Both affect the person's ability to communicate easily. With apraxia, the individual knows what they want to say, desperately wants to say it, but without appropriate therapies, they can't say it. With aphasia, speech may or may not be an issue, however, the ability to convey specific thoughts, or speak in logical sentences is spotty or lost.
Both are frustrating to the individual with the condition as well as their friends and loved ones.
Both require appropriate therapy by an speech language pathologist (SLP)
Both aphasia and apraxia involves specific appropriate speech therapy, however, the types of therapy for apraxia differ from speech therapy for aphasia. While speech therapy varies for these two conditions, it is possible both aphasia and apraxia may respond to specific essential nutrients as both conditions are mentioned in a peer-reviewed published study that reported a 94% success rate.
"Ninety-two percent of the survey respondents reported positive behavioral or physical changes when IQed formula was added to the diet, with most (64%) reporting positive changes within the first 2 wk. Difficulty with speech and communication was the highest reported area of difficulty for this population, afflicting 83.8% of respondents. After supplementation, expressive speech improved for 85.7% of the participants with the increased vocalizations (sounds, words) factor showing the highest observed improvement (88.1%) among all speech/communication factors combined. In all other categories, more than 67% of the survey takers reported improvements in all factors: speech (77.6%), oral motor skills (63.2%), receptive ability (69.6%), focus (65.1%), motor planning (77.6%), mood (62.3%), social skills (59.3%), and physical/behavioral health (47.3%)"
https://pubmed.ncbi.nlm.nih.gov/32088673/
What is Aphasia?
Aphasia is a disorder that results from damage to portions of the brain that are responsible for language. For most people, these areas are on the left side of the brain. Aphasia usually occurs suddenly, often following a stroke or head injury, but it may also develop slowly, as the result of a brain tumor, infection, dementia, or progressive neurological disease. The disorder impairs the expression and understanding of language as well as reading and writing.
Aphasia gets in the way of a person's ability to communicate, but it doesn't impair intelligence. People who have aphasia may have a hard time speaking and finding the "right" words to complete their thoughts. They may also have problems understanding conversation, reading and comprehending written words, writing words, and using numbers. People with aphasia may also repeat words or phrases.
Types of Aphasia
There are different types of aphasia. Each can cause impairment that varies from mild to serious. Common types of aphasia include the following:
Expressive aphasia (non-fluent). With expressive aphasia, the person knows what they want to say, yet has a hard time communicating it to others. It doesn't matter whether the person is trying to say or write what they are trying to communicate.
Receptive aphasia (fluent). With receptive aphasia, the person can hear a voice or read the print, but may not understand the meaning of the message. Oftentimes, someone with receptive aphasia takes language literally. Their own speech may be disturbed because they do not understand their own language.
Anomic aphasia. With anomic aphasia, the person has a hard time finding words. This is called anomia. Because of the difficulties, the person struggles to find the right words for speaking and writing.
Global aphasia. This is the most severe type of aphasia. It is often seen right after someone has a stroke. With global aphasia, the person has a hard time speaking and understanding words. In addition, the person can't read or write. With a stroke, aphasia may improve with proper therapy.
Primary progressive aphasia. Primary progressive aphasia is a rare disorder where people slowly lose their ability to talk, read, write, and comprehend what they hear in conversation over a period of time. There's no treatment to reverse primary progressive aphasia. People with primary progressive aphasia are able to communicate in ways other than speech. For instance, they might use alternative means of communication including gestures, sign language, PECS, or communication apps.
Symptoms of Aphasia
The main symptoms of aphasia include:
Trouble speaking
Struggling with finding the right term or word
Using strange or wrong words in conversation
Trouble understanding what other people say or following conversations
Writing sentences that don't make sense or trouble expressing yourself in writing
Speaking in short sentences or phrases
Using unrecognizable words
Aphasia may co-occur with speech disorders, such as dysarthria or apraxia of speech, which are other conditions which are other conditions that can be due to brain damage.
Tips to Help Those With Aphasia
Delay
Just give it a second or two. With a bit of extra time, the word may pop out on its own. Be patient with yourself, and ask your partner to give you time. "Do you have any… um… oh… one sec… any scissors?"
Describe
Give the listener information about what the thing looks like or does. Any extra information can help them know what you're talking about. It may even help you to say the word. "Do you have any… oh dear, those things that cut? Scissors!"
Association
See if you can think of something related. Even if it's not quite right, it may prompt the word or convey the meaning. "Do you have any… ah my… they're not knives, but like that?"
Synonyms
Think of a word that means the same or something similar. "Do you have any…clippers?"
First Letter
Try to write or think of the first letter of the word. Scan the alphabet to see if each letter triggers anything for you."Do you have any… (traces an S in the air)… scissors?"
Gesture
Use your hands or body to act out the word, like playing a game of charades. Even gesturing with your hands in a non-specific way or tapping the table may help activate the brain."Do you have any… (makes cutting gesture with fingers)?"
Draw
Sketch out a quick picture of what you're trying to say. You don't have to be an artist to use drawing to communicate."Do you have any… (draws scissors on a notepad)?"
Look it Up
Think if there's somewhere the word is written down or pictured. A communication notebook, the Contacts app in your phone, or a ticket stub in your pocket may hold the word."Do you have any… (points to scissors in a picture dictionary)?"
Narrow it Down
Give the general topic or category. Is it a person, place, or thing? A family member or a friend? Stating the topic can help your listener predict what you might be trying to say by providing some context."Do you have any…oh…they're office supplies."
Come Back Later
If you can't think of the word and your partner can't guess, it's okay to give up for now. Our brains work out problems while we do other things, so it's possible the word will simply pop out later. This is a last resort, so try other strategies first. "Do you have any… [tries every other strategy]… oh, never mind… I'll ask you later."
Signs of Verbal Apraxia
Apraxia is a complex disorder, and there is no definitive medical test that can lead to a diagnosis of apraxia. Historically apraxia is a condition that occurs after a head injury, stroke, the same as aphasia, however, a few decades ago there was a rise in apraxia in children. A Penn State study found 64% of those with autism have coexisting apraxia. Lack of awareness of apraxia may be the cause for those with autism that also have undiagnosed and untreated apraxia and remain nonverbal.
For a diagnosis of apraxia in a child, professionals look to a constellation of signs and symptoms in order to diagnose. Many professionals wait until a child is 3 years old to diagnose verbal apraxia, however, there may be signs even before then, especially if a child has signs of oral apraxia. A child who is a late talker and exhibits many of the following signs and symptoms should be evaluated to determine whether or not he or she has apraxia.
Children who have subsequently been diagnosed with verbal apraxia often share a history of some common signs. These children, during infancy, often engage in limited sound play and babbling. Their parents often describe them as 'quiet' babies. Often, the variety of sounds that they use in their babble is limited, and they may only use a few consonants and vowels. While the first words of these children may emerge on time, their vocabulary growth is slow, and they often rely on elaborate nonverbal or gestural communication instead. Frustration and behavior problems emerge as the child has difficulty communicating. As babies, frequently these children drool excessively and display signs of oral apraxia. They have a later transition to solid foods that are expected and frequently have feeding difficulties. As well, there is often a family history of speech, language, or learning problems.
Other signs of verbal apraxia include the following:
• Receptive (understanding) language skills are stronger than expressive (spoken) language
• Cognitive skills are normal or close to normal
• The child uses a limited repertoire of consonant sounds (for example, "da" may be generic, and be used as an all-purpose word for many objects)
• Sound and syllables are omitted from words (e.g. 'ma' for ' mama '), vowels are distorted (e.g. 'duh' for ' day '), and consonant clusters are simplified (e.g. 'poon' for ' spoon ')
• Errors increase as the length of utterance increases
• Errors are inconsistent. The same word may be produced differently each time the child attempts to say it.
• Voicing errors (e.g. 'baba' for ' papa ' or 'doo' for ' two ')
• Connected speech is more unintelligible (difficult to understand) than expected relative to productions at the single word level
• More errors w/ greater articulatory adjustment (mama vs. balloon)
• Difficulties with the prosody of speech, with excess equal stress making speech sound robotic(Shriberg, Aram & Kwiatkowski, 1997)
• Slow rate of speech, with significant difficulty producing syllable sequences repetitively (e.g 'puh-tuh-kuh, 'puh-tuh-kuh, puh-tuh-kuh')
• Speech intelligibility is positively influenced by context and content that is over-learned. For example, the word 'mama' does not require motor planning after it has become over-learned and is used regularly. However, nonsense syllables, novel words, or words attempted 'on command' ('say ___') do require motor planning and are therefore more challenging
• Groping, "trial and error" behavior (dysfluencies, silent posturing) can occur
• Often children exhibit a mixture of apraxia along with oral motor weakness
• For children who have developed expressive language, they exhibit a more limited vocabulary, grammatical errors, and disordered syntax
Neurological Soft Signs Typically Seen In Children with Apraxia
Apraxia appears to be a neurologically based disorder that can run in families. Children with apraxia frequently have a constellation of 'neurological soft signs' that are associated with apraxia. These include the following:
Benign Congenital Hypotonia (decreased muscle tone) of the trunk, which often results in delays in sitting, crawling, and walking. Children with hypotonia often sit with a rounded back and or in a 'W' position with their legs due to the laxity of the ligaments at the hips. The low muscle tone may extend from the trunk into the oral musculature, such as the lips, cheeks, and tongue.
Gross and fine motor incoordination may also be seen. A child may have difficulty running smoothly, throwing and catching a ball, or holding a pencil with an appropriate grasp.
Motor planning difficulties may extend beyond simply speech production to motor skills as well. A child with motor planning difficulties may have trouble imitating sequences of motor movements (like clap hands and touch head) or playing pat-a-cake or doing jumping jacks.
Sensory processing disorder/self-regulatory issues are also frequently seen in children with apraxia. Children with sensory processing disorder (SPD) have difficulty properly processing the senses of touch, taste, smell, vision, and hearing. Some children can be sensory seeking, in that they seek out sensory input due to being underresponsive to sensation. For example, a child who is sensory seeking might be hyperactive, have decreased attention, crash into objects, and touch other people inappropriately. Other children are sensory-avoiding, and may have a heightened sensitivity to sensory experiences, dislike being touched, dislike loud noises, avoid messy play, and be intolerant to daily tasks like hair washing and tooth brushing. Children with DSI can have also have a mixed response to sensory input; they can be sensory avoiding as well as sensory seeking different stimuli. For example, a child may seek out rough play and always want bear hugs, while at the same time, dislike walking on grass or touching the sand. Some children with DSI also have self-regulatory issues; they have difficulty calming themselves and self-soothing, and also often have difficulty establishing regular sleeping and eating patterns.
Delayed or mixed hand dominance is often seen in children with apraxia. In typically developing children, hand dominance typically develops around 2 years of age, the time when the brain begins to allocate tasks specifically to the right and left hemispheres. In most individuals, language lateralizes to the left hemisphere, however, in children with apraxia, the emergence of hand dominance is often delayed, or a child will show mixed dominance, indicating a delay in brain specialization.
Read about parent-friendly "soft signs" of apraxia here
Parent-friendly Signs of Apraxia in a Child
Here are the "late talker vs. apraxia" or delay vs. disorder signs that I saw/see in my four-year-old Tanner as he was/is "learning to talk."
1. It took forever for Tanner to learn how to say ANYTHING other than the word "ma" or the sound "mmm," which were his only "words" up until almost 3 years old. Even though the therapy he received was not appropriate for apraxia (we didn't know this at the time), it was some type of therapy, and it took months of this speech therapy, 1/2 hour sessions, two or three times a week (from 2 years, 4 months, to 2 years, 8 months) for him to learn simple sounds like "t" or "ch" or "sh," sounds most babies and toddlers say when they babble.
During this time, even though Tanner was in speech therapy, we followed our pediatrician's advice that Tanner was a "late talker" and never knew Tanner was qualified for early intervention by the state (a federal program) so we paid out of pocket for all the therapy (insurance didn't cover it and even though we appealed, at that time, we didn't know how to fight the denials). Tanner did babble with some of these sounds, though rarely. Many apraxic children babble very little. The problem was that when Tanner wanted to use one of these sounds, on command, he didn't know how. Many parents of apraxic children have examples, like us, of their child starting to develop speech and then, for some reason, they lose the speech they had developed. Since there is still no large scale research on apraxia in children, nobody knows why this happens. In a small research project by Tom Campbell out of the Pittsburgh Hospital, the findings were that it required 81% more therapy for apraxic children to show results than children with severe phonological delays.
2. Tanner did not go through normal speech development as he aged. He would say a sound (before 3) or word (3 and up) and not say it again for months. Most children with delays in speech will learn sounds and words and build upon that, in a developmentally typical pattern.
3. Another frustrating aspect of verbal apraxia is that even when Tanner learned how to say a sound like "p" before a vowel, he could not say the same sound after a vowel, so he would either drop it or change it to another sound. For example, if the therapist modeled (said) the sound "pa," Tanner could say "pa." If the next word the therapist modeled for him was "up," Tanner would say "uf." This has to do with the difficulty of movement of the tongue and mouth positions. Professionals refer to this as "motor planning" (which is why apraxia is also called a motor planning disorder.)
4. Tanner understood us and knew what he wanted and developed his own "sign language" to try to communicate. They say this is very common with apraxic children. When Tanner has more to tell us than he is able to say yet with words, he now also uses sound effects with his unique sign/body language. He's actually pretty good at making himself understood. (Remember Harpo Marx?) Many children with apraxia have high receptive (understanding) ability, and low expressive (talking) ability. There was never a doubt to anyone that Tanner was intelligent and apraxia does not affect a child's cognitive (intelligence) ability. (To discern your child's cognitive ability, view what his/her evaluations state about expressive and receptive ability.)
Due to the differences in what are appropriate therapies and treatments, it is terrible that apraxic children are sometimes misdiagnosed as autistic, or even mentally retarded. Apraxia can co-exist with conditions like autism, cerebral palsy, downs, etc., but apraxia is often times there "alone." (I'll explain later on.) Too often, children are diagnosed as having "receptive" delays, when they do not have receptive delays. Receptive delays are a "red flag" that there could be cognitive issues going on. It's one thing if there really are cognitive issues but seek second opinions privately from a speech and language pathologist, developmental pediatrician, and/or neurologist knowledgeable about apraxia and other disorders.
5. Even when Tanner learned to say the sound "t," if he tried to say the word "pot" it would come out "pop," because he will switch the "t" to a "p." The professionals say this is due to motor planning difficulties and children with apraxia will carry the sound from the beginning of the word to the end.
6. Tanner's intelligibility will "break down" the longer the word or sentence is. Even with a model, he can't repeat back a longer sentence using all the words yet, he will repeat back only a few of the words.
7. Tanner never "picked up" speech like other children. He also seemed to regress and didn't talk at all when he was around large groups of children that were talking and playing, even when they tried to play with him. He tended to do better with one other child, or his brother, and maybe one more. Then he would try to talk too. Tanner's older brother was also a late talker, but that was because of birth injuries that he was in therapy for from birth. (He's doing great now! He's 6 and unless I tell someone, they never would have known.) Where Tanner wilted in
groups of children, Dakota thrived, and Dakota did "pick up" speech when I put him in a wonderful preschool a few times a week.
8. When Tanner started to use words, he would repeat the same sound over, using sentence inflections, rather than saying the different words. A good example is, he would point to the door, or out the window, while saying, "die, die, die, die, die." Of course, that meant, "I want to go outside." I heard some apraxic children are monotone, but that wasn't Tanner.
We would have to say to Tanner, "I…want…to…go…outside," really emphasizing and waiting after each word, so he could repeat it. Tanner can now say many words clearly, but he still does better when he hears someone say them first. Now at 4, Tanner will, "I doe side now peas. Tay?"
9. Tanner's apraxia still affects his ability to use the back of his tongue to say sounds like "k" or "g." He substitutes the "k" for the "t," so cookie is "tootie." And the "g" for the "d," so girl is "dirl." He has yet to make either the "k" or the "g" sound, but we are working on it. When Tanner said, "hud n' tiss," the other night, I had to stop and switch the "d" and "t" to know he was asking for a hug and a kiss.
10. Tanner talks better when he is singing, or playing when he isn't thinking about it.
11. I could go on, but another one Tanner has developed now that he is really pushing himself is stuttering (dysfluency.) This does not always happen with apraxic children, it's partly developmental, but it's not uncommon with apraxia. Many children with apraxia can get "stuck" here for a bit. I say how cruel, he has trouble talking, and to add stuttering to that is like adding insult to injury. Many experts say his brain is working faster than his mouth. You can visibly see him struggle to talk when he does. Lots of thought goes into each word; you don't see that with late talkers. I never did.
Some "soft" neurological signs that are not uncommon in apraxic children:
I thought Tanner only had apraxia, with no other issues, but I was wrong. These other "issues" however are typically overlooked by us as parents, and by many pediatricians, however, these are the conditions that neurodevelopmental MDs (developmental pediatricians and pediatric neurologists) are trained to spot. "Soft signs" typically present as mild in most of our children -which is why they are overlooked -such as hypotonia or fine or gross motor planning issues of the body, or sensory processing disorder.
Even though all of us and Tanner's regular pediatrician thought Tanner was fine outside of being "just a late talker" had other "neurologically based" signs, hypotonia, and sensory processing disorder that none of us knew how to spot. I know that "neurological soft signs" may sound severe, and perhaps they could be, but fortunately because Tanner had early intervention, he is overcoming them, and they are now only noticeable to experts. Both were treated by Occupational Therapists, Physical Therapists and even his Speech Professionals as well.
Hypotonia, or low tone, gave Tanner the appearance of a Cherub, and that was his nickname when he was 2, "Cherub Boy." Everyone said that Tanner looked like a Cherub because he was so cute. Hypotonia, however, needs to be addressed, because it affected Tanner's truncal strength and breath control, which is important for many reasons, including speech.
Tanner also had mild sensory processing disorder issues. There is lots of information online about sensory processing disorder (SPD), but mostly it makes the child seem like a tantrum child, for "no" reason. Children with SPD do not sense things like we do, the same way all the time. One example from when Tanner was a baby (and this is before I knew what SI was, or that Tanner had it) is that he would sometimes "freak out" when I tried to bring him into a store. He would scream like he was in intense pain, like there was a pin in him, tighten his whole body and act hysterical. Other shoppers would look at me like, "What are you doing to that child!" My sister, who is a certified nanny, was often with me when this happened, and we would check his diaper, offer a bottle, take all his clothes off, looking for what was causing the screaming, but we never found anything. This same child would go for shots and wouldn't cry. I used to call him the "tough one." More recently, I was tickling his arm and he said, "Ow! Hurt me." I asked him, "Does this hurt?" and tickled him again. He pulled his arm away and said, "Yes." Sometimes if I pat his head he says "Ow," too. SI is another unknown one, and it can affect different senses. For Tanner, it's touch.
Whati s Apraxia, From An SLP
"Dear Parents;
All these terms thrown at you and nowhere to go to get answers to your questions about your child's diagnoses? Here are some critical differences that may help you to determine what, and if, your child is Verbally Apraxic. Your reports from therapists may contain the phrases in italics below.
Your child may say the same word in four different ways. Sound errors are significantly inconsistent.
Your child adds vowel sounds to the end of words that finish with a consonant (Up-pa). Intrusion of a vowel.
Apraxic children may be able to produce sounds in imitation, which they do not use in connected speech.
Your child becomes less and less understandable as his speech unit gets longer. The severity of apraxia increases as the length of the word or utterance increases.
Your child tends to mix up consonants within a word. Sound swapping errors are common (efelant vs elephant). Metathetic errors are frequent.
Your child may drop final consonants in single-syllable words (omission errors) simplifying his/her speech unit to contain consonant-vowel pairs in short strings. "Cat come home" = "Ca co hoe".
Your child may not be able to change his pitch during speech production. Prosodic disturbances of speech, pitch, stress, and rate are frequently in error.
Your child may use only /b/, /m/, /d/, /g/, /z/ with simple vowels like /uh/, /ah/, /oh/, but not /p/, /t/, /k/, or long vowels /ay/, /ee/, /i/ or /ow/. Voicing errors, nasal resonance errors, and lengthening vowels before omitted consonants are present.
Your child has difficulty repeating two different consonants + vowel pairs over and over again. Marked difficulty repeating series of speech sounds in diadokokenetic series /patika/.
Other elements of difference include:
a big discrepancy between your child's ability to move his/her lips, tongue, and jaw for eating or non-speech activities and the use of these parts during speech on command.
general normal EEG/MRI results
the ability to understand everything said to him/her. Normal receptive language.
traditional speech therapy techniques are ineffectual. General speech progress is slow and requires intensive, appropriate, speech therapy.
Apraxia of speech is not a developmental disorder but a neurological disorder. A pediatric neurologist evaluation along with a speech assessment from an experienced speech therapist will be crucial for an accurate diagnosis.
After that, the therapy approach should focus on the motor planning issue, as well as the language issue. Reading and writing expression will need consideration as well. Just presenting a word as a model will not meet an apraxic child's needs for therapy. Visual cues and kinesthetic or tactile information must also be provided. The goal of therapy should always be to increase the automatic movement of speech and increase functional communication as quickly as possible."
Lori Roth MS CCC/SLP
Appropriate Therapy For Children With Apraxia
The most appropriate therapy for a child with verbal apraxia is different than what is considered appropriate for a child with more traditional articulation issues.
Treatment approaches in order of current peer reviewed effectiveness Maas et al 2014
Intergral stimulation ReST (Rapid Syllable Transition)
NDP3 (Nuffield Dyspraxia Program, 4r Edition
Prompt
Biofeedback Treatment
The following are some general guidelines of what should be included in a therapy program for a child with a diagnosis of verbal apraxia:
• Begin with the development of imitation skills: Since the crux of verbal apraxia is a difficulty with the production of sounds and words on command, this is a very basic skill that will need to be focused on.
• Emphasize movement sequences at syllable level rather than sounds in isolation
• Therapy should be intensive and frequent
• Individual therapy is recommended, as there is no benefit from group therapy for children with apraxia: "Children with apraxia of speech required 81% more individual therapy sessions…to achieve a similar functional outcome" Campbell (1999) Clinical Management of Motor Speech Disorders
• Repetitive practice for habituation of motor learning: In order for a production to become automatic and easy for a child, frequent, repetitive practice is required.
• Developing an alternative communication system while the child is learning to speak: Apraxia is a disorder with a difficult course, and it can often take some time for a child to learn enough speech in order to functionally communicate. As such, it is important for a child to have an alternative means of communication in order to reduce frustration and allow effective communication while he/she is learning to speak. The use of a 'total communication' approach, incorporating and encouraging oral communication while at the same time using other methods of communication is recommended. These alternative communication methods can include sign language (which research suggests promotes the development of verbal skills), Picture Exchange Communication System (PECS) (a program that involves the child giving a picture of the desired object in order to obtain it), or a high-tech device (typically for more significantly impaired children and are tailored to the individual).
• Multisensory, including touch-cue system (PROMPT): Therapy should include as many modalities as needed to elicit target productions, including auditory and visual cues (e.g. 'look at my mouth'), as well as touch-cueing, preferably through the use of PROMPT (link to PROMPT section below)
• Core vocabulary: Developing a core vocabulary of a few functional words, such as 'more,' 'help,' and 'up,' should be one of the first goals of your child's speech therapy. These words should be practiced over and over until your child can produce them automatically and as his/her single word vocabulary increases, he/she can move on to word pairings, like 'mama help.'
• Use of sound approximations in a hierarchy towards target word (Kaufman hierarchy approach): As part of building a core vocabulary, a child can be taught to use word approximations to start with, a method that is part of the Kaufman Speech Praxis Treatment Kit (link to Nancy Kaufman's site or super duper who sells?). The child is taught an approximation of a target word – such as 'opuh' for 'open' – that requires less motor complexity, thereby ensuring greater success in his/her productions.
• Incorporating melody and rhythm: The use of activities such as singing rhymes or tapping the table while saying a sequence of syllables can help to improve the rate and intonation of speech as well as sequencing.
• Slowed rate with movement activities: Marching or banging a drum while saying sequences of sounds and syllables
• Carrier phrases: The use of carrier phrases can help your child use language more automatically; for example, phrases like 'Ready, set, ___' and 'One, two, ___' help cue your child with what word to use.
• Oral motor techniques – if indicated: Children with verbal apraxia often have oral apraxia or may have low tone in the oral musculature. These children may benefit from oral motor therapy, which can involve increasing sensory awareness of the articulators, improving imitation of non-speech movements, and strengthening the muscles of the jaw, tongue, and lips. Although 'controversial,' oral motor therapy may improve feeding skills, drinking, drooling, as well as clarity of speech.
Tanner had to learn how to smile due to his oral apraxia. When Tanner was learning to smile he would smile and close his eyes. We'd then say "Tanner open your eyes" and he'd open his eyes and open his mouth. Then we'd say "Smile again" and again he'd smile and scrunch his face like in this photo again which was his classic smile for a while. Learn more about oral apraxia here. See Tanner today
WHAT CAN I DO AT HOME TO HELP WITH THERAPY?
Your child's SLP will probably give you homework to carry over in between therapy sessions. But you can incorporate "therapy" into everyday play with your child. Some ideas to try: sing songs like Old MacDonald and see if your child will fill in E-I-E-I-O; read repetitive books, like Brown Bear, Brown Bear What Do You See or Peek-a-Who, and see if your child can fill in some words; recite nursery rhymes with your child, encouraging his/her to complete some of the phrases. Many more ideas here
LISA GENG
Author, Mom, Founder, and President of The Cherab Foundation   

Lisa Geng is an accomplished author, mother, founder, and president of the CHERAB Foundation. She is a patented inventor and creator in the fashion, toy, and film industries. After the early diagnosis of her two young children with severe apraxia, hypotonia, sensory processing disorder, ADHD, and CAPD, she dedicated her life to nonprofit work and pilot studies. Lisa is the co-author of the highly acclaimed book "The Late Talker" (St Martin's Press 2003). She has hosted numerous conferences, including one overseen by a medical director from the NIH for her protocol using fish oils as a therapeutic intervention. Lisa currently holds four patents and patents pending on a nutritional composition. She is a co-author of a study that used her proprietary nutritional composition published in a National Institute of Health-based, peer-reviewed medical journal.
Additionally, Lisa has been serving as an AAN Immunization Panel parent advocate since 2015 and is a member of CUE through Cochrane US. Currently working on her second book, "The Late Talker Grows Up," she also serves as an executive producer of "Late Talkers Silent Voices." Lisa Geng lives on the Treasure Coast of Florida.