Tryptophan, found in foods like turkey, may improve social behavior  "Tryptophan (TRP), the precursor of serotonin (5-HT), is one of the most investigated amino-acids. … TRP supplementation seems to improve control over social behavior in patients and individuals suffering from disorders or behaviors associated with dysfunctions in serotonergic functioning"   From the study Tryptophan supplementation modulates social behavior: A review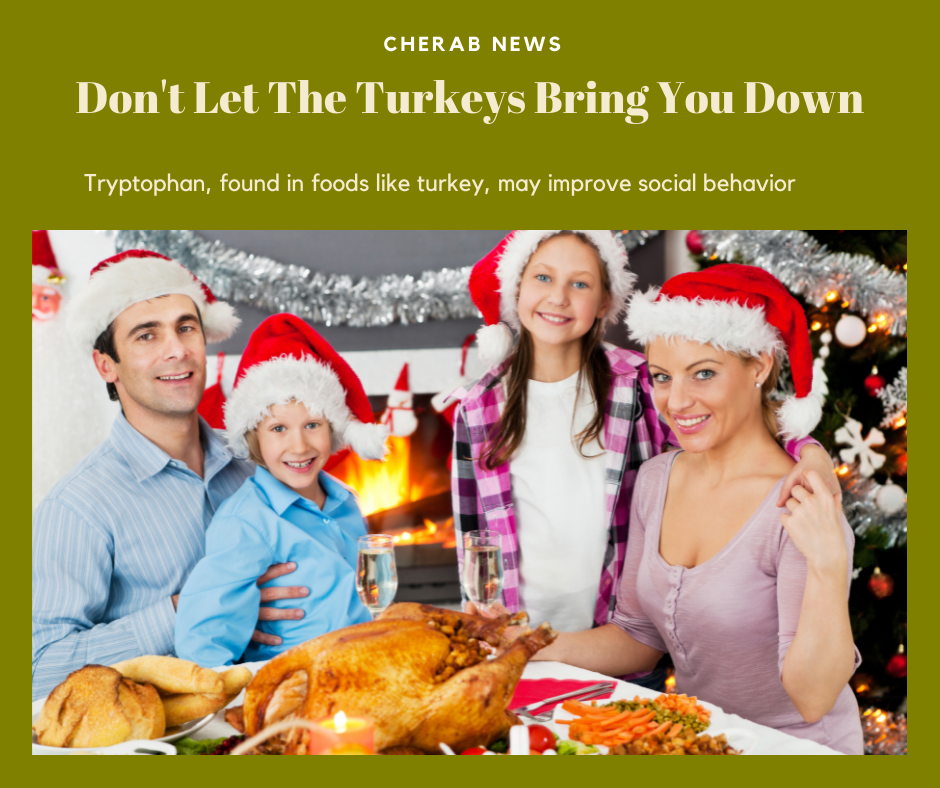 While we now know tryptophan which is found in turkey can help improve social behavior in those with ASD, there is more useful information that is timely with the Thanksgiving Holiday.  Most of us believe when we have our Thanksgiving dinner it will be the turkey that will naturally relax us because it contains tryptophan and helps boost the neurotransmitter serotonin which is converted to melatonin. However, it's important to note that turkey may not be what is highest in tryptophan at your Thanksgiving dinner. On this blog 'Turkey Doesn't Make You Tired: The Myth of the Post-Thanksgiving Crash' the author writes:
"The myth goes that the bird contains a high level of the amino acid tryptophan. Tryptophan does not get taken into the cells, but rather stays in the bloodstream and travels to the brain, where it boosts levels of serotonin which is then converted into melatonin.
Serotonin and melatonin are involved in the regulation of sleep. And there is evidence that a diet with trypophan rich foods will improve sleep. Here's just one study on this: Tryptophan-enriched cereal intake improves nocturnal sleep, melatonin, serotonin, and total antioxidant capacity levels and mood in elderly humans.
"The consumption of cereals containing the higher dose in tryptophan increased sleep efficiency, actual sleep time, immobile time, and decreased total nocturnal activity, sleep fragmentation index, and sleep latency. Urinary 6-sulfatoxymelatonin, 5-hydroxyindoleacetic acid levels, and urinary total antioxidant capacity also increased respectively after tryptophan-enriched cereal ingestion as well as improving anxiety and depression symptoms" Read more
But, turkey doesn't actually have a high level of tryptophan — it's on par with other foods like chicken, beef, soybeans, and sunflower and sesame seeds. And the levels that it does contain are not high enough to translate into a nap. You'd need a direct shot of tryptophan on an empty stomach (remember, this is thanksgiving we're talking about)."
That's one way to look at it. But here's another on why you may get sleepy after eating a turkey dinner
You'd think that would be enough info -but there are more views on this like Tryptophan: Turkey's Sedative?
"Turkey is one of the common food items that provide an ample amount of tryptophan, along with chicken, milk, cheese, eggs, fish, soy, tofu, and peanuts. While turkey does have the making of a natural sedative, it is unlikely that the "calm, want a nap" feeling you have on Thanksgiving Day can be blamed on turkey alone. Nutritionists say that tryptophan actually works best on an empty stomach and only a portion of the tryptophan from the turkey actually makes it to the brain to help produce serotonin. It is, in reality, a combination of the type of food, amount of food, and celebratory atmosphere of Thanksgiving Day that gives you that comfortable feeling."
So my next search was to see what doctors had to say about this. I checked Dr. Sears and found an article called "Foods for Sleep" and I was sure I would find turkey there. Interestingly enough some common breakfast foods made it onto the list of Dr. Sears' "Snooze Foods" list, and poultry isn't even in the top three!
SNOOZE FOODS
These are foods high in the sleep-inducing amino acid tryptophan:
Dairy products: cottage cheese, cheese, milk
Soy products: soy milk, tofu, soybean nuts
Seafood
Meats
Poultry
Whole grains
Beans
Rice
Hummus
Lentils
Hazelnuts, Peanuts
Eggs
Sesame seeds, sunflower seeds
And a very popular breakfast meal was almost the top "Best Dinners For Sleep"
pasta with parmesan cheese
scrambled eggs and cheese
My last place to look was one of my most trusted; an NIH website. Here I found a list of the top foods for tryptophan and turkey was listed as clear as day…at the bottom of the list (OK because it's in alphabetical order)
Tryptophan can be found in:
Cheese
Chicken
Eggs
Fish
Milk
Nuts
Peanut butter
Peanuts
Pumpkin seeds
Sesame seeds
Soy
Tofu
Turkey
So perhaps the expression should be changed from "Don't let the turkeys get you down" to "Don't let your food get you down"
A parent just asked me "Since you're the nutrition guru, w/ IQed and all, I thought I'd pose this question to you and see what you think. My son has some bad temper tantrums. Do you think nutrition has anything to do with it? Like what he eats on a daily basis? I ask this because one day he's a perfect angel then the next he's a hellion! He's apraxic, minor SPD, speech 2xs/wk, OT 1x/wk. Any and all info/opinions are wanted!!!"
I suspect the answer lies in the neurotransmitters.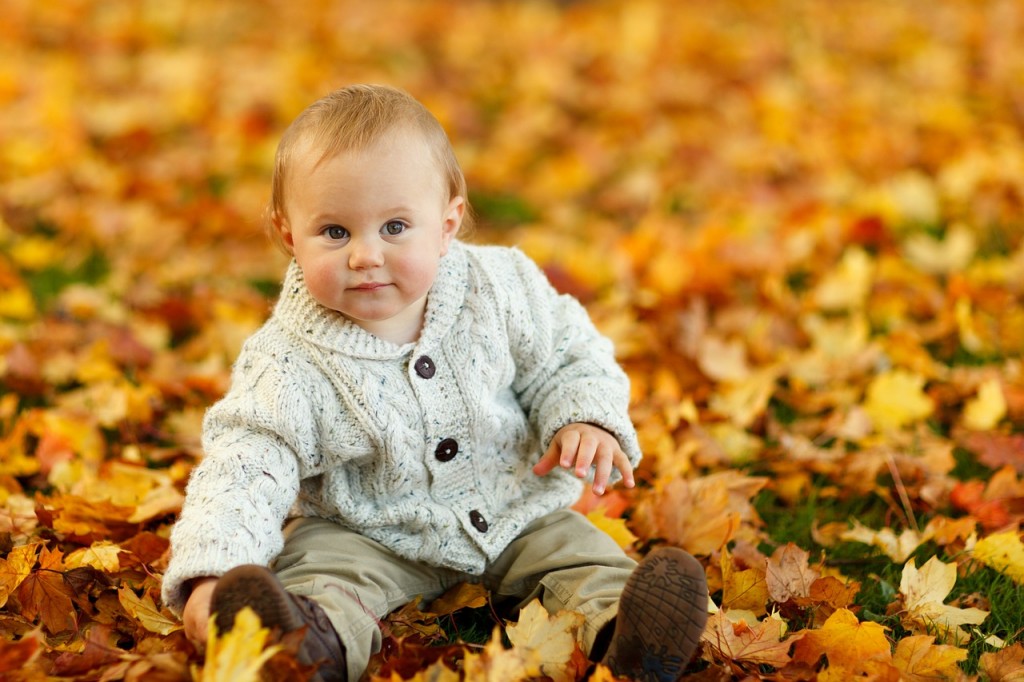 Research typically states that if one wants to be more alert you should look to increase the neurotransmitters dopamine and norepinephrine, while if you are looking for calm, stress reducing effects you want to increase serotonin production.
There are various foods that will naturally raise the production of neurotransmitters including my patented IQed formula which was just awarened the Clean Label Project Award of Purity as Dr. Tom writes. "The amino acid profile found in the IQed formula would undoubtedly assist and support the healing of any neurotransmitter deficiency"
From the study, Tryptophan status in autism spectrum disorder and the influence of supplementation on its level, ".Some dietary-derived essential compounds, such as the amino acid tryptophan, appear to be impaired in patients with ASD. Tryptophan (Trp) plays a significant role in the human organism and serves as a precursor for a wide range of bioactive compounds, including major neurotransmitters. Research indicates that tryptophan might be deficient in subjects with ASD.
The present study revealed both increased and decreased level of tryptophan in ASD children without vitamins B and magnesium supplementation. This may result in the severity pattern reported for ASD symptoms. According to the current literature, abnormal levels of tryptophan entails further irregularities, including serotonin pathway. Compounds participating in it play a pivotal role in proper functioning of the body being responsible for basic mental and physiological activities. Additionally, the introduction of the supplementation leading to the normalization of tryptophan concentration was noted. No correlation between BMI and the level of this compound was found. Further investigation focused on the association between tryptophan level, and severity of autistic symptoms should be performed."
Research into how specific nutrition can help keep our bodies healthy and even help as treatment in certain diagnosis is still growing. Within the next decade we hopefully will know more. In the meantime -enjoy your Thanksgiving dinner!
Lisa Geng
Author and President of The Cherab Foundation
Lisa Geng got her start as a designer, patented inventor, and creator in the fashion, toy, and film industries, but after the early diagnosis of her young children with diagnosis including severe apraxia, hypotonia, sensory processing disorder, ADHD, CAPD, she entered the world of nonprofit, pilot studies, and advocacy. As the mother of two "late talkers," she is the founder and president of the nonprofit CHERAB Foundation, co-author of the acclaimed book, The Late Talker, (St Martin's Press 2003), and holds two patents and patents pending on IQed nutritional composition and is a co-author of the peer-reviewed paper Results of a Consumer Survey on the Effectiveness of a Nutritional Blend Reported on Autism Spectrum Disorder Symptoms, Apraxia, and Other Conditions Involving Motor and Speech Delays. Lisa has been serving as a parent advocate on an AAN Immunization Panel since 2014 and is a member of CUE through Cochrane US. Lisa is currently working on a second book, The Late Talker Grows Up, and serves as a Late Talkers, Silent Voices executive producer. She lives on the Treasure Coast of Florida.