My son Tanner was diagnosed with both oral as well as verbal apraxia.  When my son Tanner's neurodevelopmental pediatrician, a Medical Director for Early Intervention in New York, saw Tanner for the first time at 3 years old, she shook her head and said, "I could have told you a year ago this child had severe oral apraxia."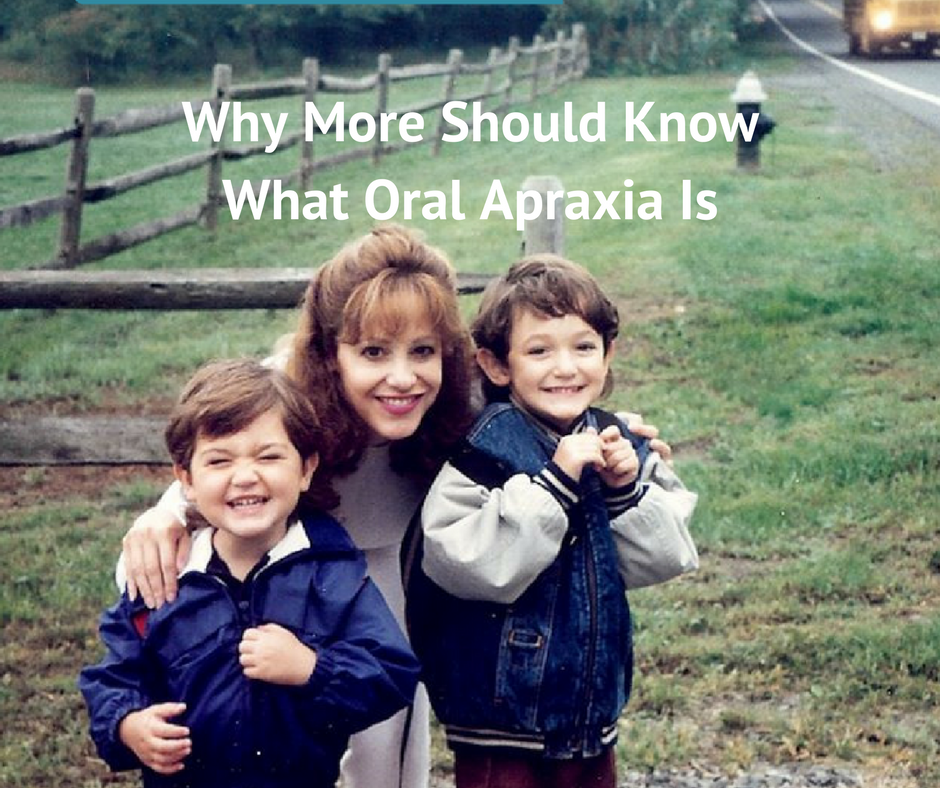 Not all children with verbal apraxia will have oral apraxia, but it's pretty much a given that all children with oral apraxia will have verbal apraxia.  Before Tanner learned how to smile he didn't even try much and most times just had a blank look on his face as you'll see in the photo below.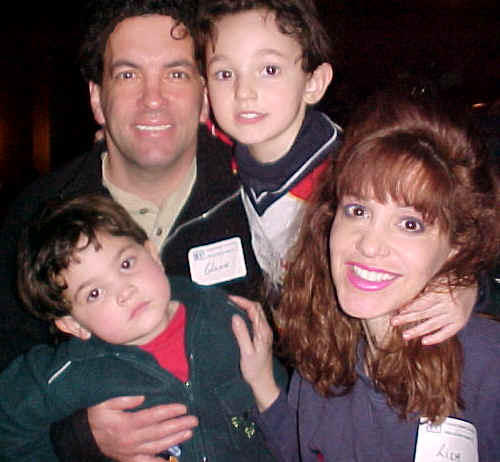 Tanner didn't move his face much. He typically would just stare at you without any smiles. We called him the "serious baby" at this point not knowing he had classic signs of oral apraxia. Tanner couldn't even lick his lips! If Tanner had peanut butter or chocolate on his lip he couldn't even lift his tongue to try to lick it off. Tanner would use his fingers to push the food on his lips into his mouth. Also, Tanner couldn't blow the candles out on his second birthday cake. In fact, he couldn't blow bubbles until almost 3 years old even though he tried and tried. Nobody, including Tanner's Pediatrician, or his first Speech and Language Pathologist, knew these were all strong warning signs of Oral Apraxia, which can occur with Verbal Apraxia. There are professionals who are knowledgeable, you just have to find them.
Tanner was able to smile once in awhile, and when he did, he lit up the room.
Below is me with my sons Tanner on the left, and his brother Dakota on the right on their first day of school.  Preschool for Tanner, kindergarten for Dakota.  We were all so excited, and you can see the school bus in the background. Tanner had to learn how to smile due to his oral apraxia.  When Tanner was learning to smile he would smile and close his eyes. We'd then say "Tanner open your eyes" and he'd open his eyes and open his mouth. Then we'd say "Smile again" and again he'd smile and scrunch his face like in this photo again which was his classic smile for awhile.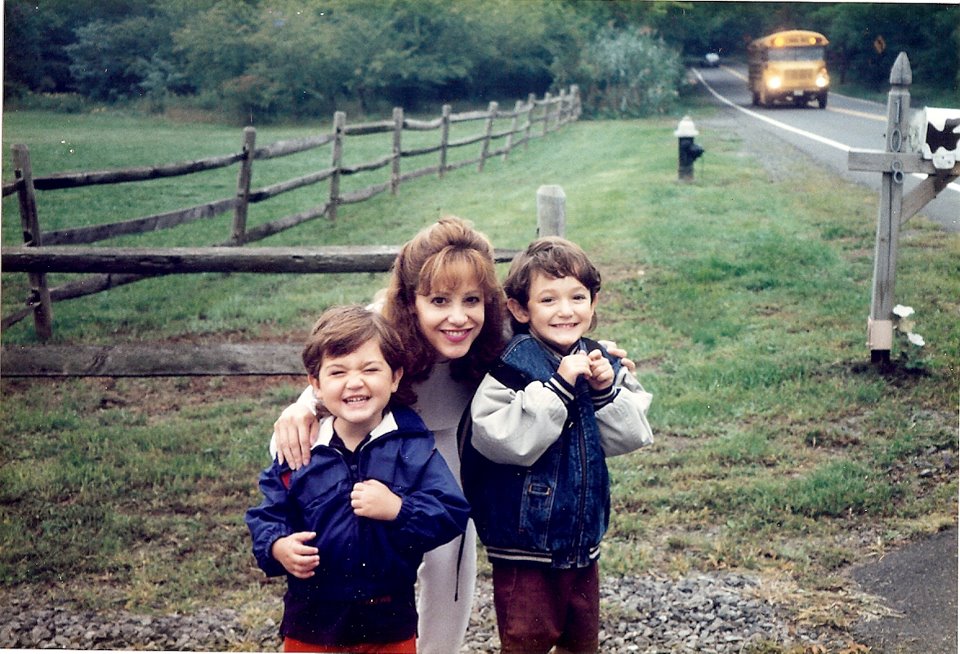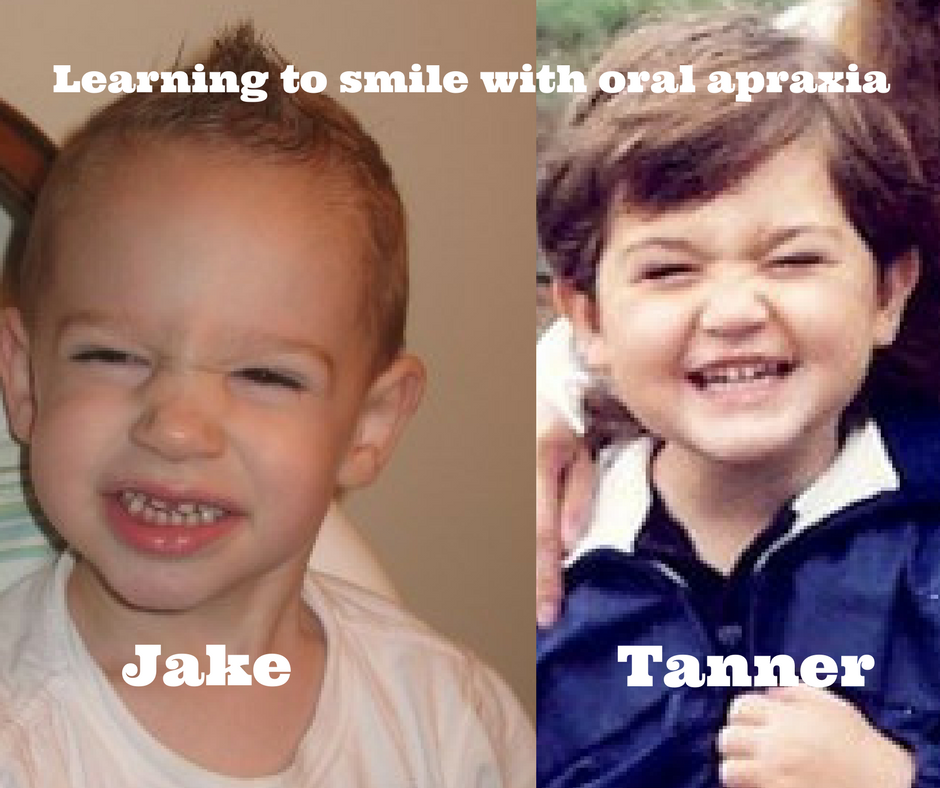 Tanner's background is here which is a letter I wrote to parents years ago to raise awareness about oral and verbal apraxia.  But most don't know what oral apraxia is or how it can affect a child and his family.  The impact it can have in school when that "blank look" is taken by the teacher as not understanding.  Tanner's oral apraxia affected him for most of his life up till recently.  At age 11 after years of therapy his one speech therapist Dr. Renai Jonas CCC-SLP who I highly respect, even tried hooking electrodes to his face to stimulate the nerves with little help.   Tanner responded to nutrition too somehow which is remarkable after the years of therapy.  We are so thankful!  Here is Tanner today.
Signs of Oral Motor Dysfunction
Possible Oral Apraxia or Oral Motor Warning Signs from the Cherab Foundation

There are two types of oral motor problems.
Oral Apraxia is a disorder where the child, who typically is a "late talker" is unable to coordinate and/or initiate movement of their jaw, lips and tongue (articulators) on command.
An Oral Motor Disorder, which could be a different oral motor problem than apraxia (could be from weakness/dysarthria for example) is the second type, in which the child is unable to coordinate and/or initiate movement of normal eating movements (vegetative activities.)
Here are some possible warning signs of the two types of oral motor problems, written by Lisa Geng, the parent of two children who were diagnosed by a neurologist (Trever. DeSouza MD) and a neurodevelopmental pediatrician (Marilyn Agin MD) with two different types of oral motor problems, with help from Cherab's advisor, Sara R. Johnson, CCC/SLP.
Can your child do the following regularly or on command:
smile?

kiss or make a kiss face?

stick out his/her tongue?

try to touch his/her tongue to his/her nose?

make raspberries?

lick peanut butter off his/her upper, side, or lower lip?

imitate making a funny face?

blow out candles or blow bubbles? (a typically-developing ten-month old can do this)

bite his/her lower lip?

show vvarious emotions in facial expressions?

blow his/her nose on command?  (undocumented, off the record sign of apraxia that is reported as a problem by most parents of all aged, even teen apraxic children through the CHERAB group.  This aspect of apraxia can also be overcome through strategies/therapies to assist with motor planning.   These children have no trouble breathing through their nose or mouth all day long, but when a tissue it brought to their nose and they are told to breath out, they will breath in instead.   There are nose horns developed by Sara Johnson CCC SLP which help a child learn to motor plan this activity as well.  Breath control on command is essential for verbal speech.)
If your child cannot do all or some of the above, this may be a sign of Oral Apraxia, which is worth looking into with medical and speech professionals.
Or does your child…
drool excessively?

bite straws when drinking or put the straw more than 1/4 inch into his/her mouth?

overstuff his/her mouth when eating?

have an open mouth posture?

have a protruding tongue?

look like he/she is smiling all the time?

prefer one brand of baby food carrots over another?

have a limited diet?

swallow without chewing?

grind his/her teeth during the day?

have a history of difficult nursing (or did you "not make enough milk" for your child to nurse)?
If your child does all or some of the above, this may be a sign of Oral Motor problems, which is worth exploring with medical and speech professionals.
If you are seeing any of the above signs, seek out the services of a Speech Language Therapist for an evaluation of these skills. This can be done through your State's Early Intervention Programs, a free federally funded program for qualified children from birth to three years of age or through your school district's preschool disabled program, a free program for qualified children between the ages of three to 6 years. You can also contact the American Speech Language-Hearing Association in Rockville, Maryland for a list of certified clinicians in your area. It is very important to have an ACCURATE assessment completed by a skilled clinician. You may also want an evaluation from a developmental pediatrician, or pediatric neurologist to look for signs of low tone (hypotonia). 
Weakness Or Motor Planning Impairment
Sometimes it's difficult to tell between weakness or motor deficits going on when you see inabilities.  This is why an evaluation by a knowledgable SLP is so important.  A parent friendly sign of which you are dealing with is, if you 'never' see them do it -it's probably weakness, if you see them do it but not when they need to -it's probably motor planning.  Like my son who was diagnosed with both apraxia and dysarthria (weakness) in the oral area, your child as well may be dealing with both weakness and motor planning issues.  It's not uncommon for motor planning issues and hypotonia to coexist.
A Reason to Know the Signs of Oral Apraxia
I just received an email from a parent who has a child that is about 18 months old, is nonverbal, and was recently diagnosed with oral apraxia. She stated that she was a "blubbering idiot" because she cried, and I sent her this response, which may help some of you as well.  'The Moment I Realized My Son Was Special Needs"
We didn't ask for this when we decided to be parents; this is an added surprise. It doesn't mean that it's bad, it's just not what most people go through.
Believe me I know what it's like to go from "he's just a late talker, but man this kid is SO smart, just look at him!" and believing he is completely normal, to finding out a day later that…
He is not talking because has a severe neurologically based speech disorder which is called all different names which can mean different things to different people since the medical and speech professionals and the world can't agree on just one name so it's called apraxia or dyspraxia or oral or verbal apraxia or oral motor disorder or motor planning disorder or phonological motor planning disorder but no matter which name you call it most of the world is still ignorant to it but if I don't find out what he needs for appropriate therapy through insurance and school when it comes to speech and occupational and physical therapy as well as appropriate ways to educate him he may never learn to talk, and in addition he always had "soft" neurological signs like hypotonia and sensory integration that up until yesterday I didn't even know existed and nobody not even his pediatrician ever knew he had and it took a neurologist and a developmental pediatrician to point these "soft" neurological signs out to us.
Sure there are warning signs of oral apraxia, which can be spotted long before verbal apraxia. Problem is that most people don't know what they are. Below are a few of the signs of oral apraxia that our son Tanner displayed. Not every child with verbal apraxia has oral apraxia as well, but it is not uncommon. Outside of the obvious, the reason we believe that we need to include this page in this website is because parents have read about oral apraxia at this website and then, based upon the "signs" of oral apraxia they learned about, they took their 2 year old child for an evaluation, where the child was diagnosed with oral apraxia by a professional.
We have been told that besides the Cherab Foundation websites, there is nothing else on the internet with Parent Friendly Signs Of Oral Apraxia. (note this was written just a few years ago.  Since then others are now sharing more)
Reason for more awareness for oral apraxia
When my son Tanner's neurodevelopmental pediatrician, a Medical Director for Early Intervention in New York, saw Tanner for the first time at 3 years old, she shook her head and said, "I could have told you a year ago this child had severe oral apraxia. He doesn't know where his tongue is in his mouth!" She diagnosed Tanner with apraxia after a brief examination. The apraxia was never seen by Tanner's pediatrician, and it took months for even a speech therapist to diagnose Tanner with apraxia! Tanner could have received appropriate therapy a year earlier if we had only known."
If there is not information out there that can be understood by people outside the field of speech, then there should be, for important reasons.
Experts state that oral apraxia can be diagnosed as early as 18 months, which is over a year younger than a positive diagnosis of verbal apraxia is usually received.
For early intervention, "the sooner the better" for apraxia. Awareness should be raised about oral apraxia while we continue to raise awareness about verbal apraxia.
Oral apraxia appears to be a red flag to verbal apraxia  A diagnosis of oral apraxia is almost definitely means a diagnosis of verbal apraxia.  Since oral apraxia can be diagnosed as young as 18 months, we can provide our apraxic children the best possible chance for appropriate early intervention.
LISA GENG
Lisa Geng got her start as a designer, patented inventor,and creator in the fashion, toy, and film industries, but after the early diagnosis of her young children she entered the world of nonprofit, pilot studies, and advocacy. As the mother of two "late talkers," she is the founder and president of the nonprofit CHERAB Foundation,co-author of the acclaimed book, The Late Talker, (St Martin's Press 2003), and is instrumental in the development of IQed, a whole food nutrition meal replacement. Lisa currently serves as a parent advocate on an AAN board for vaccines, and is a member of CUE through Cochrane US. Lisa is currently working on a second book, The Late Talker Grows Up and serves as a Late Talkers, Silent Voices executive producer. She lives on the Treasure Coast of Florida.