You can just use a pin and turn the capsule into liquid, but can't turn the liquid into a capsule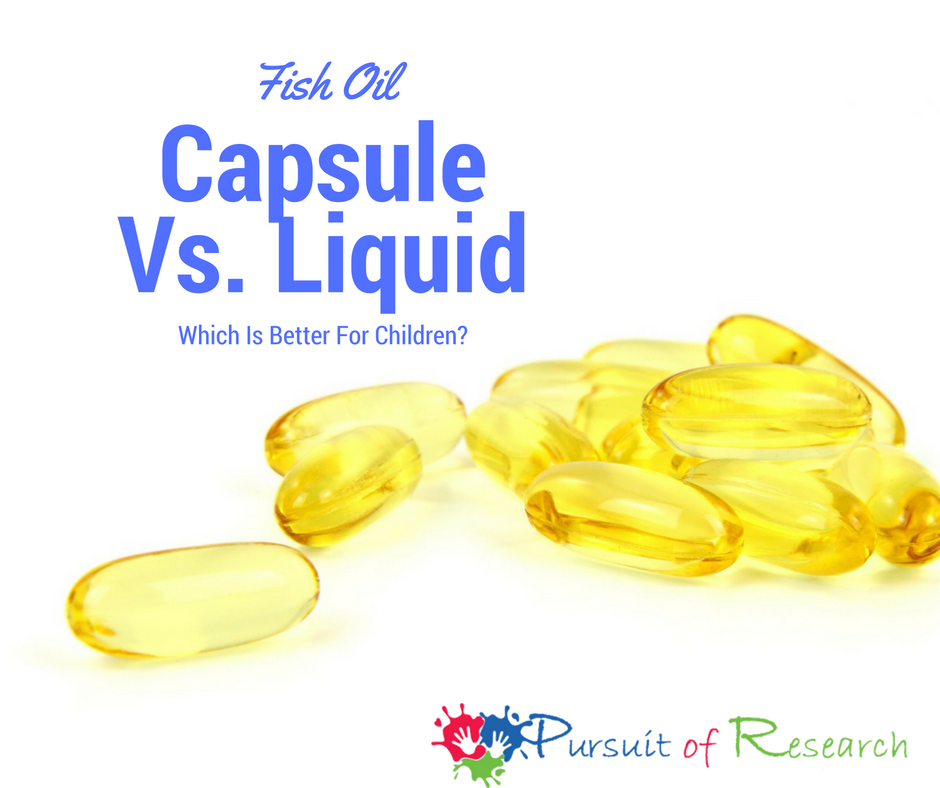 The fish oil comes in a liquid or a capsule. My child can't swallow capsules so shouldn't I buy the liquid?
It depends on the age of the child. Most children prior to seven or eight years old are not swallowing capsules. So most of us pierce the capsule with a pin and squeeze it out.  See serving suggestions here. Because new parents have no idea how many capsules one teaspoon is equal to there are mistakes made. For example one parent emailed that she started her 3 year old on 3 teaspoons a day of fish oil, which is equal to about 12 capsules. Most would never dream of starting their child or even themselves on 12 capsules of fish oil capsules a day. More is not always better. If you have the right formula you will find it will work even at lower dosages.
Fish oils are very unstable in oxygen as you can imagine. While the capsule keeps that same fish oil inside it fresh for up to 4 years and without being refrigerated, the oil in the bottle lasts only around 4 months and needs be be refrigerated once opened.  The only benefit to the liquid vs. the capsule is the liquid is generally cheaper.
If you have the liquid use it quick. Some the liquid because they believe it's easier to use -but the capsules are better in my opinion for various reasons including:
Longer shelf life
No need for refrigeration
Easy to control dosage
Easy to travel with
Not a big deal if you spill the bottle over
You can just use a pin and turn the capsule into liquid, but can't turn the liquid into a capsule
Many start with one capsule of NNProEFA 3.6.9. which would be approximately equivalent to a 1/4 a teaspoon of the liquid NNProEFA 3.6.9.. 1/2 teaspoon of NNProEFA 3.6.9. oil is close to the equivalent of about 2 capsules of NNProEFA 3.6.9..
If you are experienced and decide you want to use the liquid knowing all you do now, you can proceed how you see best. But even still, if you travel I suggest you purchase the capsules for during that time.
Summary difference between fish oil in the bottle vs fish oil capsules
1/2 tsp of fish oil is about the same as 2 capsules of NNProEFA 3.6.9.. If you use oil from a bottle the shelf life will be around 4 months once opened vs. up to 4 years as with the capsules. Also the oil needs to be refrigerated, the capsules do not. Even if you typically prefer using the oil from the bottle I highly recommend getting some capsules as well for when you travel.
Warning from Nordic Naturals
The professional line of Nordic Naturals is the preferred line by most.  You can only purchase the professional line at an authorized distributor online such as http://www.speech411.com or https://getiqed.com/collections/nordic-naturals-professional or from a healthcare professional. Very few online sites are authorized to sell the professional line even though you can find it all over, for example on Amazon.  There has been a rise in fraudulent sellers including on Amazon.  Don't purchase the professional line of Nordic Naturals at Amazon as nobody selling there is authorized to sell there.  The issue with that isn't just buying a product that wasn't authorized to be sold on a particular website.  Amazon has a problem with fraudulent sellers mainly from China (see some of the references below) and this problem is not just limited to fish oils, and it's not just limited to Amazon.   Nordic Naturals has hired a company to help them as they purchased some of the bottles or NN ProEFA 369 sold on Amazon and some were packed with cotton. They do not pack their fish oils with cotton which means you do not know what is in those capsules, or where they were packed.  As you can see from the links below at times the product's exact description and sometimes reviews all look legitimate.  When a product is counterfeit however and there are side effects or injuries,  the customer and the actual manufacturer are the ones that suffer. Example of how this is not just a fish oil issue

LISA GENG
Lisa Geng got her start as a designer, patented inventor,and creator in the fashion, toy, and film industries, but after the early diagnosis of her young children she entered the world of nonprofit, pilot studies, and advocacy. As the mother of two "late talkers," she is the founder and president of the nonprofit CHERAB Foundation,co-author of the acclaimed book, The Late Talker, (St Martin's Press 2003), and is instrumental in the development of IQed, a whole food nutrition meal replacement. Lisa currently serves as a parent advocate on an AAN board for vaccines, and is a member of CUE through Cochrane US. Lisa is currently working on a second book, The Late Talker Grows Up and serves as a Late Talkers, Silent Voices executive producer. She lives on the Treasure Coast of Florida.